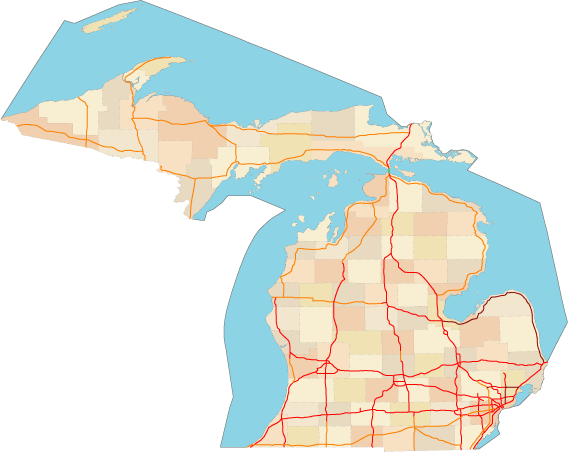 Sitemap to all pages covering the state of Michigan. Contributions and photography for the Michigan guides from Alex Nitzman, Andy Field, Brent Ivy, Carter Buchanan and Ryan Pooya.
Highway Guides
Interstates
U.S. Highways
Michigan Highway Nomenclature
Michigan State Trunklines are referenced with the designation of M and the route number. For instance Michigan 15 is locally known as M-15. Additionally the county designated highway system within the state utilizes A-, B-, C-, D-, E-, G-, and H- as part of the numbering convention.
About Michigan
Capital: Lansing
Nickname: Great Lake State or Wolverine State
State Flower: Apple Blossom
State Bird: Robin
State Animal: Wolverine
Total Interstate Mileage: 1,240.96
Land Area: 57,022 square miles
Highest Point: Mount Arvon – 1,979 feet
Lowest Point: Lake Erie – 571 feet
Number of Counties: 83
Statehood: 26th state; admitted January 26, 1837
Major Sports Franchises:
Detroit Lions (NFL)
Detroit Pistons (NBA)
Detroit Red Wings (NHL)
Detroit Tigers (MLB)
Major Motorsport Speedways
Michigan International Speedway