California 66
---
California 66 is a remnant section of Historic U.S. 66 (the Mother Road; Will Rogers Highway) that remains within the state route system between La Verne and San Bernardino. A portion of this route is still state maintained, even though portions of the route are being remanded to local control. The majority of the east-west route follows Foothill Boulevard between California 210 in San Dimas and Claremont and Interstate 215 in San Bernardino. Some portions of this corridor are maintained by the state, while others are maintained by cities along the route. California 66 matches the original routing of Historic U.S. 66 for its entire length.
v
U.S. 66 is perhaps the most famous highway in the United States. Traversing eight states on its trip from Santa Monica to Chicago (through California, Arizona, New Mexico, Texas, Oklahoma, Kansas, Missouri, and Illinois), Historic U.S. 66 passes through many towns that time forgot. Relegated to business loop or frontage road status for much of its route nationally, the last segment of U.S. 66 was bypassed by freeway in 1985 in Arizona. The entire route was decommissioned shortly thereafter, and now U.S. 66 is signed as an historic route. Signs are erected all along the various routings of U.S. 66 in the Los Angeles metropolitan area and Inland Empire, and U.S. 66 is well-signed on its extant sections between Cajon Pass, Barstow, and Needles.
Other decommissioned segments of U.S. 66 are much more likely to be signed as either Historic U.S. 66 (brown shields) or even as U.S. 66, even though U.S. 66 is long since decommissioned.
California 66 east

Eastbound California 66 (Foothill Boulevard) meets California 83 (Euclid Avenue) at this signalized intersection in Upland. The route markers shown here have been replaced (as of 2010, see below for replacement). These trailblazers are just about the only shields for either California 66 or California 83 in Upland. As noted earlier, most California 66 shields seem to have been replaced with brown Historic U.S. 66 or even regular black on white U.S. 66 shields. With the recent construction of the California 210 freeway, it is possible that the state-maintained portions of Foothill Boulevard (California 66) as well as Base Line Road/Highland Avenue (California 30) might be decommissioned in the future, since they are both so close to the new freeway alignment. This is in keeping with recent Caltrans actions that have decommissioned urban routes that are not freeways or expressways. Meanwhile, California 83 is also very poorly signed for its entire route in Upland, with the only trailblazer located at this intersection and at Interstate 10. There are few, if any, remaining reassurance markers along Euclid Avenue itself. Photos taken 09/28/02.
| | | | |
| --- | --- | --- | --- |
| | | | This series of photos shows the replacement signage for the route markers along eastbound California 66 at its junction with California 83. It is implied that California 83 travels north from this intersection along Euclid Avenue, ending at the former California 30 intersection. As there is no interchange with California 210, California 83 is not assumed to extend any further north than old California 30. However, this trailblazer confirms that California 83 is still active north of California 66. Photos taken 05/02/10. |
| | |
| --- | --- |
| | Eastbound California 66 meets Campus Avenue in Upland. This street will be extended north to meet the new California 210 freeway. Ali Pezeshkpour wrote on 10/24/02 that in September 2002, the Daily Bulletin indicated that Rancho Cucamonga and Fontana, and possibly Upland were requesting that the state relinquish the state portions of California 66 in their city limits to them. Ali writes, "the article said that when the area was rural, Foothill Boulevard was a major east-west route (Baseline and Highland/19th and Arrow Route/Highway weren't too popular in the pre-suburbia era) and that it was necessary to secure state funding for improvements. Now that the two (three with Upland) cities have grown, it is no longer necessary to have California 66 as a state-maintained road. The article also said that the cities were complaining that they want the go-ahead to do their own improvements to the street without having to wait for state approval or direct funds." It seems like this relinquishment will become a reality. Photo taken 09/28/02. |
| | U.S. 66 was signed with these authentic U.S. 66 shields in Rancho Cucamonga as of 2002, but they were gone by 2007. Upon visiting in 2010, only historic U.S. 66 shields were posted, along with rare California 66 route markers and the occasional State Route 66 postmile marker. There were no California 66 shields to be found in this area. This section of California 66 is proposed to be given to local control. Photo taken 09/28/02. |
| | | |
| --- | --- | --- |
| | | Construction was in full swing when these pictures were taken in 2007. The Fifth Street bridge over Interstate 215 was being expanded to accommodate the widened freeway below. Photos taken 07/15/07. |
Cresting over the freeway, California 66 ends on the far side of the bridge over Interstate 215. Photo taken 07/15/07.

To Interstate 215, turn right (south) H Street. A rare two-digit sized Interstate 215 trailblazer is posted prior to the intersection with H Street. Photo taken 07/15/07.

An end California 66 shield assembly was posted at the intersection of Fifth Street and H Street in San Bernardino (the shield assembly was gone by April 2010, likely due to the reconstruction of Interstate 215 through San Bernardino). To Interstate 215 north and south, turn right on H Street. Fifth Street continues east as a locally maintained street from this point. To former U.S. 66 Business, follow Fifth Street east to E Street north, which changes into Kendall Drive (former California 206) before merging onto Interstate 215 north. Photo taken 07/15/07.

This is another view of eastbound Fifth Street at H Street. Photo taken 07/15/07.

Turning south on H Street, an overhead guide sign points the way to Interstate 215 north to Barstow and south to Riverside. Photo taken 07/15/07.
California 66 west
| | | |
| --- | --- | --- |
| | | Traveling west along Fifth Street in San Bernardino, the first reassurance shield along California 66 west is this shield assembly prior to the Interstate 215 crossing. Reconstruction of the bridge over Interstate 215 was underway at this time due to the expansion project along Interstate 215 through San Bernardino. This intersection marks the eastern terminus of California 66. Photos taken 07/15/07. |
California 66 (Fifth Street) carries five lanes west of the Interstate 215 bridge. The state route continues west from this point to California 210 Exit 47 in the city of La Verne. Historic U.S. 66 follows the route of California 66, then continues west on Foothill Boulevard as it parallels Interstate 210 toward Pasadena. Photo taken 07/15/07.
California 66 scenes

This view shows the connection from Interstate 215 south to California 66 west. Traffic briefly follows Sixth Street east, H Street south, and Fifth Street west to California 66 west. This guide sign advises of the connection. Photo taken 06/24/07.

An odd configuration of two sets of one-way traffic converges (one set comes from Interstate 215 south, and the other comes from Interstate 215 north). The traffic signal ahead is configured to allow full movements from either set of lanes. Turn right for H Street south to California 66 (Fifth Street) west. Photo taken 06/24/07.

One block east of Sixth Street and H Street is this arch, which welcomes visitors to San Bernardino's downtown. Photo taken 06/24/07.
---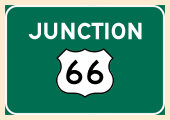 Page Updated May 16, 2010.