The history of Interstate 10 through Arizona is a long one, one marked by tensions, realignments, and delays. While portions of the freeway were completed fairly early, the final section was not completed until 1990 - the last section of Interstate 10 completed in the United States.
Interstate 10 is the primary east-west Interstate in Arizona. Crossing the Colorado River in Ehrenberg, the freeway meets SR 95 and US 95 in Quartzsite, and spawns US 60 near Brenda. Passing through Tonopah, the freeway swings slightly southeast to reach Buckeye, then heads directly east through Goodyear into Phoenix, meeting I-17 at the Stack interchange. The freeway continues through downtown Phoenix under Margaret T. Hance park (constructed over the freeway), turning south at the Mini-stack interchange (with SR 51 and Loop 202), then east at I-17, and south at the Broadway curve, leaving the Phoenix area south of Loop 202 and heading southeast.
Between Phoenix and Tucson, Interstate 10 travels southeast via Casa Grande and Eloy, meeting Interstate 8 between the two. South of Eloy, I-10 passes Picacho Peak and the small town of Picacho, continuing through Marana before entering Tucson. I-10 passes to the west of downtown, then swings around the south side, meeting I-19 before continuing east.
East of Tucson, the road loses traffic on the way to Benson, then climbs Texas Canyon, passing Dragoon and The THING?, a noted roadside stop. The freeway passes north of Willcox Playa before reaching Willcox, then turns east through Bowie before reaching San Simon and the New Mexico state line.
Interstate 10 Arizona Guides
Business Routes
Interstate 10 replaced US 60 from Ehrenberg to Brenda, SR 93 from I-17 to Casa Grande, SR 84 from Picacho to Tucson, SR 84A in Tucson, US 80 from Tucson to Benson and SR 86 from Benson to the New Mexico state line. The alignment from Brenda (US 60) to I-17 is a new alignment, and indirectly replaced US 60. The alignment from Casa Grande to Picacho parallels SR 84.
East of Tucson, Interstate 10's alignment was finalized in 1956. There were some debates on the alignment between Phoenix and Tucson, but these were cleared up by 1961. Between Quartzsite and Phoenix, the alignment was under debate until 1962, with Wickenburg pressing for an alignment along US 60. There was talk about building the "Brenda cutoff" (present alignment) as a toll road to speed up construction (estimated completion was 1975), but that was ended by the Arizona Legislature in 1961.
Original plans in Phoenix showed an alignment along Buckeye Road into Phoenix, however this was realigned to the present-day alignment in 1964 to serve local traffic better. Ironically, with the growth in the West Valley, plans are now in place for a reliever to this freeway - on an approximate alignment of Buckeye Road.
Interstate 10 (the Papago Freeway) was extremely controversial through Phoenix. The freeway was first planned through the city in 1957, then revised in the 1960 freeway plan. A 1970 freeway plan showed Interstate 10 arching up to 100 feet above Central Avenue, with spiraling "Helicoil" ramps to connect the freeway to 5th-7th Avenues, and 5th-7th Streets.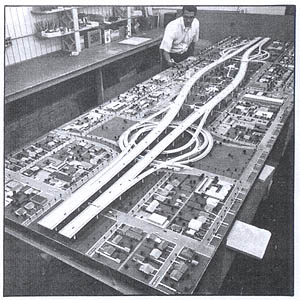 Nina Pulliam, wife of Eugene Pulliam (publisher of the Arizona Republic) saw these plans one night and remarked how she didn't like them. This was enough to change the editorial position of the influential paper. Combined with anti-freeway sentiments in the early 1970s, this led to the Papago Freeway's design rejection in a public vote. A revised design would not be created until 1983, which had the freeway depressed below grade and a ten block park, the Margaret T. Hance Deck Park, preserving continuity between 3rd Street and 3rd Avenue.
Construction History
1964: Miles 0-10 (I-10 bridge over the Colorado River to west of Quartzsite)
1962: Miles 10-17 (west of Quartzsite)
1966: Miles 17-19 (Quartzsite bypass)
1964: Miles 19-31 (Quartzsite to Brenda)
1972: Miles 31-94 (Brenda to Tonopah)
1978: Miles 94-128 (Tonopah to Litchfield Road)
1984: Miles 128-140 (Litchfield Road to 51st Ave)
1985: Miles 140-142 (51st Ave to 31st Ave)
1989: Miles 142-143 (31st Ave to I-17 and portions of the Stack interchange)
1990: Miles 143-146 (I-17 and the Stack interchange to 3rd Street)
1988: Miles 146-150 (3rd Street to I-17)
1965: Miles 150-153 (I-17 to 40th Street), reconstructed 1988
1968: Miles 153-156 (40th Street to Baseline Street), reconstructed 1988, 1997, 2000
1967: Miles 156-161 (Baseline Street to Chandler Blvd), reconstructed 1988, 1997, 2000
1968: Miles 161-198 (Chandler Blvd to Highway 84)
1967: Miles 199-212 (Highway 84 to Picacho)
1962: Miles 212-232 (Picacho to Marana Air Park exit)
1964: Miles 232-240 (Marana Air Park to Tangerine Road)
1966: Miles 240-255 (Tangerine Road to Miracle Mile)
1962: Miles 255-260 (Miracle Mile to 29th Street), reconstructed 1996
1964: Miles 260-261 (29th Street to 6th Ave), reconstructed 1996, 2004
1967: Miles 261-267 (6th Ave to Valencia Road), partial reconstruction 1991
1964: Miles 267-275 (Valencia Road to Houghton Road)
1959: Miles 275-279 (Houghton Road to Vail Road, bypass of original highway)
1962: Miles 279-289 (Vail Road to west of Marsh Station Road)
1955: Miles 289-290 (Original US 80 expressway, unmodified)
1959: Miles 290-299 (Marsh Station Road to Skyline Road)
1962: Miles 299-303 (Skyline Road to SR 90)
1974: Miles 303-311 (Benson Bypass)
1964: Miles 311-322 (Benson to Texas Canyon Rest Area)
1959: Miles 322-336 (Texas Canyon to Willcox West)
1969: Miles 336-343 (Willcox)
1962: Miles 343-352 (Willcox to US 191)
1959: Miles 352-354 (US 191 to US 191Y)
1964: Miles 354-362 (US 191Y to Bowie West)
1968: Miles 362-368 (Bowie bypass)
1964: Miles 368-378 (Bowie to San Simon)
1968: Miles 378-386 (San Simon)
1962: Miles 386-393 (San Simon to NM State Line)
The section from Buckeye Road to I-17 was originally constructed in 1965 as I-510 (later I-410) and reconstructed in 1988. Miles 147-150 were signed as SH 51 between 1988 and 1990, until I-10 was completed. Miles 255-262 were originally built in 1953 as SR 84A, an expressway bypass of Tucson, and upgraded to I-10 between 1959 and 1962.
There is a construction project in Tucson to widen Interstate 10 through downtown. This section of freeway, one of the oldest in Arizona, was reconstructed in 1996 but not significantly widened at the time. The current project will bring Interstate 10 to 8 lanes (4 each direction) through downtown Tucson, and is estimated to be completed by 2010.
There are plans to reconstruct Interstate 10 from the Mini-Stack (Loop 202/Arizona 51) to Ray Road through Phoenix into a dual freeway configuration. More information can be found on the Phoenix city guide.
Business Loops
I-10 has had several business loops. The following are still active:
Quartzsite - 2.4 miles, along old US 60.
Benson - 3.2 miles. Old SR 86.
Willcox - 8.0 miles. Old SR 86.
Bowie - 4.0 miles. Old SR 86.
San Simon - 3.5 miles. Old SR 86.
Former Business Loops
Phoenix - Grand Avenue from I-17 to Van Buren Street, Van Buren Street from Grand Ave to 44th Street, and 44th Street (Hohokam Expressway) from Van Buren to I-10. Former US 60 to 44th Street.
Tucson (1) - SR 77 from Miracle Mile interchange to Oracle Road, then south on Oracle Road to Drachman Rd, then south on 6th Avenue to I-10. Also former US 80/89 from Oracle Road to I-10.
Tucson (2) - Tucson-Benson Highway from Park Ave (exit 262) to Exit 267. Old US 80.
Connect with:
Interstate 8
Interstate 17
Interstate 19
U.S. 60
U.S. 95
U.S. 191
Page Updated 08-29-2007.