California 86
---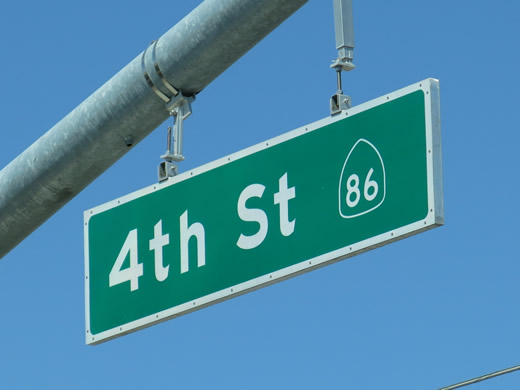 Within El Centro, California 86 travels north-south along Fourth Street before turning west onto Adams Avenue and then north onto Imperial Avenue. Like other arterial state-maintained routes in Caltrans District XI, traffic signal street guide signs like this one on Wake Avenue include the route marker. Photo taken 04/20/13.
California 86 follows Historic U.S. 99 from Calexico north to Indio. It starts at California 111 in Imperial County about midway between Calexico and Interstate 8. California 86 then travels north through Heber, El Centro, Imperial, and Brawley, then curves northwest through Westmorland and Salton City along the western edge of the Salton Sea. Passing to the northern edge of the Salton Sea, California 86 then bypasses Coachella, Mecca, and Indio before merging into Interstate 10. California 86 is an expressway from El Centro north to Brawley and again from Brawley north to Indio. As of March 2013, a complete expressway route between Calexico and Indio is achieved via California 111 north, California 78 west, and California 86 north.
California 86 Highway Guides
Created in 1964 with the elimination of U.S. 99 in Southern California, California 86 is a busy north-south state route that serves Riverside and Imperial Counties. Due to this increased traffic, California 86 was converted to expressway standards between El Centro and Brawley and again between Brawley and the Coachella Valley in stages through the 1990s and 2000s. The expressway configuration allowed for bypasses of various communities along the route as well as permanent passing lanes and a median divider in most cases. California 86 currently does not bypass Brawley, so the preferred "through route" from Calexico north is accomplished via California 111 and California 78, with the Brawley Bypass fully completed on October 30, 2012.1
The northernmost portion of completed expressway was designated as "California 86S," short for a "supplemental" route to California 86. This designation was necessitated because California 86S and California 86 did not directly connect until the expressway was completed in the late 2000s. California 86 used to follow local roads (Harrison Street and Indio Boulevard) through the cities of Coachella and Indio. With the completion a bypass (designated as California 86S between 1999 and December 11, 2012), California 86 was transferred onto the California 86S expressway alignment.2 The old road was gradually transferred to the local cities and Riverside County. The first decommissioned segment of California 86 was the concurrent section of Business Loop I-10 (Indio Boulevard) between Highway 111 and Interstate 10 (in the 1990s). Following that, additional segments were transferred to the city of Coachella and Riverside County through the mid to late 2000s. By 2012, all of former California 86 was transferred to local control, and Caltrans converted California 86S into mainline California 86. Signs were changed at the same time to reflect the revised designation.
NAFTA Corridor
The California 86 corridor between the Mexican border and Interstate 10 near Indio is described in the current Caltrans Surface Transportation Improvement Program (STIP) as a North American Free Trade Agreement or "NAFTA" routing; this specific route, as described in the document, follows this path:
Starts at the border along new California 7 to California 98
Extend north along proposed California 7 to Interstate 8
Follow Interstate 8 west to California 111
Continue north on California 111 to California 78
Follow California 78 west for a mile or two to California 86
Bypass Brawley along a new alignment for California 78-86
Continue north along California 86
Once in Riverside County, follow along the California 86 (former California 86S) expressway/freeway alignment north to Interstate 10.
The parts of this route that have been upgraded are constructed to Interstate-type geometry, along with adequate shoulders -- but, of course, with at-grade crossings. At these crossings, there appears to be enough reserved land adjacent to the intersections to eventually accommodate interchange facilities. The parts of California 111 north of Interstate 8, the California 78/86 bypass of Brawley, and the long-anticipated California 78/86 bypass of Westmorland, northwest of Brawley are listed in the STIP as four-lane expressway, with a few interchanges. These interchanges are planned where California 86 diverges from the California 78/86 multiplex south of Brawley.
The gist of these improvements is that the "NAFTA" highway will be a continuous facility along the previously described routing and designed to upgradable expressway status. Also, the commercial truck traffic along this corridor has increased significantly since mid-1980s. The recent emergence of the Mexicali area as a principal location of assembly/production facilities on the south side of the border (largely to avoid the congested Tijuana/San Diego border area) has likely enhanced the traffic flow on California 86/111 and its tributaries.
California 7 was planned largely to relieve the Calexico crossing on 111 which, while not quite to the "backup" level of Interstate 5, is still subject to delay during most daytime hours. Being relatively free of adjacent commercial development, California 7 is planned as the primary commercial border crossing in the Imperial Valley, with 111 retaining most of the cross-border tourist and "civilian" traffic because of its proximity to central Mexicali -- at least for the immediate future. Besides, California 7 is intended to tie in to the Baja network of toll roads, particularly the one paralleling Mexico Federal Route 2, which means that it will likely see increased traffic levels as the new facility gains ridership and becomes familiar to commercial drivers.
The upshot of all this is that the "NAFTA" reference in the STIP, the development of the facility as an upgradable expressway, and the likelihood of increased traffic loads, particularly large trucks, points to an ultimate freeway corridor. Also significant is the fact that along California 86, those resort communities on the west side of the Salton Sea get frontage roads along the expressway -- and these frontage roads veer away from the expressway at major cross streets, where diamond interchanges could be constructed with no additional easement. In fact, given its status as a major connector to Mexico, it could be nominated for inclusion in the Interstate Highway System.
Many thanks to Scott Parker for writing much of this assessment of the NAFTA Corridor and lending insight on the state's STIP.
California 86 scenes
Eastbound Wake Avenue approaches California 86 (Fourth Street) in southern El Centro, just south of the interchange with Interstate 8. Turn left for California 86 north to Interstate 8 and downtown El Centro or turn right for California 86 south to Heber and Calexico. Notably, the street guide signs hanging from the traffic signal mast arms contain the state route marker as well as the road name. Photos taken 04/20/13.
| | |
| --- | --- |
| | Near Desert Shores in Imperial County, some roads lose their pavement just before reaching the shores of the Salton Sea. A large "pavement ends" sign is posted prior to the ever-changing shoreline of the Salton Sea. Photo taken 03/14/09. |
| | This a sample of California 86S expressway signage that is found along the highway south of Indio. This sign has since been replaced with a "California 86" shield. Photo taken 09/99. |
| | California 86S (now California 86) is a designated safety corridor. Photo taken 09/99. |
| | This expressway entrance sign was found along southbound California 86S (now California 86) near Indio. Photo taken 09/99. |
---
Sources:
Brawley Bypass open, by Elizabeth Varin, Imperial Valley Press, October 30, 2012. Relevant quote: "The Brawley Bypass opened to motorists about 1:45 p.m. this afternoon, according to the California Department of Transportation."
State Route 86 Is No Longer a "Supplemental" Route, press release by Caltrans District VIII, by Shelli Lombardo, December 11, 2012. Relevant quote: "Caltrans has begun to remove the "S" designator from signs along State Route 86S. The "S" indicates a supplemental corridor to an original highway and in this instance no longer applies. The expressway is now officially State Route 86. Portions of the original highway, which is locally referred to as "old 86", have been relinquished to the County of Riverside or the City of Coachella and renamed by the local jurisdiction."
Page Updated May 26, 2013.