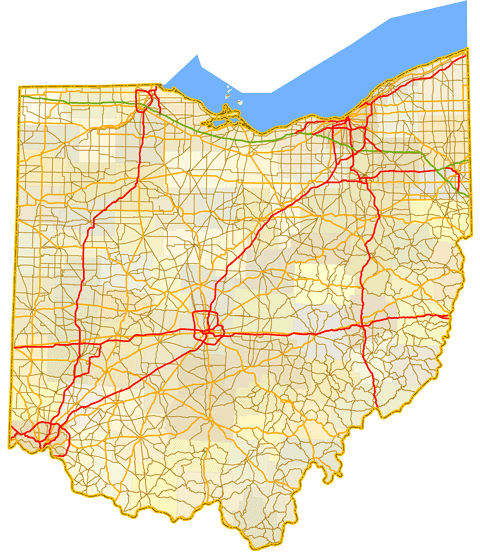 Sitemap to all pages covering the state of Ohio. Photographic contributions by Alex Nitzman, Andy Field, Brent Ivy, Carter Buchanan, Justin Cozart and Thomas Decker.
State Population
11,799,448
Metropolitan Populations:
Cincinnati
2,256,884
Columbus
2,138,926
Cleveland-Elyria
2,088,251
Dayton-Kettering
814,049
Akron
702,219
Toledo
646,604
Youngstown-Warren-
Boardman
541,243
Canton-Massillon
401,574
Springfield
136,001
Top County Populations
Franklin
1,323,807
Cuyahoga
1,264,817
Hamilton
830,639
Summit
540,428
Montgomery
537,309
Lucas
431,279
Top City Populations
Columbus
903,852
Cleveland
378,589
Cincinnati
304,548
Toledo
271,455
Akron
195,994
Dayton
140,59939,907
Parma
77,558
Canton
69,963
Lorain
63,872
Sources: 2020 U.S. Census Data (metro populations and counties), 2020 U.S. Census Estimate (cities)
About Ohio
Capital: Columbus
Nickname: Buckeye State
State Flower: Red Carnation
State Bird: Cardinal
State Tree: Ohio Buckeye
Land Area: 44,826 square miles or 116,098 square kilometers, 34th largest
Total Interstate Mileage: 1,572.35 miles
Highest Point: Campbell Hill (1,550 feet above sea level)
Lowest Point: Ohio River in Hamilton County – 455 feet
Number of Counties: 88
Statehood: 17th state; admitted March 1, 1803
Major League Sports Franchises
Cincinnati Reds (MLB)
Cleveland Indians (MLB)
Cincinnati Bengals (NFL)
Cleveland Browns (NFL)
Cleveland Cavaliers (NBA)
Columbus Blue Jackets (NHL)
Columbus Crew SC (MLS)
Cincinnati Royals (NBA) – Moved to Kansas City-Omaha in 1972, and to Sacramento in 1985
Cleveland Barons (NHL) – Merged with Minnesota in 1978, and moved to Dallas in 1993
Cleveland Rams (NFL) – Moved to Los Angeles in 1946
Portsmouth Spartans (NFL) – Moved to Detroit in 1934 and became the Lions
Updated December 30, 2021.