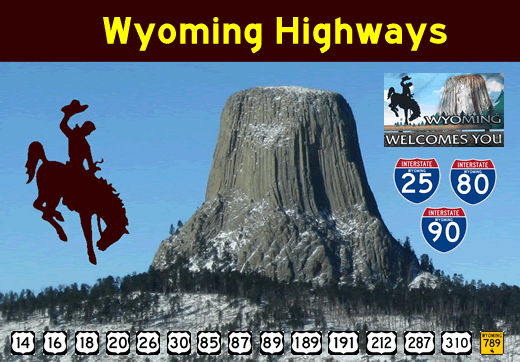 Officially known as the Equality State and sometimes as the Cowboy State, Wyoming is the 50th largest state in the United States in terms of population (as of 2010 Census) yet is the tenth largest state in terms of land area. With a scattering of towns and cities across its landscape, Wyoming is home to ample plains, ranges, towering mountains, and rivers. The state encompasses 97,814 square miles, with a north-south width of 280 miles and an east-west length of 360 miles. The state has seen growth over the past three decades. In 1990, the official U.S. Census population was 453,588, and during ensuing censuses, that figure increased to 493,782 in 2000 and to 563,626 in 2010. The state has seen much of its growth occur in the mineral-laden areas of the state, as well as in spillover from growth in adjacent states (especially Colorado's Front Range). Tourism is a major economic activity, with the beauty of Yellowstone and Grand Teton National Parks as well as Devils Tower and numerous mountainous, historical, and reservoir areas for outdoor recreation.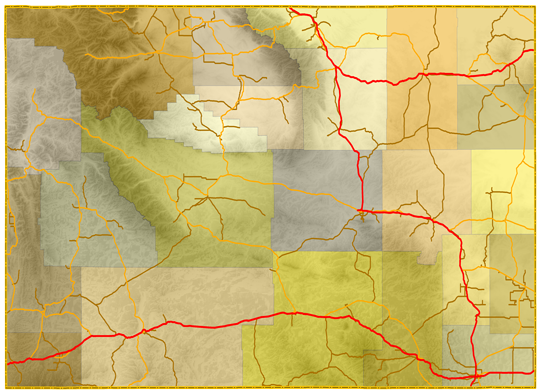 This section of AARoads covers all highway pages for the state of Wyoming. Unless otherwise noted, all photographs taken by Alex Nitzman and Andy Field. Special thanks to Mike Ballard, Brian Bensen, Scothia Bensen, Casey Cooper, Patrick Davidson, Sasha Davidson, Rich Piehl, Matt Salek, Dale Sanderson, Dan Stober, John Waggener, Ken Whitlock, and Dave Wilson for their efforts in supporting these pages.
Geography
Geographically, Wyoming is generally high-altitude, semi-arid region. The eastern portion of the state sees agricultural activities similar to those found in neighboring Nebraska, but agriculture becomes increasingly less common further west, except in some notable basins with favorable climate and soil conditions. The Rocky Mountains and Continental Divide travel into Wyoming from the south, brining some notable mountainous areas, such as the Laramie Mountains, Medicine Bow Mountains (Snowy Range), Sierra Madre, Big Horn Mountains, Wind River Mountains, Wyoming Mountains, Teton Range, and Absaroka Range (near Yellowstone). The Black Hills also enter Wyoming from South Dakota. Major rivers include the North Platte system in the southeast, the Belle Fourche and Powder River systems in the northeast, the Green River in the southwest, Big Horn River and Wind River in the north-central, and Yellowstone River in the northwest. Of these rivers, all are on the eastern side of the Continental Divide (draining into the Missouri and Mississippi River systems) except the Green River, which flows to the Colorado River en route to the Sea of Cortes.
Three major Interstate highways serve Wyoming. Two of them are transcontinental routes — Interstate 80 across the southern tier of the state from Evanston east to Rock Springs, Laramie, and Cheyenne and Interstate 90, which enters from the north near Sheridan and extends southeast to Buffalo, then curves east toward Gillette and Sundance. The third is Interstate 25, which travels north-south, entering from Colorado's Front Range and traveling north through the cities of Cheyenne, Douglas, Casper, and Buffalo. Other major highways are generally U.S. routes, and Wyoming plenty of them to serve the rest of the state, including U.S. 14, 16, 18, 20, 26, 30, 85, 87, 89, 189, 191, 212, 287, and 310. Among the longest of these routes in Wyoming is U.S. 287, which generally travels in a southeast-northwest diagonal direction across the state serving Laramie, Rawlins, Lander, and Grand Teton-Yellowstone. WYO 789 is a major north-south highway that passes through the center of the state; it provides a uniform designation for this corridor despite overlaps with multiple other routes. Other major state highways include WYO 22, 24, 28, 34, 59, 89, 220, 230, and 487.
Wyoming State Highways
For each route signed as an Interstate, U.S., or State Highway, Wyoming DOT has an inventory control route number. This control number determines the mileposts on all state-maintained highways. The system changed between 1997 and 2012. Under the older system, the state control route number typically had an alphabetical prefix followed by a number. For example, Interstate highways were inventoried with the prefix "I" followed by the signed route number. Therefore, Interstate 80 is inventory control route I-80. For U.S. and state routes, the state has identified its own set of hidden numbers that usually do not match the signed route number. For example, U.S. 287 carries eight separate inventory control route numbers (P-23, S-410, I-80, P-21, P-20, P-15, P-30, and P-10) on its diagonal course across the state. "P" typically meant primary, "U" meant urban, and "S" meant secondary. In some cases, the route carried its own designation. For example, WYO 344 was known as inventory control route SH-344. But in most cases, secondary and primary routes had inventory control numbers that varied from the signed route number.
By 2012, this system had changed and no longer uses the alphabetical prefix system described above and are instead assigned a number up to four digits that may or may not correspond to the signed route number. Generally, the control number does not match the signed route number. This system makes some degree of sense given the high number of roads that have more than one assigned route number (for example, U.S. 20 overlaps with U.S. 14, U.S. 16, WYO 789, U.S. 26, Interstate 25, U.S. 87, and U.S. 18 on its route east across Wyoming). To see the current description of routes and highways in Wyoming, review the official 2017 Maintenance Section Reference Book.
Pages on this site were originally compiled with the 1997 route numbering. Subsequent updates use more recent data.
Mileposting
Wyoming's mileposts are based on the inventory number described above, so the mileposts along a given route may not be unique only to that signed route number. A route such as U.S. 287 utilizes several control routes across the state.
If WyoDOT realigns a highway or joins two highways under one state control number, an BACK=AHEAD (BK=AH) equation is typically used to keep the mileposts in sync. For example, 1.01BK=34.76AH means that the 1.01 milepost equals the 34.76 milepost. This means that the distance between Milepost 1.00 and Milepost 35.00 is only 0.25 mile. Milepost equations remain in use under the new route inventorying system.
Wyoming Highways in the National Highway System
In addition, the following routes were submitted for inclusion in Wyoming's National Highway System in 1995, but they were not adopted:
Wyoming License Plates
License plates in the state of Wyoming feature the "bucking horse and rider." This horse has appeared on Wyoming license plates since 1936. The number to the left of the bronco is a code to determine the vehicle's county of origin, while the number to the right of the bronco is the vehicle's identifying number. That number is usually a combination of four numbers or three numbers plus a two-digit letter code. Later versions of the plate have three numbers and a letter or combination of letters. Vanity plates are the county number and a one, two, three, or four-letter word — of course, some four-letter words are not allowed! Plates are currently silkscreened, but until 2003 they were embossed.
This list shows the county numbers and the county represented by that number. The number represents the ranking of the county according to their total county property valuation. If the counties were re-evaluated today, this order would no longer be true. Note that the clustering of Wyoming state routes is ordered alphabetically, not in the license plate order. Thus, Albany County has State Routes 10-29, but it is County #5 on license plates.
| | | | | | |
| --- | --- | --- | --- | --- | --- |
| 1 | Natrona | 11 | Park | 21 | Weston |
| 2 | Laramie | 12 | Lincoln | 22 | Teton |
| 3 | Sheridan | 13 | Converse | 23 | Sublette |
| 4 | Sweetwater | 14 | Niobrara | | |
| 5 | Albany | 15 | Hot Springs | | |
| 6 | Carbon | 16 | Johnson | | |
| 7 | Goshen | 17 | Campbell | | |
| 8 | Platte | 18 | Crook | | |
| 9 | Big Horn | 19 | Uinta | | |
| 10 | Fremont | 20 | Washakie | | |
State Population
576,851
Metropolitan Populations
Cheyenne
100,512
Casper
79,955
Gillette
61,045
Top County Populations
Laramie
100,512
Natrona
79,955
Campbell
33,698
Sweetwater
42,272
Fremont
39,234
Albany
37,066
Sheridan
30,921
Park
29,624
Teton
23,331
Top City Populations
Cheyenne
64,742
Casper
58,498
Laramie
32,661
Gillette
32,220
Rock Springs
22,943
Sheridan
18,095
Green River
11,788
Evanston
11,570
Riverton
10,819
Sources: 2020 U.S. Census Data (metro populations and counties), 2020 U.S. Census Estimate (cities)
About Wyoming
Capital: Cheyenne
Nickname: Equality State
Most of the state is above 4,000 feet above sea level
The lowest elevation in the state is in the northeastern corner, near the Belle Fourche River
Wyoming is one of the few states to still have only one area code: 307
Area: 97,813.56 square miles or 253,326 square kilometers, 9th largest
Statehood: 44th state; admitted July 10, 1890
Total Interstate Mileage: 913.60 miles
Highest Point: Gannett Peak (in Wind River Range south of Dubois and north of Pinedale), 13,804 feet above sea level along the Continental Divide in the Central Rocky Mountains
Bucking Horse and Rider
Known as the "bucking horse and rider," the prevailing image of Wyoming was designed by Allen T. True and was trademarked by the state of Wyoming in 1936. It is considered to be the longest continuously used symbol on any license plate in the United States. The symbol is also prevalent on official state signage (including all Wyoming state route markers and welcome signs), tourist information brochures and magazines, official government documents, and special events that commemorate Wyoming's heritage, such as the 1990 state centennial. For more information and a detailed history, visit State of Wyoming Secretary of State: History of the Bucking Horse and Rider.
Most Wyoming residents are proud of the symbol, which has become an icon identifying Wyoming products, objects and people. The symbol was adopted to the state license plate in 1936 using Mr. True's artwork. The bucking horse and rider dates back to 1918, when it was the insignia worn by soldiers from Wyoming in World War I, and was designed by George N. Ostrom. It was later adopted by the U.S. Army to identify gun trails, trucks and other equipment, according to information provided by the Wyoming Secretary of State's Office. However, some historians believe the horse in the symbol was modeled after a legendary rodeo horse named Steamboat, which was dubbed "the horse that couldn't be ridden."
This symbol has not been universally embraced, including some from outside the state. In an article dated May 25, 2000, from The Washington Times, the People for the Ethical Treatment of Animals (PETA) assailed Wyoming's license plate, asking the governor of Wyoming to remove the bucking bronco from the state's license plate, claiming it "promotes and glorifies" animal cruelty. PETA asked then-Governor Jim Geringer to "modernize" the silhouette image of a cowboy atop the bucking animal to "reflect 21st century understanding of the nature of animals."
A spokeswoman for PETA stated at the time that it was "hopeful that when you learn about the lives of animals used in rodeos, you will not wish to promote and glorify these inhumane events on state license plates. Treating 'livestock' like mechanical bulls makes Wyoming a laughing stock." Then-Senator Craig Thomas stated that PETA should focus on more important issues than "maligning license plates." He said PETA was "bucking up the wrong tree. Don't hold your breath for Wyoming to boot the cowboy off the plates to reflect PETA's politically correct campaign." PETA alleged that the plates were a promotion of rodeos, even though there is no mention of rodeos on the plates, which contain the image, license number and state name. The bucking horse and rider remains on the license plates and highway signs to this day.
National Forest Scenic Routes
Several stretches of Wyoming highways within national forest boundaries are designated by the U.S. Forest Service as scenic byways. These routes include three routes in the Big Horn Mountains (U.S. 14, 14A, and 16) as well as several others throughout the state:
Bureau of Land Management (BLM) Scenic Backways
Three routes in Wyoming consisting of county roads (marked by a red dotted line) have been designated by the U.S. Bureau of Land Management as back country byways. These routes include:
South Big Horn and Red Wall Byway in western Natrona County
Red Gulch/Alkali Byway in eastern Big Horn County
Seminoe-Alcova Byway between Sinclair and Alcova
A word of caution: BLM Back Country Byways include sections of gravel roads in remote areas which are not suitable for wintertime travel or travel during inclement weather other times of the year.
Wyoming Scenic Loop Tours
The State of Wyoming has designated six scenic loop tours, three in the southern half of the state and three in the northern half of the state. These loops have been deemphasized somewhat in the last decade, but were commonly advertised by the tourist department in the 1990s. Notably, none of them are anywhere near Yellowstone National Park. The scenic loop tour routes are:
This message was further explained at the project web site, which stated that the billboard "is an attempt to help more people make the connection between the food on their tables and the open spaces they enjoy as they drive across America." There is a growing tendency in our society to put a high value on open spaces. That value usually comes with an emphasis on preservation. Unfortunately, preservation often means limiting or removing human activity, including production agriculture. There are fewer and fewer people who make the connection between the food in the supermarkets and our beautiful open spaces. Many don't realize, that with few exceptions, all the land that isn't covered with buildings or pavement is probably important in some way to some segment of agriculture! With numerous ranches and farms across Wyoming and the Great Plains, this seems to be as good a place as any to make this statement.
The Wyoming Highway pages on AARoads are in no way related to or affiliated with the Wyoming State Department of Transportation.
Updated December 31, 2021.