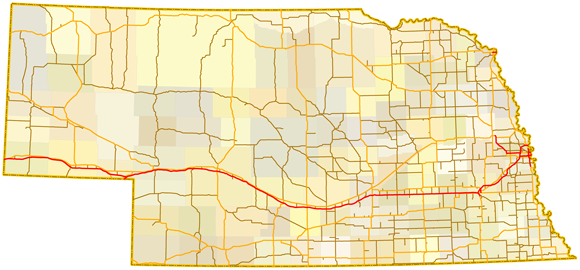 Sitemap to all pages covering the state of Nebraska. Photography contributions by Alex Nitzman, Andy Field and Brent Ivy.
Nebraska State Highway System
Nebraska state routes are generally divided into three groups: primary, secondary links, and secondary spurs. The primary routes are usually one or two digits but sometimes are three-digit routes. The secondary system allows for connections from the primary system (Interstate, U.S., or Nebraska Primary) to towns and cities throughout the state. If the secondary route connects two routes (perhaps into or through a city or town), the secondary state route is called a "link." If the connection leads into a city or town without reconnecting to a state route, the secondary state route is called a "spur." Occasionally, a third designation for secondary state routes for connections to state parks and recreational areas is used; these are called "recreation road."
The route number for these secondary routes is determined by the county in which the route is located in alphabetical order (numbers range from 1 to 93, or from Adams to York County). A letter suffix is appended to the route number, and this helps separate multiple link and spur routes within a given county. The end result is a route number such as "L-2A," which would be the first ("A") link route in the second county (Antelope County). For more information visit Jesse Whidden's Nebraska Roads.
State Population
1,961,504
Metropolitan Populations
Omaha-Council Bluffs, NE-IA
967,604
Lincoln
340,217
Sioux City, IA-NE
149,940
Grand Island
77,038
Kearney
56,772
Norfolk
48,744
Top County Populations
Douglas
584,526
Lancaster
322,608
Sarpy
190,604
Hall
62,895
Buffalo
50,084
Dodge
37,167
Top City Populations
Omaha
478,393
Lincoln
290,505
Bellevue
53,270
Grand Island
51,004
Kearney
34,235
Fremont
26,227
Hastings
24,725
Norfolk
24,363
Columbus
23,597
Sources: 2020 U.S. Census Data (metro populations and counties), 2020 U.S. Census Estimate (cities)
About Nebraska
Capital: Lincoln
Nickname: Cornhusker State
Area: 77,355 square miles or 200,350 square kilometers, 15th largest
Statehood: 37th state; admitted March 1, 1867
Total Interstate Mileage: 481.66 miles
Highest Point: Panorama Point (5,424 feet above sea level)
Mining: oil, natural gas, sand, gravel, stone
Agriculture: cattle, milk, corn, pigs/hogs, soybeans, wheat, sorghum
This page, and all the Nebraska Roads pages herein, are in no way related to the Nebraska Department of Transportation (NDOT).
Updated December 29, 2021.