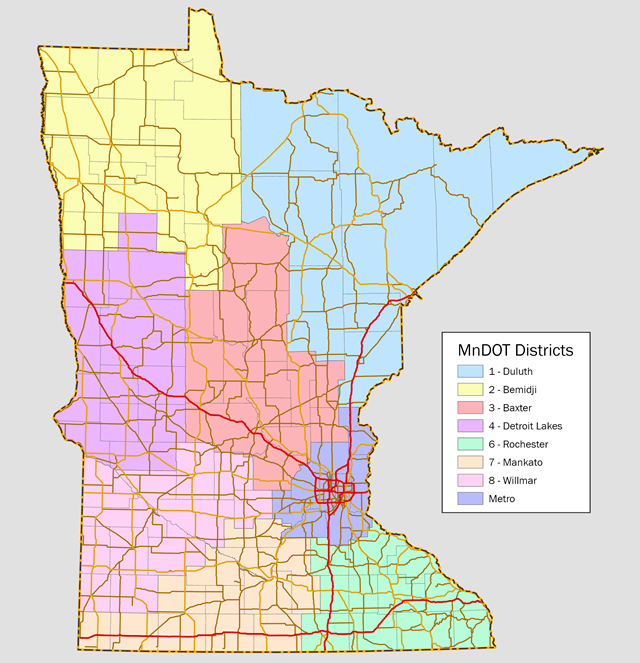 Sitemap to all pages covering the state of Minnesota. Photo contributions by Alex Nitzman, Andy Field, Brent Ivy and Chris Kalina.
Interstate Guides
U.S. Highways
State Trunk Highways
About the Minnesota County State-Aid Highway (CSAH) System
Approximately 30,600 miles of county roads throughout the North Star State fall under the County State-Aid Highway system. These roads are built and maintained by the counties, and are funded by the County State-Aid Highway Fund. Any reference to County State-Aid Highways on Minnesota highway guides will be abbreviated CSAH.
State Population
5,706,494
Metropolitan Populations
Minneapolis-St. Paul-Bloomington
3,690,261
Duluth, MN-WI
291,638
Fargo, ND-MN
249,843
Rochester
226,329
St. Cloud
199,671
La Crosse-Onalaska, WI-MN
139,627
Grand Forks, ND-MN
104,362
Mankato
103,566
Brainerd
96,189
Top County Populations
Hennepin
1,281,565
Ramsey
552,352
Dakota
439,882
Anoka
363,887
Washington
267,568
St. Louis
200,231
Olmsted
162,847
Stearns
158,292
Scott
150,928
Top City Populations
Minneapolis
433,111
St. Paul
306,717
Rochester
119,862
Duluth
85,773
Bloomington
84,583
Plymouth
79,635
Brooklyn Park
79,574
Woodbury
74,255
Maple Grove
72,881
Sources: 2020 U.S. Census Data (metro populations and counties), 2020 U.S. Census Estimate (cities)
About Minnesota
Capital: St. Paul
Nickname: The North Star State, Land of 10,000 Lakes, and Gopher State
Area: 79,626.74 square miles (land), 14th largest
Statehood: 32nd state; admitted May 11, 1858
State Tree: Red Pine
Highest Point: Eagle Mountain (Superior National Forest), 2,301 Feet above Sea Level
Total Interstate Mileage: 952.88 miles
Major League Sports Franchises
Minnesota Vikings (NFL)
Minnesota Twins (MLB)
Minnesota Timberwovles (NBA)
Minnesota Lynx (WNBA)
Minnesota Wild (NHL)
Updated December 29, 2021.