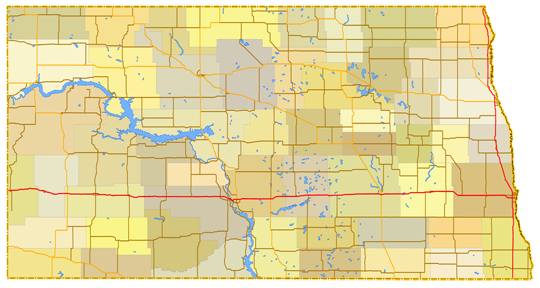 Sitemap to all pages covering the state of North Dakota. Photography contributions by Alex Nitzman, Andy Field and Brent Ivy.
Highway Guides
Interstates
U.S. Highways
State Highways
State Population
779,094
Metropolitan Populations
Fargo, ND-MN
249,843
Bismarck
133,626
Grand Forks, ND-MN
104,362
Minot
77,546
Williston
40,950
Dickinson
34,591
Top County Populations
Cass
184,525
Burleigh
98,458
Grand Forks
73,170
Ward
69,919
Williams
40,950
Stark
33,291
Top City Populations
Fargo
125,209
Bismark
74,018
Grand Forks
55,950
Minot
47,428
West Fargo
38,194
Williston
29,749
Sources: 2020 U.S. Census Data (metro populations and counties), 2020 U.S. Census Estimate (cities)
About North Dakota
Capital: Bismark
Nickname: Peace Garden State
Area: 68,976 square miles, 17th largest
Statehood: 39th state; admitted November 2, 1889
Total Interstate Mileage: 571.13 miles
Highest Point: White Butte (3,506 feet above sea level)
Home of the geographical center of North America:: Rugby (Pierce County)
Agriculture: sugar beets, wheat, cattle, barley, sunflowers, milk
Updated December 30, 2021.