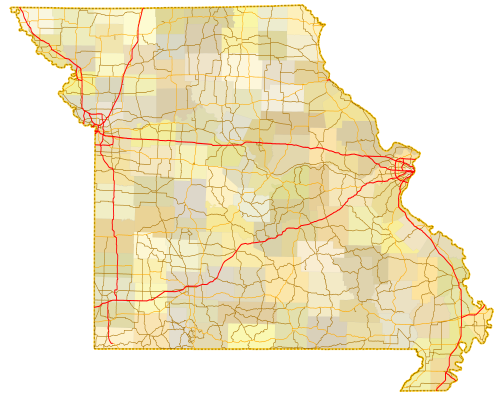 Sitemap to all pages covering the state of Missouri. Contributions and photography for the Missouri guides from Alex Nitzman, Andy Field, Brent Ivy and Justin Cozart.
Highway Guides
State Population
5,988,927
Metropolitan Populations
St. Louis
2,812,896
Kansas City, MO-KS
2,035,334
Springfield
436,712
Joplin
175,518
Columbia
172,786
Jefferson City
149,807
St. Joseph, MO-KS
127,329
Cape Girardeau-Jackson, MO-IL
96,275
Top County Populations
St. Louis
998,954
Jackson
674,158
St. Charles
360,485
Greene
275,174
Clay
221,939
Jefferson
218,733
Boone
162,642
Jasper
117,404
Top City Populations
Kansas City
459,787
St. Louis
319,294
Springfield
159,498
Independence
116,830
Columbia
108,500
Lee's Summit
91,364
O'Fallon
79,329
St. Joseph
76,780
St. Charles
65,794
Blue Springs
52,575
Sources:
U.S. Census Bureau, 2010 Census Redistricting Data Summary File.
Table of United States Metropolitan Statistical Areas
About Missouri
Capital: Jefferson City
Nickname: Show Me State
State Flower: Hawthorn
State Bird: Eastern Bluebird
State Tree: Flowering Dogwood
Total Interstate Mileage: 1,386.23
Land Area: 69,704 square miles
Highest Point: Taum Sauk Mountain 1,772 feet
Lowest Point: Saint Francis River along north-south border with Arkansas, 230 feet
Number of Counties: 114 and one independent city (St. Louis)
Statehood: 24th state; admitted August 10, 1821
Major League Sports Franchises
Kansas City Chiefs (NFL)
Kansas City Royals (MLB)
St. Louis Blues (NHL)
St. Louis Cardinals (MLB)
St. Louis City SC (MLS) – to begin play in 2023
Sporting Kansas City (MLS)
Kansas City Athletics (MLB), the A's relocated from Philadelphia to KC in 1955 and left for Oakland in 1967.
Kansas City Scouts (NHL), played only two seasons, relocating to Denver as the Colorado Rockies in 1976.
Kansas City Kings (NBA), initially the Kansas City Omaha Kings, splitting their games between the two cities until 1979. The Kings moved to Sacramento in 1985.
St. Louis Browns (MLB), became the Baltimore Orioles in 1954.
St. Louis Cardinals (NFL), moved to St. Louis from Chicago in 1960, vacated Missouri for Phoenix in 1987.
St. Louis Hawks (NBA), the Hawks moved to St. Louis from Milwaukee in 1955 and left for Atlanta in 1968.
St. Louis Rams (NFL) – moved to Los Angeles in January 2016.
Updated October 22, 2021.