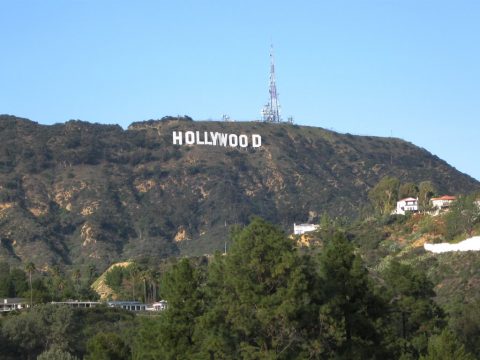 The most famous sign in Greater Los Angeles is the Hollywood Sign, which was dedicated on July 13, 1923, as an advertisement that became a permanent fixture of the landscape. Located on Mount Lee (not Mount Hollywood), the Hollywood Sign is visible at several vantage points from Mulholland Drive. There are no public roads leading up to the sign itself. The property behind the sign (on Cahuenga Peak) was added to the city's Griffith Park on December 9, 2010 to help preserve the unfettered view of the Hollywood Sign. Photo taken 02/13/11.
Several interesting roads and highways bisect the Los Angeles region. Photos below profile several of these roads, including unique bridges and vistas in the City of Angels and nearby environs.
Exposition Line – Metro Light Rail
The Expo Line opened to transit use on April 28, 2012. Part of the Metro rail network, the Expo Line begins in downtown Los Angeles and extends south along the Interstate 110 corridor to Exposition Boulevard, then turns west toward Culver City. A future extension will eventually bring this line to Santa Monica.
This series of pictures showcases Exposition Park, which is located south of the University of Southern California (USC) campus and includes the California Science Center, Sports Arena, and Los Angeles Coliseum. A sprawling rose garden sits near one of the main entrances into the Science Center just south of USC. Photos taken 05/05/12.
One of the steepest streets in Los Angeles is Fargo Street, which travels from Allesandro Street uphill to Alvarado Street. Walkers and bicyclists alike gather to climb this steep grade, measured at 32%. Photos taken 03/25/07.
Palos Verdes Drive South west
Riverside Drive approaches the arched Hyperion Avenue overpass. An on-ramp connects Riverside Drive to Interstate 5 (Golden State Freeway). Photo taken 03/25/07.
This series of pictures shows photos of Griffith Park in Los Angeles. This first set follows Vermont Canyon Road north as it ascends toward the Griffith Observatory. At the top of the grade, Vermont Canyon Road turns west to pass into a tunnel. Photos taken 02/26/11.
These views look out over Los Angeles from Griffith Observatory, starting with a view looking toward the north and then circling counterclockwise toward West Los Angeles and downtown. These pictures demonstrate the clarity commonly found after storms pass through the Southland. Included in the views is the Hollywood sign, visible on Mt. Lee. Photos taken 02/26/11.
Griffith Observatory was dedicated on May 14, 1935 and is located on a promontory below Mount Hollywood overlooking the Los Angeles Basin to the south. The observatory sits at 1,134 feet and contains telescopes and exhibits related to astronomy. Photos taken 02/26/11.
Sources:
Page Updated March 7, 2011.