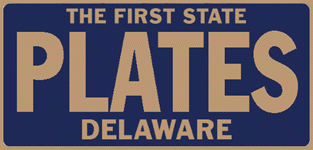 821,618 vehicles were registered in the state of Delaware as of May 1, 2005.3 Delaware's License plates are neither embossed or debossed. They are created with a silk-screening process and are flat. License plates in Delaware feature up to seven characters. Prefixes indicate the type of vehicle or organization they represent.
Examples of Prefixes:
C or C/L – Commercial (Pickup trucks and vans)
The state originally used the letter C only for trucks and vans, but were required introduce "CL" when they started to run out of numbers. The "CL" represent the first and last letters of "Commercial".1
P/C – Passenger Cars
Tags bearing this prefix are allocated toward station wagons, sport utility vehicles (SUV's), and passenger vans (vans with windows down the sides)1
T – Trailer
These are placed on any tow-behind trailers.
CT – This designation applies to trailers owned by construction companies that transport heavy equipment.
FT – Farm Truck
Farm truck tags cost less than standard commercial tags because of their special duties including short distance transport of heavy loads.1
MC – Motorcycle
MOP – Moped
UD – University of Delaware
OES – Order of the Eastern Star
DU – Ducks Unlimited
KC – Knights of Columbus
WC – Wilmington College
DelDOT outsourced license plate manufacturing from a Milford, Delaware-based company to Nova Scotia-based Waldale Manufacturing in 2002. The change saved the state $200,000 and introduced a new font to all Delaware license plates for the first time since 1958. Waldale Manufacturing could not replicate the original font due to its use of computerized screening and thus introduced the new lettering. Many Delawarean's were displeased with the new look to Delaware's license plate characters and voiced their concern to the state.3
The font was revamped from Arial to Arial Bold, but still failed to recreate the original font. Waldale redesigned the font again in 2006 and it now more closely resembles the original.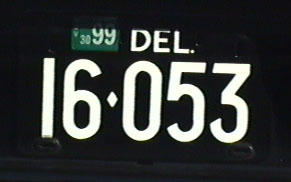 Low numbered tag numbers are prestigious in Delaware for some residents. The lower the number, the better, according to those who find this to be the case. The state of Delaware began issuing license plates to vehicles in 1905. Initially owners were required to make their own plates, and not until 1909 did the state issue its own first official license plate. Car owners until that time generally assigned one to three numbers on their license plate. The state began assigning numbers in 1909, starting with 1,000. This numbering was chosen because of the sporadic issuing of numbers under 1,000 and of poor record keeping of them until that time.2
The Delaware General Assembly reserved tag numbers 1, 2, and 3 were for the Governor, Lieutenant Governor, and the Secretary of State respectively in 1935. License plate numbers from four upwards remained in the general circulation.2
Nowadays many car owners and their families covet lower numbered tags in the state of Delaware. Tags are transferable from vehicle to vehicle, may be sold from Delawarean to Delawarean, or reassigned to other family members. The Division of Motor Vehicles only levies a $20 fee for the transfer of a tag number from one owner to another. Tag numbers that are not maintained run the risk of ceding back to the State and returned to general circulation.
The rage of low license plate numbers fetches some outrageous tag number sales in the state of Delaware. In 1994 the sale of Delaware tag #9 garnered $182,500 and in 2005 Delaware tag #170 sold for $115,000.2 Some four-digit plates can bring over $10,000 to the prospective seller. Other states where low numbered tags draw such attention include Washington, Massachusetts, Rhode Island, Illinois, and the District of Columbia.
To add to the fever behind low numbered tags in the state of Delaware, owners of low number plates may opt to purchase a replica of 1942-era license plates to display on their vehicle in place of the standard gold on blue tag. Through the Delaware Historic Plate Company, porcelain license plates may be purchased and displayed on passenger vehicles with tag numbers lower than 87,000, and commercial vehicles with tag numbers lower then C9999. The yearly fee for these tags is $60.
Low license plate numbers may be available from the DMV in addition to those being sold by current tag owners. Delaware DMV occasionally has eligible tag numbers available when numbers cede back to the state by owners who either left the state, sold their car to an out of stater, or otherwise let their plates expire. Those interested must inquire with the DMV about availability.
The Delaware Historic Plate Company web site provides information pertaining to the legal requirements, cost, and history of the black and white tags found on Delaware roads. Additionally the company is now authorized to remake stainless steel black and white tags for tag numbers through to 200000, commercial vehicles through to C50000 and PC plates to PC9999.
Vanity tags incur an additional annual fee to the standard registration rates. Seven characters are available for these tags (five characters for motorcycle tags). Delaware issued three new license plates in 2000 to benefit environmental and special causes. Examples of these specialty tags are found on the Delaware DMV Web site. More photos of Delaware license plates are found on Plateshack's Delaware section.
Special issue tags available include:
Duck plate – Environmental
Lighthouse plate – Environmental
Animal Welfare plate
Farmland Preservation plate
Sources:
"Delafacts." The News Journal (Wilmington, DE), July 26, 1992.
"Triple-digit Del. plates draw five figures." The News Journal (Wilmington, DE), August 22, 2005.
"Plates could take trip back; Former font may be used." Delaware State News (Dover, DE), May 31, 2005.
Page Updated December 9, 2017.