Video captures of Delaware roads and highway signs taken from VHS footage filmed in the 1990s.
SR 1 Turnpike – Christiana Segment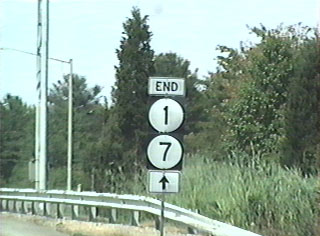 End Delaware 1 & Delaware 7 shield assembly on Delaware 1 North at Interstate 95. When the new interchange between SR 1 and 58 was completed, a new end assembly was added further north.
Both end signs were taken down between 2001 and 2004. Vidcap taken 08/04/99.
An oversized diagrammatic sign preceded the off-ramp for Christiana Mall on Delaware 1 and 7 south of Interstate 95. This assembly was installed shortly after the opening of the SR 1 segment between SR 7 and SR 273 by Christiana.
Replacements made by 2003 added a pull through sign for Delaware 1 south – Dover/Beaches and overheads for Exits 165A/B for Delaware 7 south to Christiana and Mall Road. Vidcap taken 08/04/99.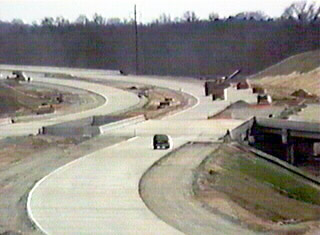 Construction of the SR 1 Turnpike between Exits 162 (SR 273) and Exit 164 (SR7 south) from the Christiana Mall access road (SR 7) overpass. The misaligned sections of pavement resulted in several lane shifts over the ensuing years. Vidcap taken 04/01/92.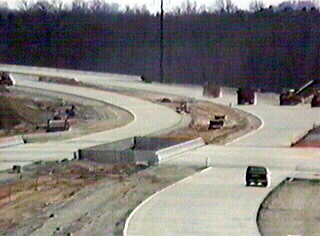 Originally three southbound lanes continued from Interstate 95 to Delaware 273. This later changed with a lane drop taking place for Exit 164. (04/01/92)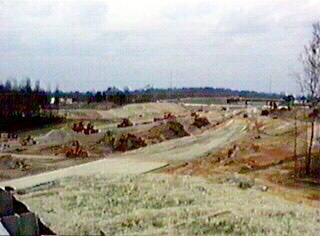 Delaware 1 construction between the relocated Delaware 7 and original Mall Road overpass. The previous traffic pattern saw Delaware 7 veer westward to the south of the overpass to join Stanton Christiana Road. A traffic signal operated where the two-lane state route intersected the Mall Road ramp. Construction of Delaware 1 eliminated the light and removed the intersection with Mall Road. (04/01/92)
The original Mall Road overpass and Delaware 7 alignment near Christiana Mall. This section of the SR 1 Turnpike was the second to be completed statewide. The four lane freeway here opened to traffic in April 1993. (04/01/92)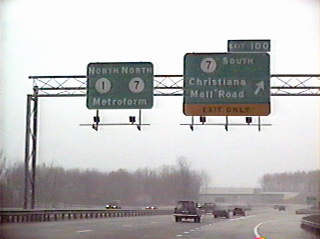 Delaware 1 north at the parclo interchange (Exit 164) with Delaware 7 east of Christiana. The 1993-opened section crosses an area of wetlands between Delaware 273 (Christiana Road) and Delaware 7 (Stanton Christiana Road). The pull-through panel was later adjusted to display Churchmn Cr (short for Churchman's Crossing) instead of Metroform. (03/21/94)
SR 1 Turnpike – Biddles Corner Toll Plaza
Looking south from the Biddles Corner toll plaza at the unopened turnpike. The same type of light fixtures were installed at the main toll plaza near Dover and at the Delaware 7 / 58 interchange at Churchman's Crossing. (07/25/99)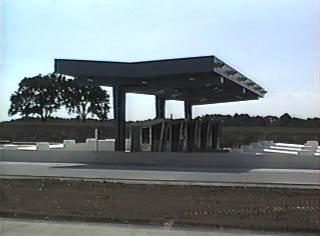 Looking at the southbound toll booths. High speed E-ZPass lanes run between the north and southbound toll booths for cash-paying drivers. (07/25/99)
The view toll takers see southward from the northbound side toll booths. (07/25/99)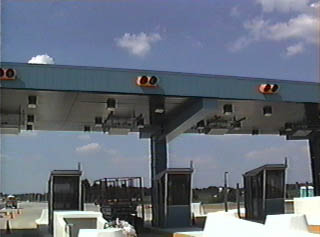 Northward view of Biddles Corner Plaza and air conditioned toll booths. (07/25/99)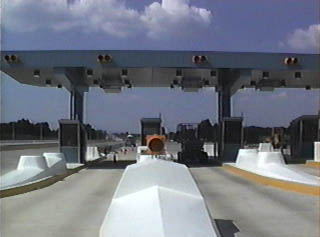 Concrete barrier conceal staircases linking each toll booth with a pedestrian tunnel below the Biddles Corner Toll Plaza. (07/25/99)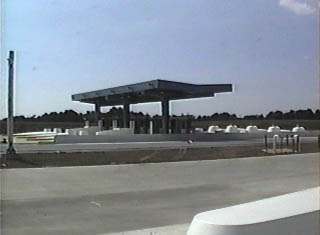 Looking west at the southbound toll plaza and unopened E-ZPass express lanes. (07/25/99)
A northbound toll booth at the Biddles Corner Toll Plaza. (07/25/99)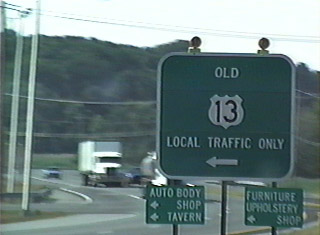 With the building of Delaware 1 south of Odessa, U.S. 13 saw a slight relocation. The realignment created an access issue for businesses and homes along the former portion of U.S. 13. SR 1 separated old U.S. 13 from the new alignment east of the toll road. (07/25/99)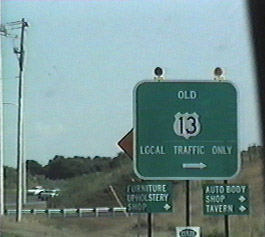 A service road was constructed underneath Delaware 1 to accommodate those residents and businesses located on the old U.S. 13. Temporary "OLD U.S. 13" signs were installed on then U.S. 13 & Delaware 1 for the service road. (07/25/99)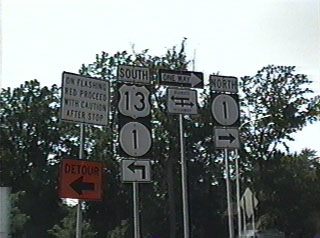 Shield assembly posted at temporary merge of Delaware 1 and U.S. 13 near South St. Georges . Between December of 1995 and Fall of 1999, a traffic light operated over the northbound lanes of Delaware 1 as they shifted away from U.S. 13. This signal accommodated left-hand turns from Saint Georges to the freeway lanes en route to Boyds Corner. (08/99)
SR 1 Turnpike – Smyrna-Dover Bypass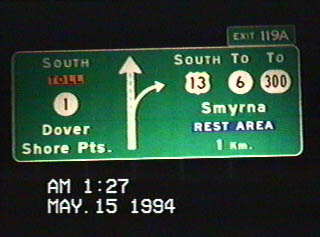 Metric diagram sign on U.S. 13 & Delaware 1 South approaching the beginning of the Dover/Smyrna Bypass. This sign was eventually converted to English units and was posted where the two routes formerly split. (05/15/94)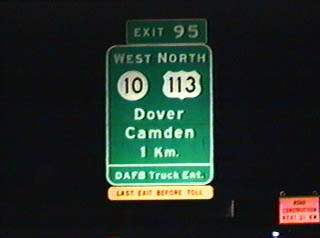 U.S. 113 / Delaware 10 overhead on the SR 1 Turnpike northbound with metric units. As of February 2004, U.S. 113 was truncated to the point where Delaware 1 and U.S. 113 merge in Milford. The removal of U.S. 113 on the stretch between Milford and Dover was enacted to "reduce confusion among motorists wishing to access the Delaware Beaches". (05/15/94)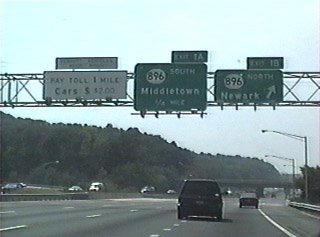 Southbound on Interstate 95 at Delaware 896. The Toll sign pictured here was replaced with an E-ZPass advisory sign. Furthermore, DelDOT had no warnings that this interchange was the last exit before toll. As of Summer 2002, the panel for Exit 1Al was also replaced to include U.S. 301. Completion of the high speed E-ZPass lanes at the Newark toll plaza in 2011 resulted in new signage, including the last exit before toll distinction for Exit 1A. (07/99)
Vintage Interstate 95 trailblazer on Adams Street north between Maryland and Lancaster Avenues in Wilmington. This assembly was replaced by the late 1990s. (03/18/94)
Original overhead on Interstate 95 north along the Wilmington Viaduct. Label scaring visible on this panel alluded to Seventh Street, the previous off-ramp location for Exit 7. This assembly was replaced in 1998. (03/18/94)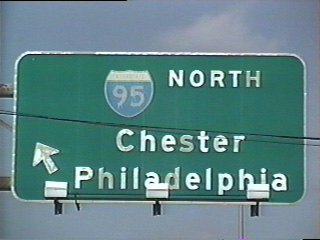 Original Interstate 95 north guide sign at the 10th and Adams Street on-ramp. This is one of three ramps serving northbound Interstate 95 within the city of Wilmington. The assembly was replaced in 1996. (03/18/94)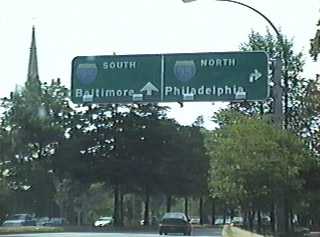 Vintage guide signs posted on Delaware 52 (12th Street) north in the city of Wilmington. (08/04/99)
Delaware 52 (12th Street) north at Adams Street. An on-ramp to I-95 north departs from Adams Street nearby. The Interstate 95 shields on all guide signs along 12th Street were replaced Spring of 2000. (08/04/99)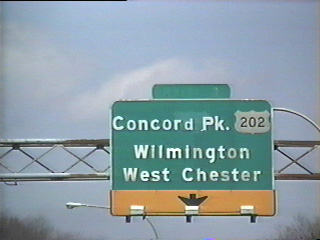 Original overhead for Exit 8 above Interstate 95 north in Wilmington. The U.S. 202 shield was shifted right to accommodate the addition of "Concord Pike" to this sign. (03/18/94)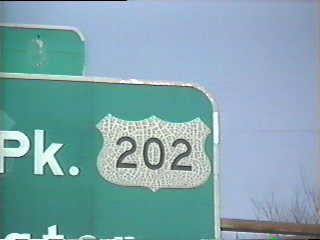 The vintage overhead for Exit 8 was replaced in 1999. (03/18/94)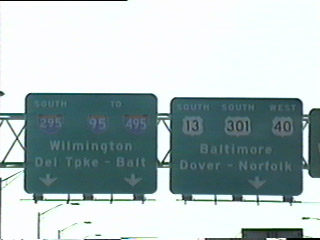 Previous signage on I-295 south at the interchange with U.S. 13 (Dupont Highway)/ U.S. 301 and Norfolk were dropped on replacement overheads. Additionally U.S. 13 & 40 were signed with the control points of New Castle Airport and Dover. (01/99)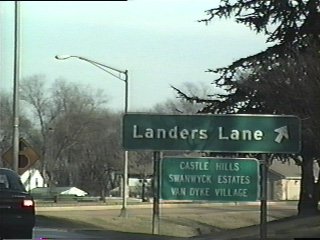 A likely original guide sign for the Landers Lane off-ramp on I-295 north. (02/99)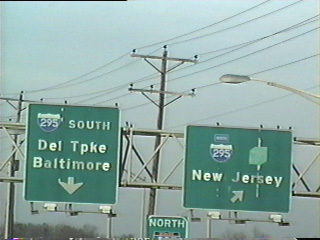 Delaware 9 north at the cloverleaf interchange with I-295. The Delaware River and Bay Authority replaced these overheads in February 1999 as part of a rehabilitation project along Interstate 295. (01/27/99)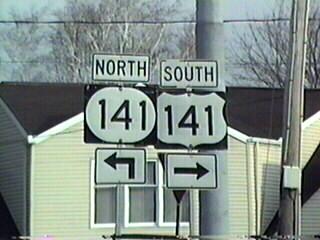 Delaware 34 (Faulkland Road) east at Delaware 141 (Centre Road) near Centerville. The erroneous U.S. 141 shield remained in place until the early 2000s. (02/99)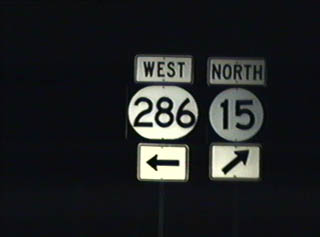 Delaware 15 north at the east end of Delaware 286 (Bethel Church Road). Delaware 286 was designated in 1994. Vidcap taken 1994.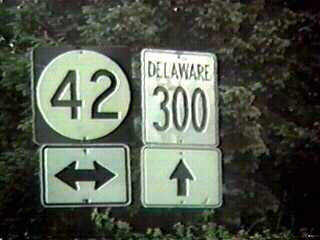 Delaware 42 / 300 shield assembly on Delaware 11 south in Kenton. The square shield design was the first used along Delaware highways. It was dropped in favor of the circular cutout displayng "DEL". (07/11/94)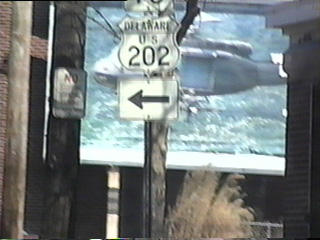 U.S. 202 cutout found along on Market Street (U.S. 13 Business) north at Concord Ave (Delaware 202) in Wilmington. The trailblazer remained from when U.S. 202 northbound turned onto Concord Avenue from Market Street. (03/18/94)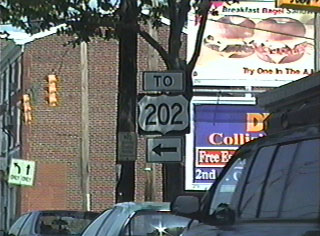 A cutout for U.S. 202 on U.S. 13 Business (Market Street0 north at SR 202 (Concord Avenue) was replaced with this trailblazer for U.S. 202. This marker was eventually removed and SR 202 is unsigned from Market Street otherwise. (08/99)
This lone assembly was the only sign posted for U.S. 13 Business on Delaware 202 (Concord Avenue) south in Wilmington. The north banner was still in place as of 2016. (07/99)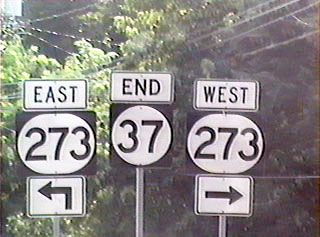 Delaware 37 constitutes a short route between Delaware 273 (Christiana Road) and Delaware 141 (Basin Road) to the west of New Castle County Airport (ILG). Pictured here is the south end of the route. (07/99)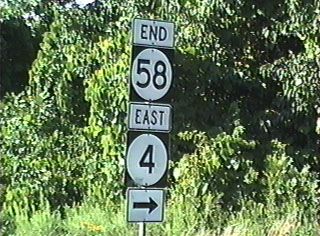 End Delaware 58 shield assembly at the Western terminus in Churchman's Crossing. This assembly was a replacement of previous signs that were burnt from an adjacent car fire. (07/99)
Interstate 95 trailblazers on Elkton Road west at Christina Parkway (Delaware 4) in Newark. These shields erroneously directed all motorists headed to I-95 north via the on-ramp from MD 279. They were eventually replaced to include a truck banner above the north assembly. (07/99)