U.S. Highway 93 - Nevada
---
Routing
U.S. 93 runs from near Wickenburg, Arizona, northwest to Las Vegas, then links with Interstate 15 to head northeast to Glendale and Moapa. From there, U.S. 93 strikes out alone along the Great Basin Highway, into the most desolate regions of the sparsely populated Great Basin along the eastern side of Nevada.
It, like U.S. 95 in Nevada, is mostly a two-lane, rural highway except in parts of Arizona, where it is multilane, divided highway. U.S. 93 is part of the CANAMEX Corridor, which is federal High Priority Corridor #26. The U.S. 93 portion of CANAMEX is slated for improvements, including some additional lanes.
History
U.S. 93 was commissioned in stages:
1927 -- north of Wells (Junction Interstate 80)
1932 -- between Wells and Glendale (Junction Interstate 15)
1936 -- between Glendale and Boulder City after the opening of Boulder Dam (shared with U.S. 466)
The only major reroutings of U.S. 93 occurred in 1966 and 2010. In 1966, U.S. 93 was rerouted to connect with Interstate 15 (U.S. 91) at North Las Vegas rather than Glendale. The original routing of U.S. 93 into Glendale exists today as Nevada 168. In 2010, U.S. 93 was relocated off Hoover Dam and onto the Mike O'Callaghan - Pat Tillman Memorial Bridge (Hoover Dam Bypass) and approach freeway.
Until 1972, U.S. 93 was paired with U.S. 466 from Kingman to Las Vegas. The duplicative routing was eliminated eight years after the State of California eliminated its section of U.S. 466 west of Barstow (modern California 58).
Originally, U.S. 93-466 followed Boulder Highway/Fremont Street to Main Street, Main Street north to the Salt Lake Hwy, and the Salt Lake Hwy north to Great Basin Highway. This changed three times. The first time was when the Interstate 515 freeway was finished from Interstate 15 to Boulder Highway, when it was rerouted from Boulder/Fremont and onto Interstate 515. The second time was when Interstate 515 was finished to Lake Mead Drive, so for a brief time, U.S. 93 (and 95) were routed onto Lake Mead Drive. The third time was with the completion of Interstate 515 to Railroad Pass, then it was routed off the surface streets permanently. The fourth realignment occurred in 2010 with the completion of the Hoover Dam bypass. A fifth realignment will be made to U.S. 93 once the Boulder City bypass is completed.
Guide and Planned Improvements:
Hoover Dam Bypass, Interstate 11, and Lake Mead National Recreation Area
U.S. 93 enters Nevada in a most grandiose fashion as it leaves Arizona. As a four-lane freeway, U.S. 93 passes over the Colorado River via the Mike O'Callaghan - Pat Tillman Memorial Bridge, which is the Hoover Dam Bypass freeway. Slated for eventual inclusion in proposed Interstate 11, the four-lane arch bridge travels over the Black Canyon south of Hoover Dam and has a walking path on the north side for those wishing to look down at the canyon and the dam. This bridge opened to traffic on October 19, 2010.1 The bridge is among the tallest bridges in the United States, crossing over the surface of the Colorado River by 890 feet. Within the U.S., only the Royal Gorge Bridge in Colorado is higher (which spans over the Arkansas River in central Colorado).2, 3
Prior to October 2010, U.S. 93 crossed over the Colorado River by passing on top of Hoover Dam. The dam, which holds back sparkling blue Lake Mead, became closed to through traffic once the O'Callaghan-Tillman Bridge opened. The Arizona approach was closed, and the approach to the dam from Boulder City, Nevada, was redesignated as Nevada 172. The opening of the bridge and closure of the dam to through traffic eliminates a major traffic clog and allows trucks and commercial traffic to use U.S. 93 once again. For more on the bridge, please see the official Hoover Dam Bypass webpage, Canamex Corridor webpage, and Wikipedia. Bridge design was conducted between 1998 and 2003, and construction began in 2002 and continued until October 2010. To see construction pictures, visit The Amazing Hoover Dam Bypass Bridge Nears Completion.
Construction on Hoover (Boulder) Dam began in 1931. On September 30, 1935, the Hoover Dam (called Boulder Dam from 1935 to 1947) was dedicated by President Franklin D. Roosevelt. The massive dam, built across the flood prone Colorado River in the Black Canyon, created a resource for water and power in an arid region. Considered one of the engineering marvels of the world, it reduced flooding on the Lower Colorado River; created irrigation for Southern Nevada, Arizona, and California's Imperial Valley; created one of the world's largest manmade reservoirs in the world; provided hydroelectric power to the entire Southwest; employed hundreds of Great Depression-era workers; and provided a transportation link between Arizona and Nevada, with two-lane U.S. 93 crossing over the top of the dam (until 2010).2, 3
According to Nick Christensen, "With the explosive growth of the cities of Las Vegas and Phoenix, traffic has steadily increased on the dam, which is still the only direct route between those two cities. Trucks also frequently use the road. Partly because of pedestrian traffic from visitors to this remarkable site, these cars and trucks must slow to a crawl approaching the dam, backing up on either side for an hour or more. The increased traffic also poses increased risks, for example, if a truck carrying hazardous waste or motor fuel were to fall off on one of the hairpin curves approaching the dam, it could leak toxic material onto a powerhouse, potentially setting off an explosion that would cripple the western power grid. On the same front, an accident involving a truck carrying hazardous material falling into Lake Mead could harm the only water supply for all of Arizona, as well as all of southern Nevada and California. Because of this, it is a top priority of the Federal Highway Administration and the Bureau of Reclamation to build a bypass of Hoover Dam." The bypass opened in 2010, and as of July 6, 2012, U.S. 93 between the Arizona-Nevada state line and downtown Las Vegas became part of a future Interstate 11 corridor between Phoenix and Las Vegas via the U.S. 93 corridor.
In 1950, Las Vegas had only 24,624 people, and Phoenix had 106,818 residents. In 1970, five years after the Bureau of Reclamation did their first study on the traffic problems at Hoover Dam ("US 93-466 Hoover Dam Origin and Destination Study"), the population of Las Vegas had grown to 125,787; Phoenix, had grown to 584,303 people. By 1999, Las Vegas has a population of over 460,000, and Phoenix, over 1,260,000. In fact, as of 1997, 11,500 vehicles cross Hoover Dam daily. By contrast, the ramp from northbound Interstate 15 to northbound U.S. 95 in the core of Las Vegas carried 29,150 vehicles daily in the late 1990s.
In the late 1990s, eleven possible crossings over the Colorado River were studied for U.S. 93, and three crossings were identified as preferable. In 2001, a composite concrete arch bridge was selected to be constructed over the Black Rock Canyon, just south of Hoover Dam over the Colorado River. The Sugarloaf alternative was chosen, and the Environmental Impact Statement was completed and adopted on March 22, 2001.
Construction began in 2002 and opened on October 19, 2010. The bridge would be 890 feet over the river, over 250 feet higher than the crest of the dam. Barriers prevent drivers from seeing the dam while crossing over the river. The bridge would be 1,500 feet downstream from the dam and 1,900 feet long. Approximately 2.2 miles of new road were built in Nevada, along with a 1.1-mile approach in Arizona. A 400-foot-long bridge would be constructed over Gold Strike Canyon, and it would connect to a 300-foot-long tunnel. In Arizona, an 800-foot-long bridge will be constructed. To alleviate wildlife concerns, two bighorn sheep overpasses, and three underpasses will be built through the project. Utility relocation, including transmission lines occured in earliest stages of the project.
Because of heightened security related to the September 11, 2001, terrorist attack, U.S. 93 was closed to commercial traffic over Hoover Dam until the bypass opened in 2010. Recreational vehicles and trailers were discouraged from crossing the dam, and a detour was signed via Arizona 68, Nevada 163, and U.S. 95 to avoid the dam area.3 Prior to the opening of the Hoover Dam Bypass, there was a southbound checkpoint just south of the Hacienda Casino, and a northbound checkpoint about ten miles north of the Willow Beach turnoff on the Arizona side. For more information, see this official site.
Prior to completion of the bypass, former U.S. 93 (now Nevada 172) begins its ascent out of the canyon almost as soon as it reaches the other side. Switchbacks and tight curves with metal guardrails make the driving treacherous for those not used to driving on the narrow road. Traffic is high along this stretch, since U.S. 93 is the main route from Phoenix to Las Vegas, and many tourists flock to see Hoover Dam.
Just prior to the former Nevada 166 (now Lakeshore Road) junction is the Hacienda Casino, which has been open since 2001. Prior to that, this was the site of a burned-out hulk of a casino that had been destroyed in a devastating blaze. Prior to its destruction, this casino was the first one along U.S. 93 from Arizona. This being Nevada, there is almost always a casino of some kind near the state line. Signs in this area used to prohibit trespassing into the casino before it was reconstructed. In the meantime, U.S. 93 widens out here to four lanes in each direction with a turning lane in the middle. This will be the standard as U.S. 93 approaches Boulder City.
Visitor and information centers abound along this stretch of U.S. 93. The first one is on the Nevada side of the Hoover Dam. This Bureau of Reclamation Visitors Center has a parking garage and is the kick-off point for dam tours and guides. Further up the road, just before the Lakeshore Road (former Nevada 166) junction, lies the Lake Mead National Recreation Area Visitors Center, which provides information on camping, boating, hiking, and swimming in one of the world's largest reservoirs. Just a bit northwest of that visitor center at the Nevada Highway (Business U.S. 93/Former Nevada 500 junction) lies the State of Nevada Visitors Center, which has all the official state tourism literature.
Former Nevada 166 was an interesting road for several reasons. According to the state route logs, this route does not exist. When we visited the area in June 1997, we found that the highway was clearly signed from U.S. 93 with standard Nevada DOT shields. However, the road immediately changes in style, with National Park Service-style mileage and regulatory signs. This is due to the fact that this road is maintained by the Department of the Interior, not Nevada DOT. Therefore, Nevada 166 is not listed on the Nevada DOT publication. The route markers on this road were a bit different from normal too: They were more rectangular in shape (almost like a speed limit sign -- not square like most other Nevada signs) and had the Nevada state outline colored black and the "166" colored white. This is opposite most state route markers in the state. However, by 2000, these shields and any trace of Nevada 166 were removed. The highway is now maintained by the National Park Service as Lakeshore Road.
Guide and Planned Improvements: Boulder City Bypass (Future Interstate 11)
At the top of the steep, windy grade, U.S. 93 reaches Boulder City, a town that was founded on the construction of Hoover (Boulder) Dam and now thrives as the gateway for tourists visiting the dam. Boulder City is the only city in Nevada without a casino -- it was born as a laborers town exclusively for workers building Hoover Dam. Since the beginning, the city has prohibited gaming. Boulder City is also growing as a bedroom community to Las Vegas. Historically, Boulder City has resisted the forces that have aided growth in the Las Vegas valley. Even so, the town is growing. In Spring 1998, the city added its second traffic light along the Nevada Highway (Former Nevada 500, which may have also been Business U.S. 93 briefly). Nevada Highway is not signed as a business route through Boulder City.
Northwest of Boulder City, U.S. 93 passes several motels, curio shops, and fast food. The highway widens into a four-lane, divided highway, just before it meets U.S. 95 at a diamond interchange. Busy four-lane U.S. 95 is a fast route south to Laughlin, Bullhead City, and Needles. The road was widened from two to four lanes in stages through the 2000s. U.S. 95 merges with U.S. 93 northbound as they jointly approach the city of Las Vegas. Growth has fueled significant development on U.S. 93 through Boulder City, which makes the once-empty bypass into a bustling area of commerce. Traffic can be quite significant through the area.
As a result of this growth, a new Boulder City bypass is planned. The freeway would bypass the city to the south (Alternative D), leaving the existing U.S. 93 "bypass" (with its businesses and hotels) in its current configuration to the north of the city. A Record of Decision that selected Alternative D was approved on December 8, 2005. This new bypass would be a freeway and would include an interchange at Railroad Pass. Construction is slated to begin on the first phase in late 2011, which would eliminate an at-grade intersection at Railroad Pass Casino. The second phase, which would loop to the south of Boulder City between U.S. 95 and the Hoover Dam Bypass, is not scheduled pending funding identification.4
Guide: Las Vegas
U.S. 93 follows U.S. 95 as it enters the Las Vegas area, and Interstate 515 joins the routes as they enter Henderson. From there, U.S. 93 is a freeway, leaving its old alignment (Boulder Highway/Nevada 582) behind as it enters Las Vegas. U.S. 93 meets Interstate 15 in downtown Las Vegas, and it turns northeast to leave the city along with Interstate 15. For more on Las Vegas, check out the pages for Interstate 15, U.S. 95 Guide and Interstate 515/Future Interstate 11. U.S. 93 was not routed onto Interstate 15 until the completion of Interstate 515 to the first Boulder Highway exit. Here, Interstate 515 ends and the U.S. 95 expressway continues northwest. U.S. 93, on the other hand, turns northeast along Interstate 15 toward the Moapa Valley. U.S. 93 is well-signed along Interstate 15, and the turnoff for the U.S. 93/Great Basin Highway is clearly marked. At Glendale/Moapa, U.S. 93 turns north toward some of the emptiest, most desolate, and most beautiful terrain in the United States.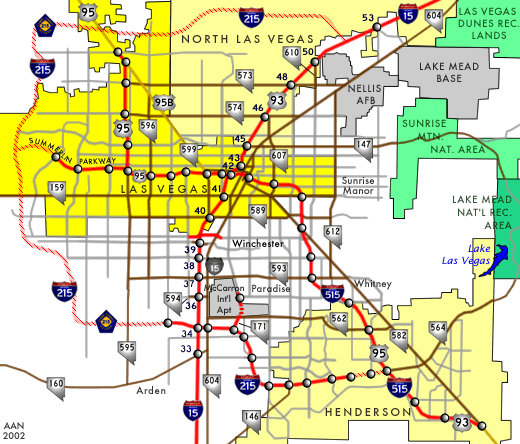 Guide: The Great Basin Highway
North of Las Vegas, U.S. 93 becomes a contender for the title of "The Loneliest Highway" in America (a title that is bestowed upon U.S. 50). There are only a few towns between Interstate 15 and Interstate 80, with Ely shining as the one "big city" in all of Eastern Nevada. U.S. 93/Great Basin Highway is considered to be a scenic route for much of this route, especially through Lake Valley between Panaca and Majors Place. At Majors Place, U.S. 93 merges with U.S. 6-50 for its approach into Ely.
For more on Ely, check out the U.S. 50 Guide. Just north of Ely, U.S. 93 splits into U.S. 93 and U.S. 93A. U.S. 93 heads toward Wells, while U.S. 93A heads northeast toward Wendover and Interstate 80. U.S. 93A is not a short-cut alternate to U.S. 93 -- if your destination is Twin Falls or points north, stay on main U.S. 93. But if you're going to Salt Lake City, use U.S. 93A northeast-bound.
U.S. 93 then heads north on its own toward Wells and Interstate 80. This northern segment of the road attracts more traffic, since U.S. 93 provides the most direct route to Twin Falls, Idaho, and the fertile Magic Valley. Just west of U.S. 93 is the town of Jarbidge, famous for the forest service dirt road that was reopened by the Shovel Brigade in defiance of Forest Service plans to keep the road permanently closed. Jarbidge is a very remote town, one that cannot be reached oftentimes in the snowy months, and is served only by dirt roads. To reach Jarbidge, go 19 miles north of Jackpot to the town of Rogerson, Idaho. Turn left at the gas station and follow Twin Falls County Road 65 miles west to Jarbidge (which takes you back into Nevada!).
For more on Jarbidge, visit both the Jarbidge Official Comunity Page and A Place Called Jarbidge by Don Mathias. Don has written two books about Jarbidge, whose residents believe the little hamlet to be the most remote inhabited town in the 48 contiguous states. For every summer since 1967, Mr. Mathias has visited Jarbidge, and he knows the area well.
Back to U.S. 93, the road finally hits Jackpot, the typical Nevada "border town" located at the Idaho State Line. Casinos and bright green grass can be spotted several miles south of Jackpot amid the barren hills and valleys of Northern Nevada. This is really a small town geared for Idahoans who wish to gamble, so there is not much else in this area. U.S. 93 then enters Idaho and eventually the Magic Valley of the Snake River, which is known nationally for its "Famous Potatoes."
U.S. 93 Auxiliary Routes
Alternate U.S. 93 runs from Lages Station to Wells via the border town of Wendover. U.S. 93A does not enter the State of Utah, however. More specifically, U.S. 93 splits into U.S. 93 and U.S. 93A at Lages Station north of Ely; U.S. 93A turns northeast to serve Wendover while U.S. 93 continues due north to Wells. The return connection of U.S. 93A between Wendover and Wells is not well signed along I-80 the trailblazer signs at the exits closest to Wendover have the U.S. 93 shield with an "Alternate" banner, while those assemblies closer to Wells do not typically have the shield.

U.S. 93A is actually a rather young route. During the convoluted history of the various routings of U.S. 50 across Utah, the stretch of U.S. 93A from north of Ely to Wendover changed designations rather frequently (although not nearly as bad as the highway now carrying the U.S. 191 designation in Moab, Utah that road has been known as U.S. 450, U.S. 160, U.S. 163, and possibly U.S. 666 over the past fifty years).

When the highway carrying the U.S. 93A designation was first conceived in the 1930s, it carried the U.S. 50 designation. At that time, U.S. 50 was routed directly into Salt Lake City, via current U.S. 93A, I-80 (U.S. 40), Utah 201, U.S. 89, and U.S. 6. In 1954, U.S. 50 was rerouted to the south of Salt Lake City (via current U.S. 6 between Ely and Price). Old U.S. 50 was recommissioned as U.S. 50A. The designation of U.S. 50A through Salt Lake City lasted for 22 years, but it was ultimately decommissioned in 1976. At that time, the standalone segment of U.S. 50A in Nevada (southwest of West Wendover) became U.S. 93A. Most of U.S. 50A in Utah was dually signed (shared alignment) with other routes, so it was deleted in favor of the other signed route. The only exception was the stretch of U.S. 50A now known as Utah 201, which was not signed with any other route.

U.S. 93A is certainly not a good alternate route to U.S. 93 -- it will take you almost an hour out of your way. However, it is part of the best route for travelers between Salt Lake City and the Nevada communities along the U.S. 50 corridor (such as Ely, Austin, and Eureka). U.S. 93A also serves those traveling from Wendover to Las Vegas or other Southern Nevada communities. Although it may not be clear on a map, U.S. 93A does not even enter Wendover; instead, it connects with I-80 at the West Wendover, Nevada business loop interchange. U.S. 93A does not enter Utah.

One alternate route that probably should exist but does not currently exist is the combination of Nevada 318 and U.S. 6 between Ash Springs and Ely. This route, which is listed as part of the National Highway System, is more direct than U.S. 93 through Pioche. This stretch of Nevada 318 and U.S. 6 would make a good Alternate U.S. 93, perhaps better than the currently designated Alternate U.S. 93 that travels to West Wendover.

Through the years, U.S. 93 has had at least one and possibly more signed business routes in Nevada. The most well-known of these was Fremont Street and Boulder Highway (Nevada 582) in Henderson and Las Vegas; these highways were signed Business U.S. 93-95 after the Interstate 515 freeway opened to traffic. However, the business routes were later eliminated in favor of the state route designation (Nevada 582). Two other possible business routes may exist or have existed in Nevada: Former Nevada 500/Nevada Highway in Boulder City or Nevada 321 in Pioche. Neither business route officially exists, although signs in Boulder City point the way to the business district almost as if Nevada Highway is an official business route. The through route of U.S. 93 is occasionally signed as Truck U.S. 93 as it skirts Boulder City.
---
U.S. 93 Nevada Highway Guides
Alternate U.S. 93 to Wells to Ely via Wendover
Southbound Alternate U.S. 93 ends at Junction U.S. 93. This marks the southern terminus of Alternate U.S. 93. Alternate U.S. 93 connects U.S. 93 with Wendover, then turns northwest to rejoin U.S. 93 at Wells via Interstate 80. Photo taken by Dominic Ielati 5/00.
Business U.S. 93 - Boulder City
Business Loop U.S. 93 (former Nevada 500) follows Nevada Highway through Boulder City. It is a poorly signed route. Boulder City was created as a camp for workers constructing the Boulder Dam (now Hoover Dam), and it has remained as a tourist destination for those traveling to the dam as well as those who wish to experience Southern Nevada away from Las Vegas. There is no gambling in Boulder City, and the first traffic light in the town was erected in the late 1990s. Boulder City is gaining additional residents as a bedroom community for those commuting to Las Vegas. Photo taken 11/12/00.
Scenes Pertaining to U.S. 93: Hoover Dam
View of U.S. 93 from Arizona toward Hoover Dam. This picture was taken from the dam, facing southbound U.S. 93 (which is really looking east). The approach from Arizona to the dam is a bit less rugged than the approach from Nevada. Photo taken 6/97.
Side view of Hoover Dam as seen from a viewpoint looking over Black Rock Canyon. Photo taken 6/97.
View of U.S. 93 and Hoover Dam from east of the dam (in Arizona), with Lake Mead resting to the right (north). Photo taken 11/12/00.
View of Lake Mead as seen from the Arizona side of the Colorado River. Hoover Dam holds back millions of acre-feet of water, and Lake Mead stores an ample supply of water for the millions of households throughout the West that depend upon it. In addition, hydroelectric power (which is generated by the dam) is a consistent source of energy, even during the power crisis that occurred in the summer of 2001. Photo taken 11/12/00.
U.S. 93 across the top of Hoover Dam. At the time this picture was taken, there were limited restrictions on what could travel over the dam. However, in the wake of the terrorist attacks of September 11, 2001, the dam has increased security and has prohibited certain trucks from crossing the dam. Prohibited cargo must use U.S. 95 south to Laughlin, then cross into Arizona via Nevada 163 and Arizona 68. Traffic generally moves at a crawl across the dam, especially with the number of tourists and others wandering about the top of the dam. Photo taken 6/97.
View of Black Rock Canyon looking south as seen from Hoover Dam. Photo taken 6/97.
View of Lake Mead looking north as seen from Hoover Dam. Photo taken 11/12/00.
Much earth movement had to occur to route U.S. 93 into the Black Canyon. This photo shows the route U.S. 93 has to take to get down to the level of the dam. Note all the power line towers. They are also angled downward to send power lines to the turbines at the base of the dam, several hundred feet below this picture. Photo taken 6/97.
In addition, several bridges such as this one had to be constructed on the Nevada side to allow for U.S. 93 to be fit into the ragged terrain. Photo taken 11/12/00.
View of Hoover Dam from U.S. 93 in Nevada. Photo taken 6/97.
View of Lake Mead as seen from U.S. 93 just north of the Hacienda Hotel but before the junction with former Nevada 166. Photo taken 10/24/03.
Sources:
---
Page Updated July 6, 2012.