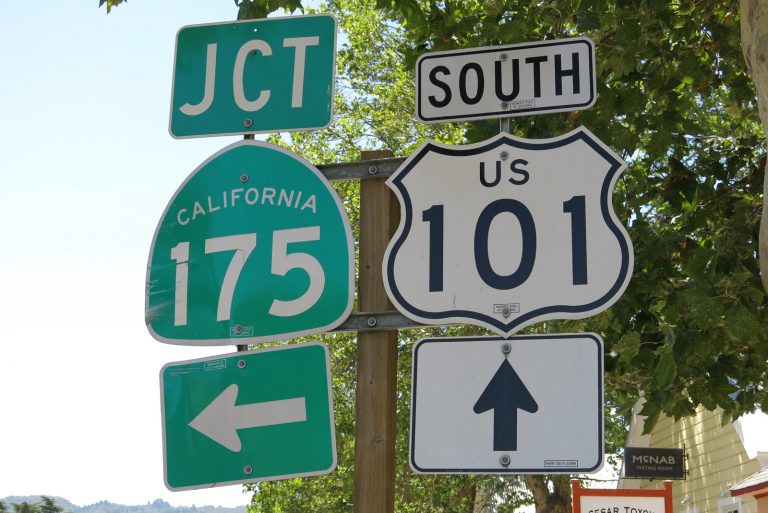 California 175 begins in Hopland and ends in Middletown and can be divided into three segments:
Hopland Grade (Hopland Pass) Segment through the Mayacamas Mountains - from U.S. 101 in Hopland west to California 29 in Lakeport; this road is well known locally for its steep ascent to Lake County and countless curves and switchbacks; larger trucks exceeding 39 feet in length are prohibited from using this portion of the highway
California 29 Segment - runs concurrent with California 29 to bypass Kelseyville
Cobb Mountain Segment - separates from California 29 to travel over Cobb Mountain en route to Middletown (California 29 connects the two end points of this segment, and it is faster despite being longer)
From Lakeport through Kelseyville, California 29-175 is a multi-lane divided expressway. The route over Cobb Mountain and the Hopland Grade are both narrow, winding roads. Over Hopland, the highway hugs the landscape as it winds it way over the grade, while the route through Cobb Mountain and Whispering Pines has reduced visibility due to the forested areas it traverses.
An oddity in Lake County are street blade signs listing California 175 through Cobb Mountain as "SHO 175."
| | |
| --- | --- |
| | Westbound California 175 concludes at U.S. 101 (Redwood Highway) in the unincorporated community of Hopland. 07/05/13 |
| | |
| --- | --- |
| | Upon reaching U.S. 101, traffic may turn left from SR 175 west for U.S. 101 south to Santa Rosa and San Francisco or turn right for U.S. 101 north to Ukiah and Eureka. 07/05/13 |



Photo Credits:

07/05/13 by AARoads

Page Updated 09-02-2013.