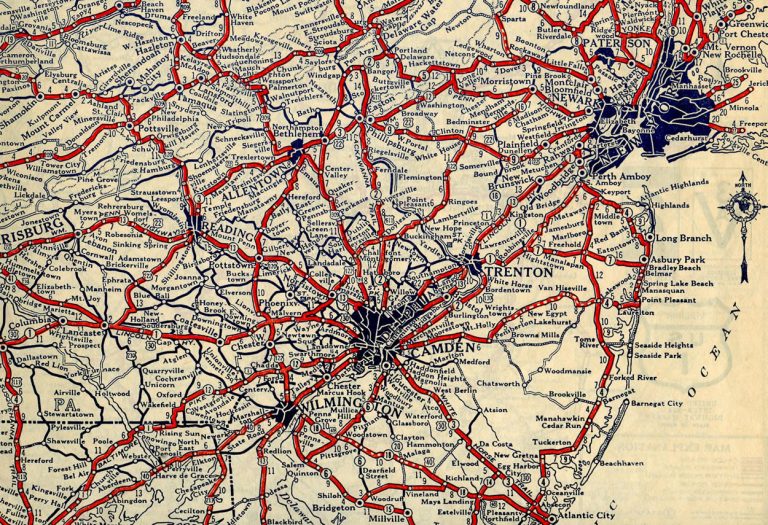 The Description of the United States Highways Adpoted for Uniform Marking by the American Association of State Highway Officials published on November 11, 1926 outlined U.S. 122 in Delaware as:
From Wilmington to the Pennsylvania-Maryland State Line near Elam.
However this information was not clearly communicated to the Delaware State Highway Department. A letter from Chief Engineer C.D. Buck to the American Association of State Highway Officials (AASHO) dated February 21, 1927 read:
Your letter of the 15th inst. received, enclosing description of U. S. highways selected for Delaware.
Number 122 I never heard of before receiving your letter. I have tried to trace its beginning from the Government map and as best as i can tell it seems to start from Newark, N. J. I do not see why this road was included, nor frankly do I see the benefit to be had from it. I will be glad to have you write me the route of this highway, from where it begins to where it ends, which I supposed is Wilmington. With the exception of this road, the outline as enclosed seems to be all right.
W.C. Markham at AASHO responded to the State of Delaware on February 23, 1927:
In reference to No. 122, the men at the Bureau who are doing this detailed work for me say that the road is virtually a Pennsylvania road but comes down to Wilmington and as it only includes one and one half mile in Delaware, they overlooked notifying you when they were laying out the numbered system for Pennsylvania, which as you doubtless have already noticed is quite large and complicated.
Having received the letter from AASHO, the Delaware Chief Engineer responded on February 25, 1927:
If highway 122 only includes one and one half miles in Delaware, it does not reach Wilmington, therefore it seems even less desirable.
The alignment of U.S. 122 was later amended to continue south through Wilmington to U.S. 13/40 at State Road, Delaware and north to Raritan, New Jersey. The alignment became part of a U.S. 202 extension in 1936 while the number 122 was reassigned to the present-day PA 10 and 61 corridor between Oxford and Sunbury, Pennsylvania over what was U.S. 120. U.S. 120 at the time saw relocation to the present-day PA 120 route in north central Pennsylvania.
U.S. 122 followed the Concord Turnpike southward from the Pennsylvania state line into the city of Wilmington. Within Wilmington U.S. 122 continued southward along Concord Avenue to Baynard Boulevard and Washington Street. U.S. 122 overlapped with U.S. 13 southward out of the city via Market Street to State Road where it ended.
For more on historic U.S. 122 see US Ends.com
Page Updated 10-31-2022.