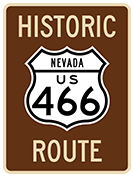 U.S. 466 was a U.S. highway that traveled on a 526 mile long course between Morro Bay, California and Kingman, Arizona. The route passed through Las Vegas, Henderson, and Boulder City within the Silver State. The U.S. highway was in service between 1934 and 1971.
U.S. 466 entered Nevada from the south along with former U.S. 91 near Stateline (Primm). The two highways continued north to Downtown Las Vegas where U.S. 466 joined U.S. 93 and 95 on a southeast heading to Boulder City. The historic route remained with U.S. 93 from Boulder City to the Hoover Dam and into Arizona. U.S. 466 previously traveled solo between Las Vegas and Kingsman until 1951 when U.S. 93 was extended along the same route.
In the Las Vegas metro area, U.S. 466 followed Las Vegas Boulevard (along with U.S. 91) from the Las Vegas Strip northeast into the downtown casino district. At Fremont Street, U.S 466 turned southeasterly on a course with U.S. 93 and 95 to the eastern reaches of Las Vegas. Boulder Highway carried U.S. 466 (and U.S. 93-95) through Henderson and into Boulder City.
The American Association of State Highway Officials (AASHO) formally approved the decommissioning of U.S. 466 in California by July 1, 1964.1 Arizona followed suit by truncating the U.S. highway in 1969. The remaining segment within Nevada was finally decommissioned by December 1971.
U.S. 466 overlaid the following state routes in Nevada:
Nevada State Route 6 from the California border north to Las Vegas
Nevada State Route 5 from Las Vegas to Boulder City Junction
Nevada State Route 26 from Boulder City Junction to the Arizona border (at Hoover Dam)
Page Updated 07-23-2018.