California 16 is currently divided into two segments. The western segment of California 16 begins at its junction with California 20 just east of Clear Lake, then heads southeast via Cache Creek Canyon to Rumsey, Esparto, and Woodland. The state route ends at Interstate 5 north of Woodland. The eastern segment of California 16 begins at its junction with U.S. 50 in Sacramento at Exit 9 and follows Howe Avenue and Jackson Road east to California 49 near Plymouth. Portions of the state route nearest U.S. 50 within the city of Sacramento are being considered for transfer to local jurisdictions for operations and maintenance.
California 16 was commissioned as a state sign route in 1934. Originally, California 16 was one continuous state route, with a signed alignment connecting the western and eastern segments. The route between Woodland and Sacramento followed Main Street (Business Loop I-5) east through downtown Woodland, Yolo County Road 22 east, Old River Road southeast (curving along the west bank of the Sacramento River), Harbor Boulevard south into the city of West Sacramento, Sacramento Avenue east, Sixth Street north, C Street east, Kiline Street east, I Street Bridge over the Sacramento River into the city of Sacramento, Third Street south/Fifth Street north (one-way couplet), Capitol Mall east (along Historic U.S. 40-99W), Seventh Street south/Eighth Street north (one-way couplet), N Street east (back when this was a two-way street; today is it one-way eastbound), 16th Street north/15th Street south (one-way couplet), Capitol Avenue east (along Historic U.S. 50), and Folsom Boulevard east until connecting with Jackson Road. The downtown Sacramento routing for California 16 described here was accurate as of the 1968 California State Automobile Association (CSAA) map of Sacramento; it may have had minor variations as streets converted between one-way and two-way status. A scan of this map is provided below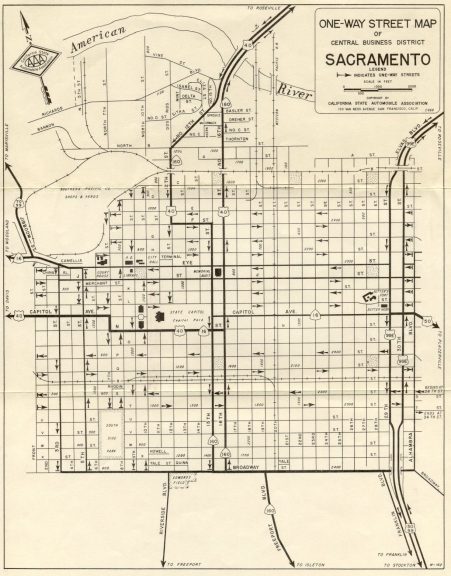 A portion of California 16 overlapped with former California 24 northwest of Sacramento. A later realignment may have moved California 24 (and definitely California 70) away from former California 16 and onto Garden Highway (which follows the east bank of the Sacramento River) and possibly Jibboom Street to link with the downtown Sacramento street grid. In 1964, California 24 was removed from Sacramento, and Californio 70 was commissioned to follow the Jibboom Street and Garden Highway route leaving Sacramento to the north (see 1968 CSAA map of Sacramento below); its southern terminus was later truncated north to its split from California 99 northeast of the Sacramento International Airport. California 16 more or less remained on its route. Regardless, with the completion of the central Sacramento freeway network, the state route designation along these streets became less necessary and redundant in keeping with California's general philosophy (post-1964) about limiting parallel state routes and removing urban streets from the state route system when possible. In 1984, California 16 was removed from the local street network. After California 16 was removed, some maps show California 16 following the freeway network via Interstate 5, Business Loop I-80 (Capital City Freeway), and U.S. 50 between Woodland and Sacramento, but it is unclear if California 16 was ever signed along this route. Some remnant signage for California 16 remained in downtown Sacramento as late as the 1990s, but it apparently is gone as of 2015.
| | |
| --- | --- |
| | East |
| | |
| --- | --- |
| | SR 16 east at Willow Creek Road. 03/29/01 |
| | |
| --- | --- |
| | SR 16 turns north at Yolo County E-7 in Woodland. Paralleling the SR 113 freeway, Yolo County E-7 travels south along Road 98 and Pedrick Road toward Davis. 03/29/01 |
| | |
| --- | --- |
| | An I-5 trailblazer directed motorists onto SR 16 leading north from Main Street (Business Loop I-5) in Woodland. 2002 |
| | |
| --- | --- |
| | West |
| | |
| --- | --- |
| | The eastern segment of SR 16 concludes at the six-ramp parclo interchange joining Howe Avenue with U.S. 50. A ground level button sign previously directly motorists onto the U.S. 50 freeway to Placerville and Sacramento. A new overhead assembly and end shield were added here by 2011. February 2000 |
| | |
| --- | --- |
| | Approaching the six-ramp parclo interchange with Interstate 505 along SR 16 west in Yolo County. 03/29/01 |
| | |
| --- | --- |
| | I-505 travels south to Vacaville while SR 16 continues west into the unincorporated community of Madison. 03/29/01 |
| | |
| --- | --- |
| | SR 16 west at Yolo County E-4 north near Capay. Rumsey is the last in a string of towns along SR 16 west in Cache Creek Canyon. CR E-4 travels 17 miles north to Dunnigan, where it ends at Interstate 5. 03/29/01 |
Photo Credits:
February 2000 by Dominic Ielati.
03/29/01 by Joel Windmiller.
2002 by Trevor Carrier.
Connect with:
Interstate 505

Page Updated 08-15-2017.