Totaling 54.99 miles in Massachusetts, Interstate 91 joins the capital cities of Hartford, CT and Springfield while providing a route north to Quebec, Canada through Vermont. Traffic counts range from around 110,000 vehicles per day through Springfield to 15,000 vpd south of the Vermont state line.
Interstate 91 Massachusetts Guides
The initial stretches of Interstate 91 built included the 4.1 mile portion between the Connecticut state line and the South End Bridge (U.S. 5) in Springfield and the 6.8 mile stretch from U.S. 5 & Massachusetts 10 near the Bernardstown line to Vermont. Both were completed in 1960.1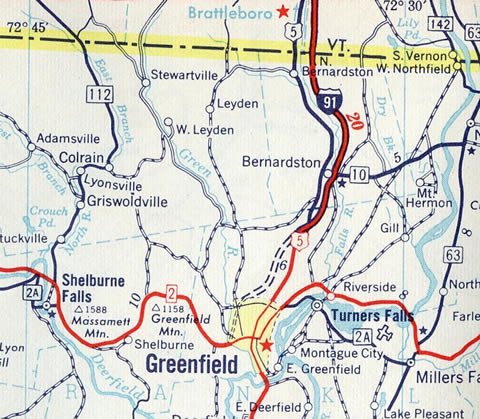 Work followed north from the South End Bridge into Springfield and between Northampton and Whatley through 1964. Another 8.5 miles opened in 1965 linking the completed portions at Whatley and Greenfield and by 1966, I-91 was finished southward from Vermont to the Massachusetts Turnpike (Exit 14).1
The final portion of Interstate 91 constructed was the 6.3 mile stretch through Springfield, Chicopee and West Springfield. Design work began in 1962 with ground broken in 1966. Completed in 1970, the freeway winds northward from Downtown Springfield across the Connecticut River to an interchange with the Mass Pike.1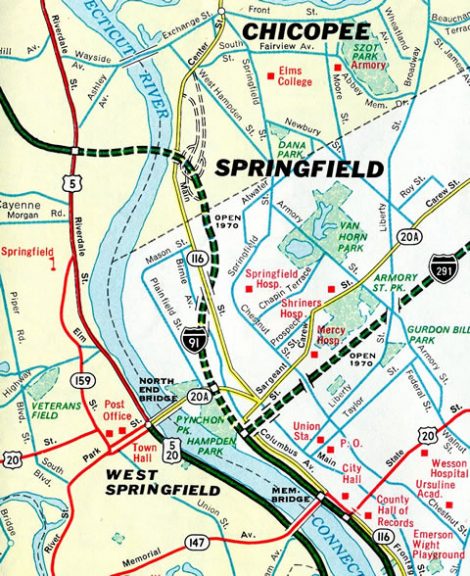 Connect with:
Interstate 90 - Massachusetts Turnpike
Interstate 291
Interstate 391
Page Updated 01-22-2015.