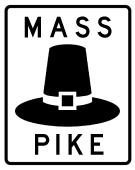 Interstate 90 travels 138.15 miles across Massachusetts from the Berkshire Section of the New York Thruway to Route 1A at Logan International Airport (BOS) in Boston. The entire route doubles as the tolled Massachusetts Turnpike (Mass Pike).
The Mass Pike was originally proposed as a 123-mile route from the Yankee Division Highway (Massachusetts 128) in Weston to the New York state line at West Stockbridge. Construction of the turnpike mainline took place between January 1955 and May 15, 1957. Tolls were collected using a ticketed system.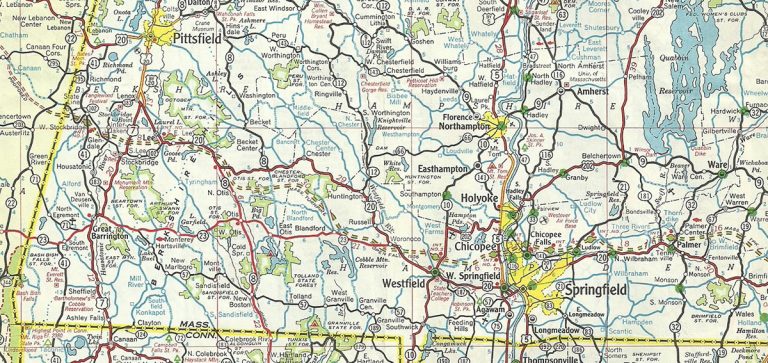 The Boston Extension lengthened the toll road east to the Central Artery (I-93), with work commencing in March 1962. The extension opened east to Exit 18 in September 1964 and to Interstate 93 in February 1965.1 Tolls east of Route 128 were collected at separate toll barriers.
As part of the $24.3-billion Big Dig project, Interstate 90 was extended further east through the Ted Williams Tunnel to Logan International Airport. Work on the Ted Williams Tunnel below Boston Harbor kicked off on December 19, 1991, with the tunnel open to traffic on December 15, 1995. The connection with the Massachusetts Turnpike mainline and Interstate 93 required the building of a second tunnel system at Fort Point Channel. Work continued to January 2003, when the 3.5-mile extension of I-90 was complete.1
Tolls between Exit 1 at West Stockbridge and Exit 6 in Springfield and the New York state line were not charged to passenger vehicles along the Massachusetts Turnpike between 1996 and October 15, 2013. Tolls along this stretch were reimplented by the legislation passed by the Massachusetts House and Senate in 2013. The $12 million in annual revenue will fund projects involving repairs, maintenance and other structural work along the Mass Pike west of Interstate 95 (Yankee Division Highway).2
Interstate 90 Massachusetts Guides