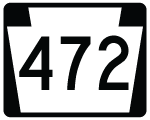 Pennsylvania Route 472 runs northwest from PA 841 just north of the Maryland state line at Lewisville 20.8 miles to PA 372 in Quarryville. The rural highway links Hickory Hill and Oxford in Chester County with Kirkwood as part of a route connecting Lancaster with Elkton, Maryland via MD 213.
Photo Credits:
April 2000, 06/27/10 by AARoads
Connect with:
U.S. 1
Route 10
Route 841
Route 213
Page Updated 01-16-2021.