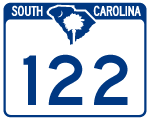 South Carolina Highway 122 (Dave Lyle Boulevard) is a 5.74 mile long route located wholly within the city of Rock Hill. The commercial arterial spurs 1.47 miles east from Interstate 77 to Rock Hill Galleria mall and other big box retail to Waterford Park Drive.
West from I-77, Dave Lyle Boulevard leads the state highway to additional retail, Manchester Meadows Park and a diamond interchange with U.S. 21 (Anderson Road). The controlled access arterial weaves westward from the exchange with Anderson Road to Downtown Rock Hill. S.C. 122 turns south onto Johnston Street at a folded diamond interchange by Rock Hill City Hall. The state highway concludes at a shared end point with MSR 72 (Saluda Street) at S Elizabeth Lane.
Photo Credits:
11/20/21 by AARoads
Connect with:
Interstate 77
U.S. 21
Page Updated 11-23-2021.