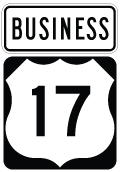 U.S. 17 Business in Beaufort County connects the town of Chocowinity and the city of Washington across the Pamlico River. The 6.04 mile long loop arcs west from a freeway along U.S. 17 into the Chocowinity business district. Passing below U.S. 17 with no access, U.S. 17 Business plies across wetland areas northward to a swing bridge spanning the Pamlico River.
Within Washington, U.S. 17 Business passes just west of Downtown along Bridge Street. North from U.S. 264/NC 92 (5th Street), U.S. 17 Business widens along a five lane commercial boulevard on Carolina Avenue. U.S. 17 Business returns to U.S. 17 north just beyond the city line.
U.S. 17 Business was established in 2010 along old U.S. 17 when the freeway bypass of Chocowinity and Washington was completed. The American Association of State Highway and Transportation Officials (AASHTO) approved the designation on May 10, 2010.