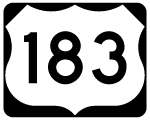 U.S. 183 in Kansas measures 234.69 miles from north of Buffalo, Oklahoma to the Nebraska line south of Alma.
U.S. 183 initially heads north in Clark County to U.S. 160 and K-34 east of Ashland. U.S. 160/183 overlap east 23.90 miles to Protection and Coldwater in Comanche County. U.S. 183 continues north into Kiowa County to U.S. 54/400 near Greensburg and into Edwards County to U.S. 50 at Kinsley.
Following Niles Avenue, U.S. 183 advances 0.52 miles from U.S. 56 (10th Street) to U.S. 56 in Kinsley. U.S. 56/183 run concurrent for 7.88 miles northeast to Nettleton and southwestern Pawnee County. U.S. 56 remains northeast to Garfield while U.S. 183 leads due north 12.26 miles to K-156.
North into Rush County, U.S. 183 travels to K-96 at Rush Center and K-4 at La Crosse. Within neighboring Ellis County, U.S. 183 serves the Hays, the regional service center with a Bypass Route encircling the west side of the city.
U.S. 183 joins Hays with Plainville and Stockton in Rooks County. North into Phillips County, U.S. 183 continues to Glade and Phillipsburg, where U.S. 183 dog legs west alongside U.S. 36 (State Street) for 0.89 miles.
---
U.S. 183 was relocated from Kinsley onto a 7.5 mile long overlap with K-156 (former U.S. 156) northeast to a new alignment leading 12.3 miles due north to Sanford. U.S. 183 previously extended 17.9 miles north to Rozel and 5.0 miles east. The change was made as the former route was in poor condition, required 5.6 miles less construction and was 3 miles shorter overall. The American Association of State Highway Officials (AASHO) approved the State Highway Commission of Kansas request for the relocation on July 5, 1966.
U.S. 183 Bypass was established around the west side of Hays with approval by the American Association of State Highway and Transportation Officials (AASHTO) on October 13, 1979. The seven mile loop included an overlap with I-70/U.S. 40.
Business traffic and local traffic desiring to enter Hays will benefit from this location.
U.S. 183 Bypass is not posted alongside I-70/U.S. 40 between Exit 157 at 230th Avenue and Exit 159 at U.S. 183 (Vine Street). Anticipated for construction in 2021, the Northwest Commercial Corridor extends north from U.S. 183 Bypass along 230th Avenue and east along Feedlot Road to U.S. 183. This will complete the bypass loop around Hays.
Connect with:
Interstate 70
U.S. 24
U.S. 40
Page Updated 11-10-2021.