U.S. 199 follows the Redwood Highway from U.S. 101 north of Crescent City to Interstate 5 at Grants Pass, Oregon. U.S. 199 is also part of the long Winnemucca to the Sea Highway. Originating in Winnemucca, Nevada, the auto trail overlays U.S. 95 north, multi state route 140 west and U.S. 395 to Oregon 62 west. I-5 leads the highway north to Grants Pass, with U.S. 199 extending it southwest to Crescent City and the Pacific Ocean. This route was once considered to be unified under a single U.S. highway number.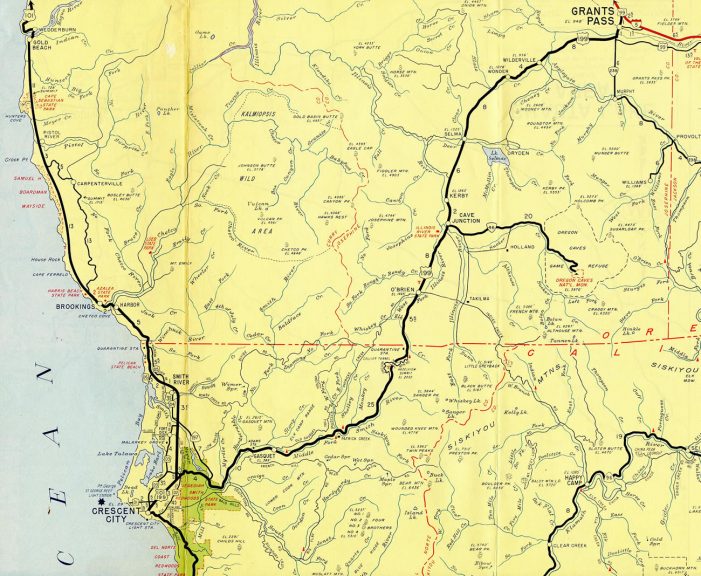 U.S. 199 California Guides
Old U.S. 199 - Oregon Mountain Road
This suite of photos follows old U.S. 199 southbound over Oregon Mountain Road. Oregon Mountain Road is the original route of U.S. 199, and it passes over the current route of U.S. 199 through the Collier Tunnel. The old route is passable, with one gravel section near the Oregon Mountain Summit.
Some sections of the route are overgrown with weeds and trees, and other parts have exposed rocks and earth. Certain curves are switchbacks with a 10 mile per hour advisory speed. Remnant white striping can still be seen on portions of the road, in addition to old guardrail and curbing. At no point along the route is the Collier Tunnel visible. The old alignment is mileposted as Del Norte County 324. It reconnects with U.S. 199 on the south end of the tunnel.
Photo Credits:
05/28/06 by AARoads
Connect with:
State Route 197
Page Updated 08-29-2017.