Las Vegas Beltway
---
Interstate 215 Routing
Interstate 215 and Clark County 215 together form the Las Vegas/Bruce Woodbury Beltway. The Bruce Woodbury Beltway begins at an interchange with Interstate 515 and Nevada 564 in the southeast, then flows in a clockwise direction west to Interstate 15 and Durango Drive. From there, the beltway turns north, meeting the Summerlin Parkway at the westernmost edge and U.S. 95 near the northwestern corner. The beltway ends at its junction with Interstate 15 northeast of Las Vegas. The Interstate 215 portion of the Bruce Woodbury Beltway is currently only the stretch of beltway between Interstate 515 in Henderson and Interstate 15 in the unincorporated community of Paradise near McCarran International Airport. This portion constitutes the southeast quadrant; it was completed in 2005 with the opening of the Interstate 215-515 interchange. The rest of the beltway is currently Clark County 215 because it was not constructed with state funds and is not currently built to Interstate standards. It may be included in a future extension of Interstate 215 as the route is brought to Interstate standards; this upgrade is scheduled for completion in 2013. The Las Vegas Beltway is complete to varying standards from Interstate 515 west to near Summerlin:
Conversion of Nevada 564/Lake Mead Drive (four-lane city street) from Interstate 515 to Gibson Street into a six-lane freeway; construction completed in 2005.
Interstate-standard from Gibson west to Interstate 15 - this stretch is the only part currently part of official Interstate 215, completed in stages (Interstate 15/Fish Bowl to Nevada 171; Nevada 171 to Pecos; Pecos to Gibson) between 1996 and 1999.
Interstate-standard from Interstate 15 (Fish Bowl) to Decatur, part of Clark County Route 215.
One-way couplet frontage roads from Decatur to Tropicana, with large area in center for future freeway construction; has intersections rather than interchanges. This is also known as Clark County Route 215, and it has a special pentagon shield. Decatur to Rainbow opened on November 11, 1999.
Freeway-standard from Tropicana north to Cheyenne Avenue, complete with bridges and interchanges. On March 13, 2001, the beltway was opened between Sahara and Charleston. On March 27, 2001, it was opened from Charleston to Summerlin Parkway. There are freeway sections and at-grade intersections in the area between Tropicana and Cheyenne.
As of mid-2003, the Clark County Route 215 expressway is complete along the northern segment, with future provisions to upgrade the route to freeway standards (see "Future Aspirations" section, below).
The segments that were initially constructed with frontage roads or expressway standards only will be upgraded to freeway standards in the coming years.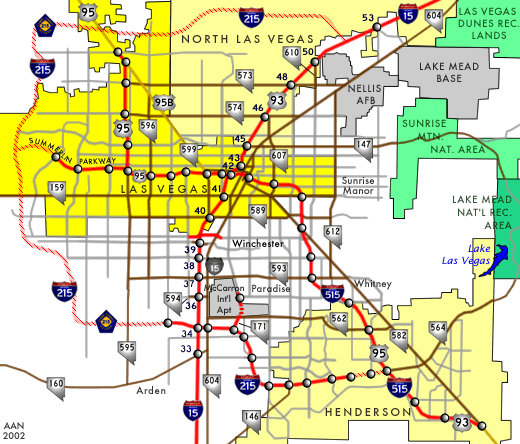 For another map that shows the stages of construction and upgrades to the beltway, visit the beltway interactive map webpage.
Interstate 215 History
Interstate 215 is Nevada's newest Interstate. The Interstate was opened and signed in stages between 1996 and 2005, with the final link in the original route being the freeway extension from Stephanie Street east to Interstate 515. Back in 1996, when it was first constructed, Interstate 215 acted more like a spur route from Interstate 15 to McCarran International Airport (via the connection along Nevada 171, the Airport Tunnel).
Today, Interstate 215 provides a well-traveled connection across the southern tier of the Las Vegas metro area, and will provide fast access around the valley. By January 2001, Interstate 215 was opened to traffic between Interstate 15 and Nevada 146 (St. Rose Parkway)/Pecos Road. By Winter 2002, the freeway was complete from that point east to Stephanie Street. By late 2005, Interstate 215 was extended to connect directly to Interstate 515. For a time, Interstate 215 and Nevada 146 were cosigned; that duplication was eliminated by 2003, and the former alignment of Nevada 146 east of Interstate 515 was recommissioned as Nevada 564.
In several places, Interstate 215 is curiously signed as "Interstate Loop 215," with the "loop" written where the state name normally is located on the shield. The first section of Interstate 215 opened in 1996, with plans to open other segments of the loop in the early 2000s. Only the section between Interstate 15 and 515 has been accepted into the Interstate Highway System; the remainder is programmed with local funding. Frontage roads along the future beltway corridor have been constructed west of Interstate 15, with plans for these frontage roads to reach the Summerlin Parkway and U.S. 95 northwest of Las Vegas, as mentioned above.
Interstate 215 Guide
The full Interstate 15/Interstate 215/Clark County Route 215 interchange is complete, with the exception of replacement of signs, which said (until early 2002) "Decatur Blvd to the Beltway West." Newer signs showcase the Clark County 215 shield. The ramp from Interstate 215 west to Interstate 15 south was among the last of the ramps to open, and it is a clover loop. The ongoing Interstate 15 widening also affects this interchange. For example, the recently announced widening of Interstate 15 from Russell to Blue Diamond and the replacement of the Blue Diamond, Warm Springs, and Union Pacific Railroad (UPRR) overpasses is now underway, and this might change some aspects of the completed 15/215 interchange.
The new sections of Interstate 215/Las Vegas Beltway do not seem to have any of the Interstate green markers anywhere along the route, but there are sporadic whit Nevada mileposts. Exit numbers descend from Interstate 15 to Gibson Road (west to east) -- Exit 12 (Former Exit 10) is Interstate 15, Exit 10 (Former Exit 8) is unsigned Nevada 171 (Airport Spur/To Paradise Road), and Exit 6 (Former Exit 4) is Pecos Road. Exit 3 (Former Exit 1) is Stephanie Street, Gibson Road is Exit 2, and Interstate 515/U.S. 93-95 is Exit 1 (no exit number for the connection to Nevada 564). It seems like the exits are designed to originate at its southernmost point (the Interstate 515 junction) and increase in a clockwise direction from there. Between Exits 8 and 1, Interstate 215 replaced former Nevada 146 (Lake Mead Road) between Pecos Road and Interstate 515.
Interstate 215 Planned Improvements and Future Aspirations
The most important improvement in the existing Interstate 215 corridor is the construction of the freeway-to-freeway interchange between Interstate 215 and Interstate 515. For more on that interchange, visit the I-515/Beltway Interchange Project home page and Nick Mojave's Interstate 215/515 page. For more information on Interstate 215, Clark County Route 215, and the Las Vegas Beltway, please check out Clark County's Homepage.
Outside of the Interstate 215 segment of the beltway (between Interstate 15 and Interstate 515), the rest of the beltway (Clark County Route 215) will be upgraded in phases to its final configuration as full freeway. Here are the phases and scheduled completion dates:

Interstate 15 to Decatur Boulevard - complete
Decatur Boulevard to Buffalo Drive - conversion to freeway completed in late 2004
Buffalo Drive to Tropicana Avenue - completion expected in mid-2006
Tropicana Avenue to Alta Drive - complete
Alta Drive to Cheyenne Avenue (past Summerlin Parkway interchange) - 2009
Cheyenne Avenue to Lone Mountain Road - 2007
Lone Mountain Road to El Capitan Way - 2009
El Capitan Way to Tenaya Way (past U.S. 95/Centennial Parkway interchange) - 2013
Tenaya Way to Decatur Boulevard - 2009
Decatur Boulevard to Revere Street - 2010
Revere Street to Interstate 15 - 2011-2013
Once Clark County Route 215 is completed as a freeway, it is possible that the entire beltway may be considered for inclusion in the Interstate Highway System as part of Interstate 215, perhaps in 2013. That remains to be seen.
Eastern Beltway?
No northeastern beltway is currently planned. NDOT prepared conceptual plans with several proposed alignments of an eastern beltway to show for public input. Public input resulted in many people preferring superarterials be built instead of an eastern beltway segment. In addition, right of way costs through dense residential and commercial areas put a high price tag on the idea. Prior to this, plans called for an eastern extension of the beltway by extending the freeway past Interstate 515.
---
Interstate 215/Las Vegas Beltway Highway Guides
Scenes Pertaining to Interstate 215
This view of the Interstate 215/Interstate 515 interchange is seen from an industrial site on the northeastern quadrant of the Interstate 215/Interstate 515 interchange. Photo taken 04/02/06.
Scenes Pertaining to Clark County 215
Clark County 215 Shield. As seen in these photos, the Clark County 215 shield is a hybrid of a typical county route pentagon shield, with a small yellow circle in the center with blue digits. Although it has a neat design, it is not easy to read the digits in this shield from a distance. Photos taken 11/10/00.
Clark County 215 overpass and bridge art at Sahara. Notice the "2000" date stamp. The freeway here, as well as the overpass, were fully opened to traffic by Spring 2001. Photos taken 11/10/00.
These pictures show parts of the Clark County Route 215 right of way near Summerlin. These pictures were taken in November 2000, and by November 2001, the freeway was open for traffic.
| | |
| --- | --- |
| | Centennial Parkway (which was then-future Clark County 215 in 2000) over U.S. 95. At the time of this photo, Centennial Parkway is merely an overpass, but it is planned to become part of the Las Vegas Beltway once approaches are built from the east and west. Since this photo was taken, the Centennial Parkway overpass has been reconfigured to carry beltway traffic over U.S. 95 (two lanes eastbound, three westbound). The northern beltway segment currently carries traffic from El Capitan Way east to Decatur Blvd. Photo taken 11/10/00. |
| | Clark County 215 right of way as seen from above US 95. Since this photo was taken, a traffic signal has been installed at this intersection (the intersecting road is the U.S. 95 western frontage road), and the beltway continues westward (along the ROW in the photo) towards El Capitan Way. Photo taken 11/10/00. |
Page Updated May 7, 2008.