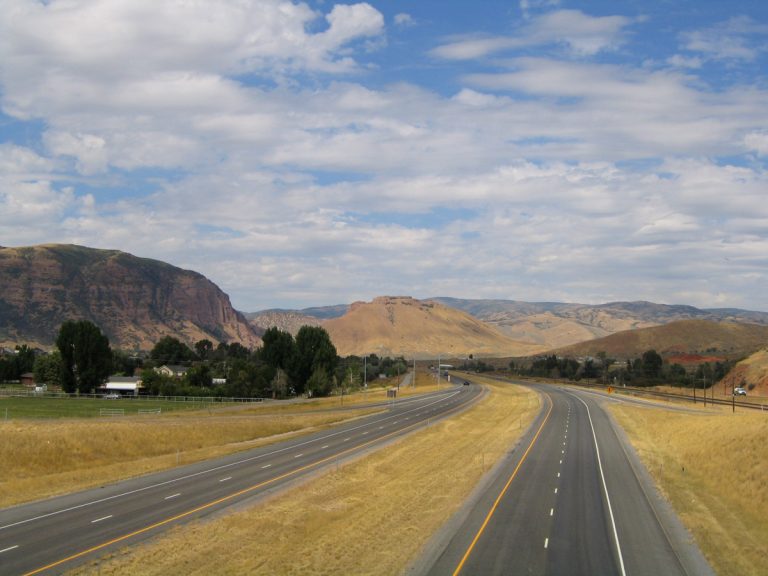 Interstate 84 enters the state from Idaho at Curlew Valley in Box Elder County. Traveling eastward, the freeway runs between the Hansel and North Hansel Mountains to Rattlesnake Pass and Blue Creek Valley. The rural route encircles the Point Lookout Mountains to the merge with Interstate 15 at Tremonton.
I-84 shares a 35.98 mile concurrency with Interstate 15 southward across Bear River Valley to Brigham City and Ogden. Southeast from I-15, Interstate 84 crosses the Wasatch Range through Weber Canyon, Morgan Valley, Upper Weber Canyon and Henefer Valley to end at Interstate 80 and Echo Junction.
Interstate 84 Utah Guides
The Portland, Oregon to Echo, Utah freeway was designated as Interstate 80N until 1977, when AASHTO approved the renumbering to Interstate 84 as part of transportation officials efforts to eliminate suffixed Interstate routes. Sign changes were finalized by July 1, 1980.1
Initial segments of the route in Utah opened by 1969 included the 4.1 mile portion from the Idaho state line to Utah 30 near Snowville, a 4.3 mile stretch leading to and from Rattlesnake Pass, and the easternmost seven miles from Henefer to Echo Junction. Another 16.8 miles of I-80N was under construction in 1969 both west of Tremonton and east of Ogden.2
Interstate 80N was complete across Utah by 1974 with the exception of a 9.8 mile link between Blue Creek Summit and Tremonton in Box Elder County. That section was scheduled for 1983,3 but work on the three year project did not commence until 1983. The $21 million project finally opened to traffic following a dedication ceremony held on September 25, 1986.4
Sources:
"Road numbers to change." The Spokesman-Review, November 3, 1977.
"105 Miles Planned For Utah's Interstate." The Deseret News, January 11, 1969.
"Rough going for interstate." The Deseret News, May 16, 1974.
"Officials dedicate the final stretch of I-84." The Deseret News, September 26, 1986.
Connect with:
Interstate 15
Interstate 80
U.S. 89
Page Updated 06-30-2016.