Interstate 15 is the most important north-south corridor in Utah, passing through the heart of the Beehive State. Originating at the north end of the Virgin River Gorge, Interstate 15 immediately enters St. George, then proceeds north to Cedar City, Beaver and Cove Fort, where I-70 east begins. North from there, the rural freeway continues to Nephi, Santaquin and Spanish Fork. I-15 serves the greater Salt Lake City metropolitan area by connecting the capital city with Provo to the south and Ogden to the north. This includes widened stretches and express toll lanes through Orem, Sandy City and other suburbs. The freeway stays along the western reaches of the Wasatch Mountain Range from southwest Utah to Great Salt Lake. Beyond Ogden, I-84 combines with I-15 to Brigham City and Tremonton.
Interstate 15 Utah Guides
North
Juab County
Utah County (Provo)
Between St. George and Spanish Fork, Interstate 15 largely replaced U.S. 91. Segments of the historic highway are still in use as business routes and state routes. Between Spanish Fork and Brigham City, I-15 parallels U.S. 89 and old U.S. 91, with several independent segments of U.S. 89 still routed separately. North of Brigham City, I-15 replaced historic U.S. 191. Once Interstate 15 replaced U.S. 191, that designation was available to be relocated elsewhere (and in 1981, it was reassigned into western Wyoming and eastern Utah).
Just three sections of Interstate 15 were open to traffic by 1969. They included 8.8 miles from North Cedar City to Summit, 6.2 miles from south Beaver to north Beaver, and 9.8 miles from 31st Street in Ogden to Hot Springs. Another 31.1 miles of the freeway were under construction in 1969. This included portions north of Cedar City and between Ogden and Brigham City.1
268.88 miles of I-15 in the Beehive State were open to traffic by 1974. Construction schedules then extended to 1983, with the 6.9 mile segment between the Sevier River and Mills Junction the last projected.2
Concerns from local leaders and citizens however led to a number of hearings on the final proposals for Interstate 15, delaying completion of the route until November 20, 1990. Hearings focused on potential impacts to prime agricultural land, related effects on local tax bases and the exact route I-15 would follow. Costing $37 million, the final 26 mile section of the Utah Interstate system to be built, opened after a formal ceremony in Riverside.3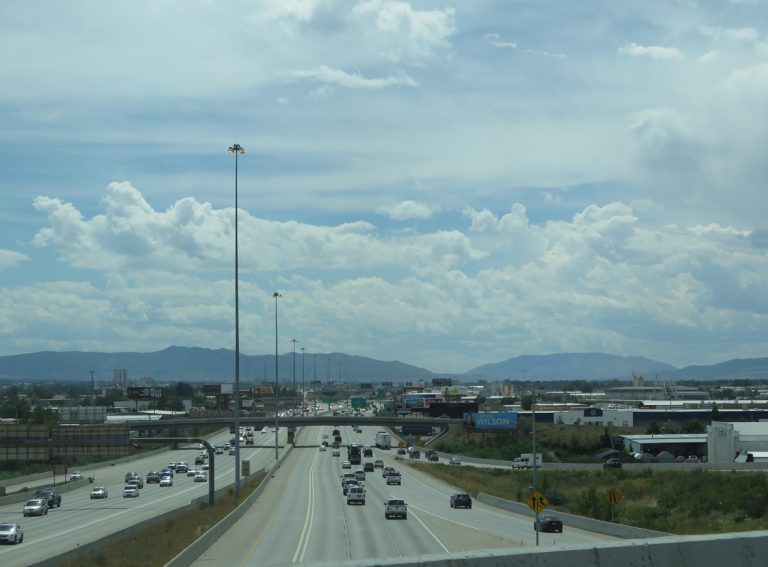 Interstate 15 Business Routes
St. George - follows Utah 18 and Utah 34
Cedar City - follows Utah 130
Parowan - follows Utah 274
Beaver - follows Utah 160
Fillmore - follows Utah 99
Nephi - follows Utah 28 (former Utah 41)
Brigham City - follows U.S. 91 and U.S. 89-91
Tremonton - follows Utah 102 and Utah 13
Decommissioned Business Routes: Holden and Layton
| | |
| --- | --- |
| | scenes |
| | |
| --- | --- |
| | Interstate 15 shields posted at the ranch exit west of old U.S. 91 and Sulphurdale. This assembly was removed by 2014. Photo taken 10/18/04. |
| | |
| --- | --- |
| | Sign replacement for Interstate 15 at Exit 129, west of the Tushar Mountains. Utah, like the state of Wyoming, places wooden shields and signs along their roadways. Photo taken 10/18/04. |
| | |
| --- | --- |
| | A new guide sign installed for the northbound on-ramp to I-15 from Pine Creek Highway near Sulphurdale. Old U.S. 91 parallels the freeway just to the east from here. Photo taken 10/18/04. |
| | |
| --- | --- |
| | Westbound Utah 209 (9000 South) approaches the SPUI with Interstate 15 in the city of Sandy. I-15 constitutes a busy commuter freeway north to Salt Lake City and south to Orem and Provo. Photo taken 05/16/12. |
| | |
| --- | --- |
| | Layton Parkway east at the single point urban interchange with Interstate 15. Photo taken 01/21/11. |
Sources:
"105 Miles Planned For Utah's Interstate." The Deseret News, January 11, 1969.
"Rough going for interstate." The Deseret News, May 16, 1974.
"Wintry slush fails to dampen spirits at opening of last stretch of interstate." The Deseret News, November 21, 1990.
Photo Credits:
10/18/04 by AARoads.
01/21/11 by Garrett Smith.
05/16/12 by Steve Hanudel and Erik Slotboom.
Connect with:
Interstate 70
Interstate 80
Interstate 84
Interstate 215
U.S. 50
U.S. 89
U.S. 189
State Route 201
Page Updated 08-04-2016.