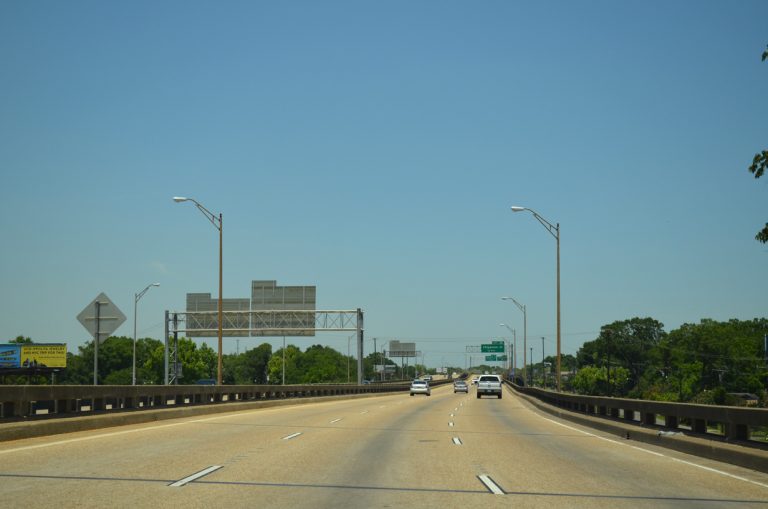 Interstate 110 constitutes an urban freeway through the city of Baton Rouge. The spur joins Interstate 10 and the Horace Wilkinson Bridge with the Louisiana State Capitol, Baton Rouge Metropolitan Airport (BTR) and U.S. 61 leading north to St. Francisville. Measuring 9.05 miles, I-110 varies between substandard freeway and elevated viaduct from eastern reaches of Downtown Baton Rouge to Scotlandville.
Interstate 110 Louisiana Guides
The initial section of I-110 opened from the couplet of 9th and 10th Streets east to the state capitol and the one-way pair of 21st and 22nd Streets by Memorial Stadium. Named the Baton Rouge Expressway, the route predated the Horace Wilkinson Bridge and Interstate 10 through south Baton Rouge. The short expressway was initially designated as LA 3022, which originated from LA 73 (Government Street) along East Boulevard.
The Baton Rouge Expressway was later designated as part of Interstate 410, a planned loop from West Baton Rouge Parish to I-10 at the east end of the Horace Wilkinson Bridge. The proposed freeway would have branched northeast from I-10 near Lejeune and overtake U.S. 190 (Airline Highway) east from Allendale to the Mississippi River Bridge. I-410 would then turn south from U.S. 190 and follow the current alignment of Interstate 110 south through Baton Rouge. Cancellation of the West Baton Rouge portion of the freeway resulted in the renumbering of the Baton Rouge Expressway into I-110.
The first section of Interstate 10 constructed in East Baton Rouge Parish defaulted traffic onto Interstate 110 north from points east by 1963. Interstate 110 was completed north to LA 408 between Scotlandville and Howell by 1982.
Connect with:
Interstate 10
U.S. 61
U.S. 190
Page Updated 03-30-2017.