Interstate 10 travels 274 miles across the state of Louisiana from the Sabine River and Orange, Texas to Sulphur, Lake Charles, Lafayette, Baton Rouge, New Orleans, Slidell and an exit across the Pearl River into Hancock County, Mississippi. The freeway is part of a transcontinental route between Santa Monica, California and Jacksonville, Florida. Between Baton Rouge and Slidell, Interstate 10 leaves an east-west trajectory for a 108-mile arc southward to Laplace, Kenner, Metairie and New Orleans. Interstate 12 stays north of Lakes Maurepas and Pontchartrain to provide the through route for long distance travelers.
Across the state, Interstate 10 sees several lengthy stretches of elevated roadway including the Acadian Thruway through Livingston Parish, the ten-mile viaduct between Interstate 55 at Laplace and Kenner, and the 5.5-mile Twin Bridges over Lake Pontchartrain.
Interstate 10 Louisiana Guides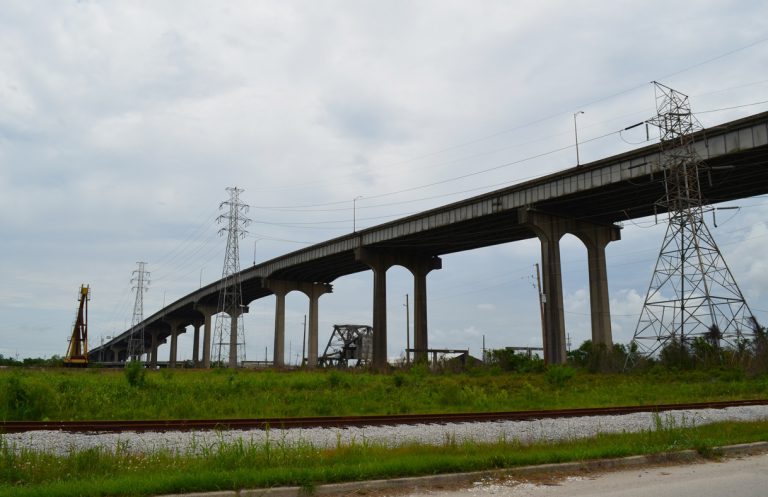 Construction dates derived from official LADOTD maps and the 1968 Gousha Louisiana map (u/c = under construction):
u/c in 1958 - Pontchartrain Expressway
completed by 1963 - LA 27 to split with US 90 in Lake Charles.
completed by 1963 - Jennings to Crowley
u/c in 1963 - LA 108 to LA 27
u/c in 1963 - Lake Charles / US 90 to Jennings
open in 1964 - Washington Street to College Drive in Baton Rouge.
open in 1965 - US 11 / Irish Bayou, Twin Bridges to Gause Boulevard
open in 1966 - Slidell to I-59 Exit 5
u/c in 1966 - LA 109 to LA 108
u/c in 1966 - Crowley to LA 182 / Lafayette
u/c in 1966 - Mississippi River Bridge (LA 1 to I-110)
u/c in 1966 - LA 49 to Causeway Boulevard
u/c in 1966 - LA 39 to Industrial Canal
u/c in 1966 - LA-47 to US 11
open in 1969 - LA-95 to Lafayette
open in 1969 - City of Kenner
open in 1970 - I-12/59 east to MS-607 (Exit 2)
u/c in 1970 - US 167 to Ramah
u/c in 1970 - LA 415 to LA 1
u/c in 1970 - LA 22 / Sorrento to LA-49
u/c in 1970 - Morrison Road to LA 47
u/c in 1973 - LA 77 to LA 415
u/c in 1973 - I-12 to I-55
An 11.4 mile section of I-10 opened to traffic in February 1964 between U.S. 165 at Iowa and U.S. 171 at Lake Charles. Ongoing work at the time included an 11.5 mile section west of Sulphur to Vinton, which was 55 percent complete. The succeeding 6.4 mile segment west from Vinton to Toomey went to contract in February 1964. East from Iowa, a 22-mile stretch of I-10 was under construction through November 1964. It eventually linked with the 16 mile long Jennings to Crowley portion of I-10 previously completed in 1963. $85.5 million in state and federal funds paid for both I-10 and I-210 (Lake Charles Bypass) in the seventh district of the Louisiana highway department.2
Interstate 10 between Washington Street (Exit 156A) and Perkins Road (Exit 157A) in Baton Rouge was dedicated on September 18, 1964. A $4.38-million contract was fulfilled by Boh Brothers Construction Company, Inc. of New Orleans, with work commenced on September 24, 1962.3 Work continued through 1964 on the freeway east to College Drive (Exit 158) and 1965 to Interstate 12, and the first two miles of I-12 to U.S. 61 (Airline Highway).
A $24.3 million project began in the spring of 2006 to replace the aged concrete surface of Interstate 10 between Interstates 12 & 59 and the Twin Bridges through Slidell. The 6.65-mile project involved the rubblizing of the concrete road bed and the overlay of six inches of asphalt pavement. Completion occurred by November 2006.4
A $803-million project replaced the Hurricane Katrina damaged Twin Bridges over Lake Pontchartrain between June 2006 and September 2011. The new spans expanded the freeway from four to six overall lanes. They were formally named the Frank Davis 'Naturally N'Awlins' Bridge during a ceremony held on June 19, 2015. Coining the tag line "Naturally N'Awlins" during his broadcasts for WWL-TV, Frank Davis was a long time television personality known in the New Orleans and Slidell area. Legislation renaming the spans to honor Davis, who passed away in 2013 at age 71, was approved by the Legislature in 2014.5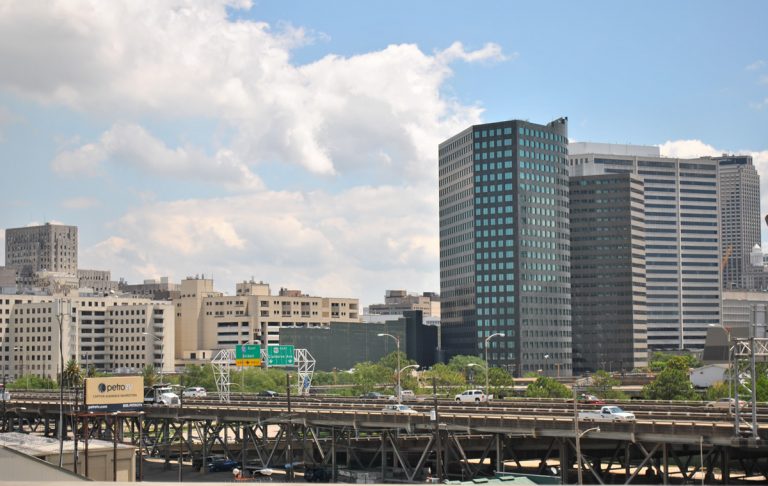 Freight traffic comprises one third of the volume along Interstate 10 between Lafayette and the Atchafalaya Basin Bridge. A $300 million, two-phase project, partially funded by a $60 million federal grant aimed to improved freight corridors, addresses capacity issues along this stretch. Beginning in 2017, expansion during the two-year long, first phase will add two lanes to I-10, between Interstate 49 (Exit 103) and Breaux Bridge (Exit 109), and from Henderson (Exit 115) east to the Atchafalaya Basin Bridge. The second phase, scheduled to start in the 2018-19 fiscal year, will six lane the intervening segment. Additionally the 1960s-built roadway will be rebuilt and Exit 115 with LA 347 will be converted to a dumbbell interchange.6
| | |
| --- | --- |
| | scenes |
| | |
| --- | --- |
| | A historical look at Causeway Boulevard northbound at I-10. This exchange at Metairie was one of the most congested within the New Orleans metropolitan area. Starting in April 2009, $86.6-million in road work addressed weaving traffic patterns and congestion, combining all movements to I-10 from Causeway Boulevard north into a single ramp. The loop ramp to I-10 west was modified so that it is accessed from a flyover ramp to the southeast. Photo taken 06/10/06. |
| | |
| --- | --- |
| | Oak Harbor Boulevard travels through the diamond interchange (Exit 261) with Interstate 10 between Eden Isles and Lakeshore. Photo taken 11/19/08. |
| | |
| --- | --- |
| | Oak Harbor Boulevard lowers with four lanes from the I-10 underpass to reach the eastbound entrance ramp toward I-12 and I-59, Bay St. Louis and Gulfport, Mississippi. Photo taken 11/19/08. |
| | |
| --- | --- |
| | Entering the diamond interchange with Interstate 10 along Oak Harbor Boulevard. This is the first of four Slidell interchanges for the east-west freeway. Photo taken 11/19/08. |
| | |
| --- | --- |
| | Continuing west along Oak Harbor Boulevard toward the on-ramp for I-10 to New Orleans. Photo taken 11/19/08. |
2 photos

2 photos

The westbound on-ramp to Interstate 10 joins the freeway ahead of the Twin Bridges across Lake Pontchartrain to New Orleans. Oak Harbor Boulevard curves northwest ahead to Oak Harbor and U.S. 11 (Pontchartrain Drive). Photos taken 11/19/08.
Sources:
"Booklet for I-10 Dedication Ceremony." Baton Rouge Digital Archive, September 18, 1964.
"Sulphur-Iowa Interstate Nears Completion." Lake Charles American Press (LA), January 26, 1964.
"State expects $24.3M twin span fix in November." New Orleans CityBusiness, June 28, 2006.
"Twin spans officially named after former TV personality Frank Davis." The Times-Picayune (New Orleans, LA), June 19, 2015.
"State begins widening part of I-10 to six lanes." Acadiana Advocate, The (Baton Rouge, LA), August 4, 2016.
Photo Credits:
06/10/06, 11/19/08 by AARoads
Connect with:
Interstate 49
Interstate 55
Interstate 59
U.S. 11
U.S. 61
U.S. 90
Page Updated 04-01-2019.