Interstate 180 constitutes a 28.8 mile long spur from I-80 and PA 147 near Milton to U.S. 15/220 in Williamsport. I-180 extends north from the freeway bypassing Milton along PA 147 north from Chillisquaque along the West Branch of the Susquehanna River. The rural highway passes between McEwensville and Watsontown north to Delaware township and the Lycoming County line.
Within Lycoming County, I-180 encircles the borough of Muncy before curving northwest around the Susquehanna River West Branch to Fairfield township and the borough of Montoursville. U.S. 220 combines with the freeway west from Pennsdale in Muncy township. U.S. 15 joins I-180/U.S. 220 from Downtown Williamsport west to the exchange at Lycoming Creek. U.S. 15 turns north from the end of I-180 along the Future Interstate 99 corridor toward Painted Post, New York. U.S. 220 continues along the Susquehanna Beltway west to Jersey Shore and south to Lock Haven and I-80.
Three legs of the freeway system in Williamsport opened in 1974. The segment along U.S. 220 from Fourth Street (SR 2014) west of the city in Wooward township was completed along with U.S. 15/220 east to Hepburn Street (SR 2060) in Downtown Williamsport and U.S. 15 north to High Street (SR 2016) in Old Lycoming township. The American Association of State Highway Officials (AASHO) approved the relocation of both U.S. 15 and U.S. 220 onto the limited access highways on June 25, 1974.
Further east in Lycoming County, the freeway for U.S. 220 bypassing Montoursville from Third Street (SR 2014) to Lycoming Mall Drive (SR 2036) was completed by December 31, 1976. The American Association of State Highway and Transportation Officials (AASHTO) approved the relocation of U.S. 220 northward onto the new highway on July 13, 1976. The remainder of the eventual route of Interstate 180 was opened to traffic on December 17, 1982. It was designated as PA 147 south from U.S. 220 near Pennsdale.
The Pennsylvania Department of Transportation (PennDOT) initially requested an Interstate designation for the route from I-80 to Williamsport in a letter dated to AASHTO on May 2, 1983. However AASHTO disapproved the request due to insufficient information and since no number was proposed. A subsequent application to AASHTO specifying the establishment of Interstate 180 was approved on October 1, 1983. State officials believed designating this portion of the Susquehanna Beltway as an Interstate would stimulate economic development. Additionally
An Interstate designation for these segments of Routes 220 and 147 would end the present confusing two route designation for this otherwise obvious Interstate access loop.
Coincidental efforts in 1983 by local officials advocated that the remainder of the Susquehanna Beltway, U.S. 220 from Williamsport to I-80 south of Lock Haven, be designated as a future Interstate Highway. This was eventually incorporated into the Future I-99 corridor.
scenes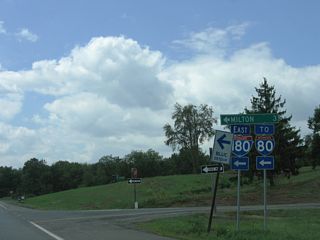 Susquehanna Trail (SR 1007) extends southwest from Main Street in the borough of McEwensville to Interstate 180 at Exit 1.
09/01/05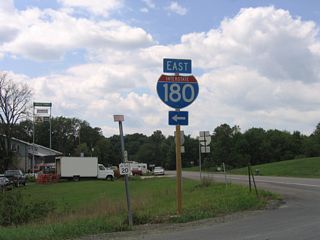 Susquehanna Trail continues west from the exchange with Interstate 180 to PA 405 along the West Branch of the Susquehanna River in Turbot township.
09/01/05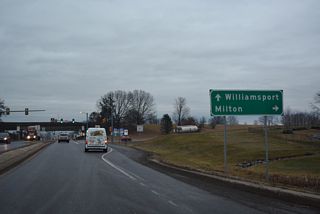 Lycoming Mall Drive (SR 2036) branches east from John Brady Drive (SR 2014) in Muncy township to the diamond interchange where U.S. 220 north splits with I-180 east.
01/18/17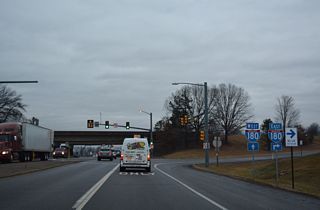 Interstate 180 arcs southeast around the borough of Muncy en route to I-80 near Milton. West from Lycoming Mall Drive (former U.S. 220), U.S. 220 overlaps with I-180 west to Montoursville and the city of Williamsport.
01/18/17
Photo Credits:
09/01/05, 01/18/17 by AARoads
Connect with:
Interstate 80
U.S. 15
U.S. 220
Page Updated 01-14-2021.