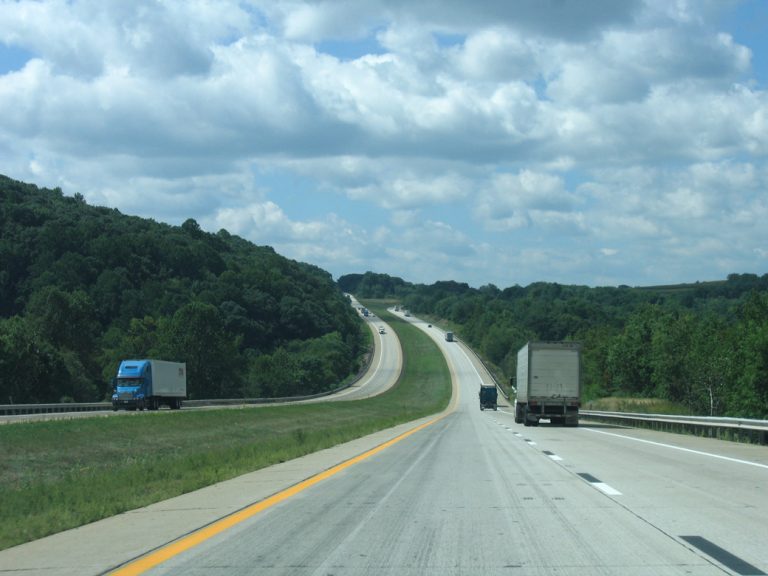 Interstate 80 travels across the width of Pennsylvania, entering the state at Sharon and spanning the Delaware River into New Jersey at Delaware Water Gap. The 310 mile route in the Keystone State is almost entirely rural, with the exception of the narrow stretch through Stroudsburg and East Stroudsburg in Monroe County. The transcontinental highway joins Cleveland, Ohio with New York City, but through Pennsylvania I-80 connects smaller cities and boroughs. East of Mercer in Mercer County, I-80 heads from Clarion to Brookville, DuBois and Clearfield. Passing well north of State College, I-80 continues to Interstate 99 near Bellefonte.
I-99 will eventually overlap with Interstate 80 east from Centre County to Clinton County south of Lock Haven. I-99 will follow the western half of the Susquehanna Beltway (U.S. 220), which connects I-80 with Williamsport to the northeast. The eastern half of the Susquehanna Beltway is Interstate 180, which heads south from Mountoursville to I-80 near Milton. I-80 leads east from I-180 and PA 147 to Berwick and Interstate 81 north of Hazelton.
Eastern reaches of Interstate 80 in Pennsylvania traverse areas of the Pocono Mountains. I-80 connects with the Pennsylvania Turnpike Northeastern Extension (I-476) at Exit 277 and with I-380 north to Mount Pocono and Scranton at Exit 293. The route turns southeast through Stroudsberg where it overlaps with U.S. 209 for four miles. Interstate 80 exits the state across the Delaware Water Gap Toll Bridge.
Interstate 80 Pennsylvania Guides
Interstate 80 in Pennsylvania was designated as the Keystone Shortway by Legislative Act Number 97 on September 8, 1969. Through Stroudsburg and East Stroudsburg in Monroe County, I-80 was initially completed from West Main Street to the Delaware Water Gap Toll Bridge and incorporated as a realignment of U.S. 611. Regarding the planned relocation of U.S. 209 onto I-80 through Monroe County, a letter dated August 7, 1962 from the Pennsylvania Department of Highways to the American Association of State Highway Officials (AASHO) indicated that I-80 would not be signed through Stroudsburg until a more significant section opened to traffic. U.S. 611 was eliminated from I-80 when that occurred.
| | |
| --- | --- |
| | scenes |
| | |
| --- | --- |
| | PA 64 travels northeast through Nittany Valley from PA 26 near Pleasant Gap to I-80/U.S. 220 in Porter township. 09/01/05 |
| | |
| --- | --- |
| | PA 64 converges with I-80/U.S. 220 at a diamond interchange (Exit 173) north of Lamar. 09/01/05 |
2 photos

2 photos

U.S. 220 overlaps with Interstate 80 west from Exit 178 near Mackeyville to I-99 and PA 26 at Exit 166 outside Bellefonte. 09/01/05
| | |
| --- | --- |
| | Access roads link I-476 (Pennsylvania Turnpike Northeastern Extension) with Interstate 80 via PA 940 in Kidder township. Traffic partitions for I-80 at a trumpet interchange (Exit 277) just south of the traffic light with PA 940. 05/07/05 |



Photo Credits:

05/07/05, 09/01/05 by AARoads

Connect with:
Interstate 79
Interstate 81
Interstate 99
Interstate 180
Interstate 376
Interstate 380
U.S. 15
U.S. 19
U.S. 209
U.S. 322
Route 26
Route 309
Route 611
Route 940

Page Updated 01-29-2021.