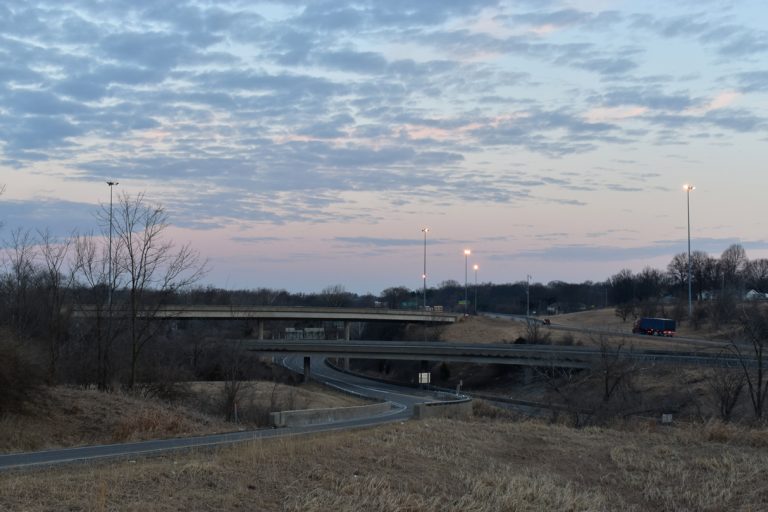 Interstate 635 provides a bypass of Downtown Kansas City from Merriam and Mission, Kansas north to Riverside and Kansas City, Missouri. The Missouri portion of the loop travels 3.58 miles from the Missouri River to I-29/U.S. 71 at Breen Hills in Kansas City. U.S. 69 overlaps with the freeway for 0.30 miles between the Fairfax Bridge and the Route 9 freeway.
A new six mile levee system completed through Riverside in May 2006 opened up over a 1,000 acres of land along the Missouri River for potential development. The Horizons business park arose from this land as part of a $77 million redevelopment plan approved by the city of Riverside. Financing included allocations for transportation improvements, including construction of Horizons Parkway, a new four-lane road south from Missouri Route 9 (River Park Drive) to a new interchange with Interstate 635.1 Ramps to Horizon Parkway opened in December 2007, and the parkway was completed north to Route 9 by late spring of 2008. Adjacent work added Argosy Casino Parkway, a $5 million roadway built to the south of I-635 from Horizons Parkway east to Argosy Casino and Tullison Road beside the Missouri 9 freeway. The new access road opened to traffic in January 2009.2
2015 traffic counts along the Missouri segment of I-635 range from 49,125 vehicles per day (vpd) west of U.S. 69 to 53,542 (vpd) south of Interstate 29. The commuter freeway carries four lanes north to U.S. 69 and six lanes from there to I-29/U.S. 71. Interstate 635 is also the Harry Darby Memorial Highway. Harry Darby served on the Kansas State Highway Commission and a partial term in the U.S. Senate.
Interstate 635 Kansas City Guides
| | |
| --- | --- |
| | scenes |
2 photos

2 photos

Parallel Parkway leads west from the Northwest neighborhood in Kansas City to a single point urban interchange (SPUI) with Interstate 635. 11/03/16
Sources:
"Horizon project takes step forward - Aldermen clear way to seek TIF funding to help with infrastructure and attract developers." Kansas City Star, The (MO), July 15, 2006.
"Argosy Casino Parkway opens." Kansas City Star, The (MO), January 14, 2009.


Photo Credits:

11/03/16 by AARoads

Connect with:
Interstate 29
Interstate 35
Interstate 70
U.S. 69
Highway 5
Highway 32

Page Updated 10-20-2021.