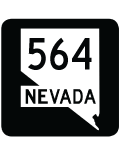 Nevada State Route 564 follows Lake Mead Parkway 8.22 miles east from the exchange joining I-215 and I-515 in Henderson to the boundary of Lake Mead National Recreation Area. The majority of Lake Mead Parkway within Henderson constitutes a heavily developed multi-lane arterial. Service roads accompany a portion of the route northeast from SR 582 (Boulder Highway) as well.
Lake Mead Parkway within the recreation area is unnumbered and maintained by the National Park Service. A fee station lies just beyond the maintenance change located after Lorin L. Williams Parkway.
Prior to the completion of Interstate 215 between SR 146 (St. Rose Parkway) and I-515/U.S. 93-95 (Oran K. Gragson Freeway), SR 146 extended east along Lake Mead Parkway, and over what is now SR 564, to Henderson and the National Recreation Area. SR 146 historically ended at SR 582 (Boulder Highway), with Lake Mead Parkway northeast from there designated as SR 147.
| | |
| --- | --- |
| | West |
| | |
| --- | --- |
| | Exiting Lake Mead National Recreation Area, motorists pass by a begin shield assembly for SR 564. Lorin L. Williams Parkway ties in from the gated Lakes Las Vegas community at the ensuing intersection. 03/29/08 |
| | |
| --- | --- |
| | Continuing southwest through the Henderson city limits, a series of power transmission lines cross over SR 564. The tallest towers are also the newest; erected as part of Nevada Power's Centennial project. The project resulted in the construction of several new transmission corridors, including this new 500kV line from the Lake Mead substation north to the Harry Allen substation near the I-15 and U.S. 93 interchange northeast of Las Vegas. These towers have the capacity to be expanded to a double circuit 500kV system if needed. Companion towers support a 500kV power line that follows the third line, which is Path 27 (a 500kV Intermountain High Voltage Direct Current [HVDC] transmission line from Delta, Utah, to Adelanto, California). 03/29/08 |
| | |
| --- | --- |
| | Curving southwest by the Calico Ridge community, SR 564 (Lake Mead Parkway) approaches the traffic light with Olsen Street north and Athens Avenue east. 03/29/08 |
| | |
| --- | --- |
| | SR 564 (Lake Mead Parkway) enters a commercialized intersection with SR 582 (Boulder Highway). Boulder Highway is the former alignment of U.S. 93 and 95 leading northwest into Las Vegas and southeast to Railroad Pass. 03/29/08 |
Photo Credits:
03/29/08 by AARoads
Connect with:
Interstate 215 / Clark County 215 - Bruce Woodbury Beltway
Interstate 515 - Oran K. Gragson Freeway
U.S. 93
U.S. 95

Page Updated 07-19-2017.