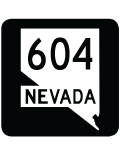 Nevada State Route 604 follows 12.01 miles of Las Vegas Boulevard from Carey Avenue in North Las Vegas to Apex. Prior to 2008, SR 604 covered the entire length of Las Vegas Boulevard, from Jean north to Apex. By 2002, most of what was SR 604 through the famed Las Vegas Strip was removed from the Nevada State Highway system (specifically, SR 604 between Russell Road and Sahara Avenue). On the 2002 and 2008 official route logs of the Nevada State Highway System, SR 604 appears as non-state-maintained highway. Clark County now maintains the boulevard. NDOT removed the few route shields in existence between Jean and Downtown Las Vegas, including a reassurance shield that appeared in front of the MGM Grand Resort north of Tropicana Avenue by 2004. A subsequent truncation took place between 2017 and 2018, shortening SR 604 north from Tonopah Avenue to Carey Avenue in North Las Vegas.
Nevada State Route 604 Guides
History
Nevada State Route 604 replaced U.S. 91-466 between Jean and Fremont Street in Downtown Las Vegas. North from Fremont Street to Apex, SR 604 replaced U.S. 91-93.
In 2002, the section of SR 604 between Russell Street and Sahara Avenue was decommissioned, which is much of the length of the Las Vegas Strip. Remaining segments of Nevada 604 from Sahara Avenue through the city of Las Vegas to Owens Street were decommissioned by 2004. Subsequent segments of SR 604 south of Russell Road to the Jean interchange were also eliminated from the state system by 2008.
SR 604 has had several names. It began as Arrowhead Highway, then was changed to Salt Lake Highway, Fifth Street, U.S. 91 and the Los Angeles Highway before being named Las Vegas Boulevard around 1959. The road has a long history. In 1914, anticipating increased motor vehicle traffic, the city spent $10,000 to pave the road as far as Jean. Four years later, neon lighting was introduced to America from France. Las Vegas remains viewed as one of the premier places to see an abundance of neon-lit signs and marquees.
Las Vegas Boulevard was designated as a federal scenic byway in 2000 (reference Las Vegas Review-Journal articles from May 2, 2000, and June 16, 2000). During a ceremony to open National Tourism Week in Nevada in early May 2000, Lt. Gov. Lorraine Hunt dedicated a marker near the Strip's "Welcome to Fabulous Las Vegas" sign proclaiming Las Vegas Boulevard as a scenic byway. The Strip was named an "All-American Road" by the federal government -- the only neon-lit road to gain such a designation. and one of 15 such roads nationally at the time, with an official decree from the FHWA on Thursday, June 15, 2000.
According to the May 2, 2000, Las Vegas Review-Journal article:
although the Strip is three miles long, there are more than 15,000 miles of neon tubing blazing on all the casinos lining the road. [During 1999,] Las Vegas hosted 33.8 million visitors with an economic impact of $28.6 billion. More than 25 percent of Clark County residents are employed in the tourism industry. In 1996, the Strip -- which officially runs from Russell Road to Sahara Avenue -- was declared a state scenic byway by the Nevada Commission on Tourism. The federal designation was sought by the Nevada Department of Transportation and the members of the Las Vegas Strip Scenic Byway team, including Clark County, the Bureau of Land Management and the Strip resorts.
Las Vegas Boulevard gained its nickname "The Strip" when Guy McAfee of the Los Angeles Police Department, claimed it looked like the Sunset Strip. McAfee was the commander of the LAPD vice squad. When Los Angeles cracked down on gambling, he was forced to resign or surrender-he resigned, and bought the Pair-O-Dice Club (for which Paradise Valley is now named), renamed it the 91 Club on the then Los Angeles Highway. According to "Resort City in the Sunbelt," it was McAfee who first referred to the four mile strip of U.S. 91 south of town as 'the Strip'- a reference to the Sunset Strip he had so often traveled between Beverly Hills and Hollywood (Moehring, page 42).
The Strip was among six new All-American Roads and four new National Scenic Byways named on June 15, 2000. An All-American Road is considered a more prestigious title than a National Scenic Byway, of which there were 57 in 2000. The All-American Road designation includes Las Vegas Boulevard between Sahara Avenue and Russell Road. Most All-American Roads are secluded two-way highways that feature majestic views of mountains, lakes and rivers such as the San Juan Skyway, which snakes through the Colorado Rockies; Hell's Canyon Scenic Byway in Oregon, which is 218 miles of evergreen-studded mountain highway; or California State Route 1 along the Pacific Coast near Big Sur. Or, the roads may give an historical perspective, such as the Selma-to-Montgomery March Byway in Alabama, which commemorates the civil rights movement.
The Las Vegas Strip
Connect with:
Interstate 215 / Clark County 215 - Bruce Woodbury Beltway
Interstate 515 - Oran K. Gragson Freeway
U.S. 93
U.S. 95
State Route 160
State Route 573 - Craig Road
State Route 612 - Nellis Boulevard
Page Updated 07-06-2018.