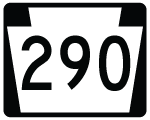 PA 290 constitutes an 8.9 mile long loop from PA 5 at the north end of Interstate 79 in Erie and I-90 and PA 430 in Harbor Creek township. PA 5/290 overlap 3.3 miles east along 12th Street from Lincoln Avenue at I-79 to Bayfront Parkway (SR 4034). Turning south onto the Bayfront Connector, PA 290 ascends on a viaduct spanning AMTRAK and CSX Railroad lines.
A controlled access arterial, the Bayfront Connector leads PA 290 east to PA 430 (Station Road) and Jordan Road south to Penn State Behrend. PA 290 overlays PA 430 (Station Road) east one mile to a parclo interchange (Exit 32) with Interstate 90.
East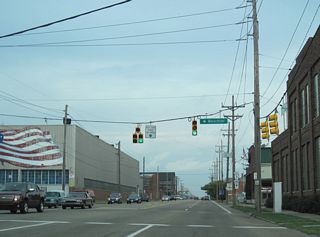 PA 5/290 (12th Street) proceeds east from Green Garden Road to Weschler Avenue north to 8th Street.
09/30/10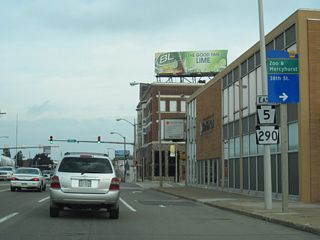 Reassurance markers for PA 5/290 east at Peach Street. Peach Street south becomes a part of U.S. 19 at U.S. 20 (26th Street).
09/30/10
Photo Credits:
09/30/10 by AARoads
Connect with:
Interstate 79
Interstate 90
U.S. 20
Page Updated 01-16-2021.