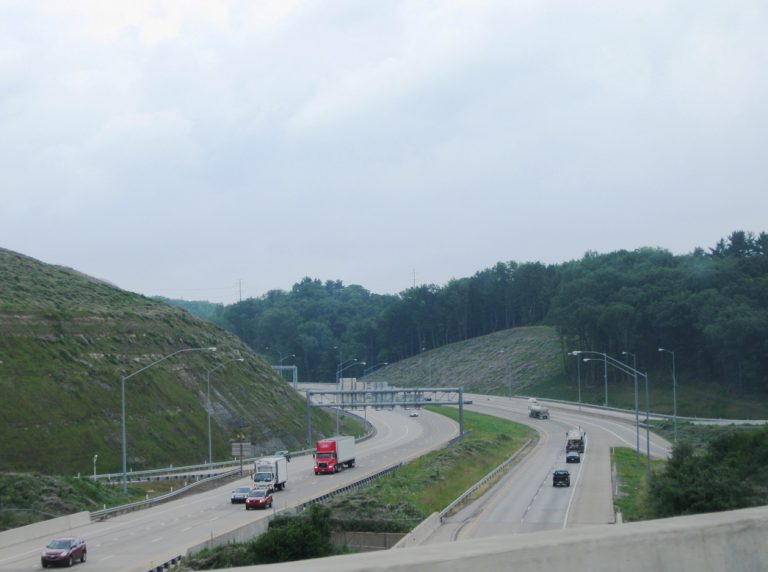 Interstate 79 travels 183.0 miles in Pennsylvania from the West Virginia line in Perry township to PA 5/290 (12th Street) at Bayfront Parkway (SR 4034) in the city of Erie. The freeway runs north through rural Greene County between Mount Morris and Waynesburg and into Washington County at Amwell township. I-79 combines with I-70 west for 3.5 miles around the north side of Washington before resuming a northward heading toward Pittsburgh via Canonsburg.
Through Allegheny County and the west Pittsburgh suburbs, Interstate 79 advances north to the boroughs of Bridgeville, Heidelburg and Carnegie. Northwest of the Steel City, I-79 spans the Ohio River Back Channel onto Neville Island and across the Ohio River on the Neville Island Bridge to Glenfield. I-279, an urban loop from Pittsburgh, converges with I-79 at Franklin Park. I-79 continues into Butler County where the Cranberry Connector links the freeway with U.S. 19 and I-76 (Pennsylvania Turnpike).
I-79 joins Zelienople and Harmony with Portersville and Lake Arthur in western Butler County. Through Mercer County, I-79 meets Interstate 80 northwest of Grove City and southeast of Mercer. U.S. 6/19/322 connects I-79 with the city of Meadville in Crawford County and U.S. 6N with Edinboro in Erie County. The northernmost stretch spurs from Interstate 90 to Bayfront Parkway in Erie.
| | |
| --- | --- |
| | scenes |
| | |
| --- | --- |
| | Trailblazers for I-79/90 at 6th Street direct motorists south along PA 832 (Peninsula Drive) from Presque Isle State Park. PA 832 intersects PA 5 Alternate (8th Street) and PA 5 (12th Street) over the ensuing half mile. 10/07/01 |



Photo Credits:

10/07/01 by AARoads

Connect with:
Interstate 70
Interstate 76
Interstate 80
Interstate 90
Interstate 279
Interstate 376
U.S. 19
U.S. 22
U.S. 30
U.S. 322
U.S. 422

Page Updated 01-08-2021.