First discovered by French explorers in 1699, Baton Rouge received its name from a reddened, 30-foot-high maypole that stood in the area. Used as a boundary marker between two area tribes, "The Red Stick" was adorned with several heads of fish and bear attached in sacrifice and dripping with blood. The early settlers nicknamed the area after this, and despite renaming efforts from those who came afterward, the name Baton Rouge stuck.
Baton Rouge incorporated in 1817 and was designated the Louisiana state capital in 1882. With the advent of industrial development, and a prime location along the Mississippi River, the city grew through the 20th century as a chemical and petroleum center to become the second largest metropolitan area in the state to New Orleans. 2000-15 population numbers have remained consisted in the 220,000-230,000 range.
Interstate 10 spans the width of Louisiana from Orange, Texas east to Lake Charles, Lafayette, Baton Rouge, New Orleans and Slidell. With a limited number of services, the freeway travels along a series of viaducts over the Atchafalaya Basin between Henderson and Ramah. An 11.2 mile long exit less stretch ensues from there east to western reaches of the Baton Rouge area at Port Allen. The Horace Wilkinson Bridge, a high rise cantilever span, takes I-10 across the Mississippi to the southwest of Downtown Baton Rouge.
The six-lane span transitions I-10 onto a viaduct above the Baton Rouge street grid and through to the directional T interchange with Interstate 110 north. Interstate 10 reduces to two through lanes in both directions through the substandard exchange with I-110 north to Downtown and Metro Airport. Turning southeast from the bottleneck, the freeway expands again to six lanes and lowers to grade level beyond Washington Street.
I-10 crosses City Park Lake to the northeast of Louisiana State University (LSU) and ahead of a commercialized corridor at Exits 157 A, 157 B and 158. East from College Drive, the freeway expands to eight overall lanes leading to the split with Interstate 12 east. I-12 takes the bulk of through traffic east to Hammond and Slidell, while I-10 continues on a southeasterly heading toward Gonzales, Laplace and New Orleans.
Advancing southeast through the southeastern suburbs of Baton Rouge, I-10 retains six overall lanes with auxiliary lanes added between ramps. The freeway passes by the Mall of Louisiana at Bluebonnet Boulevard, and across a commercial strip anchored by big box retail at LA 3246 (Siegan Lane). The six lane section concludes at Exit 166 / LA 42. I-10 continues south by a number of subdivisions as it arcs by the city of Gonzalez. Once past the town of Sorrento, Interstate 10 traverses wetland areas for a 38 mile span to Kenner.
Well traveled with cross-country, freight and commuter traffic, Interstate 12 branches east from I-10 through eastern Baton Rouge to the Livingston Parish suburbs. Traffic counts along I-12 topped out at 135,211 vehicles per day (vpd) in 2014 just west of U.S. 61 (Airline Highway), and stayed above 100,00o vpd through to the Denham Springs exit at Louisiana 3002 (Plantation Avenue). Suburban growth along the freeway extends through to Walker (Exit 15). The rest of the highway east to Hammond is generally rural, though traffic counts remain robust at 50,000 vpd.
The stretch between O'Neal Lane and Walker was expanded to six overall lanes by April 2013.1 Further widening east to Satsuma Road / Exit 19 ran through Spring 2018. An additional project addressed growing congestion at the interchange with LA 447 at Walker. Started on February 15, 2016, the project replaced the ramp intersections with roundabouts at Exit 15. Scheduled for completion in August 2017,2 work at the exchange extended to Spring 2018.
Eric Harkness adds:
"In radio traffic reports, the split at I-10 and I-12 was called, cleverly enough, the 10-12 Split. People would also use the term a lot when giving directions ("it's the next exit after the 10-12 Split…"). So the term was widely known and used throughout the Baton Rouge area. Well, a local modern rock band catering to the LSU party crowd and wanting to associate themselves with the area called themselves 10-12 Split. You'd hear announcements for their gigs on KLSU, the university's modern rock station, on a regular basis…"
An urban freeway, Interstate 110 spurs nearly nine miles north from I-10 just east of the Horace Wilkinson Bridge approach to Baton Rouge Metropolitan Airport (BTR) and the Scotlandville community of north Baton Rouge. Taking a winding course north from viaducts just outside Downtown, I-110 curves east by the Louisiana State Capitol and BREC Memorial Stadium and north to Mid-City. The freeway parallels U.S. 61-190 Business east of the ExxonMobil Baton Rouge Refinery, with the two diverging north from Evangeline Street to respective interchanges with U.S. 61/190 (Airline Highway).
A four-level junction links I-110 with U.S. 190 (Airline Highway) leading west to adjacent industrial areas and across the Mississippi River Bridge. North from there, the freeway makes a sweeping arc by BTR Airport, elevating twice more on a system of viaducts. The route provides a bypass for U.S. 61 (Scenic Highway) leading north to St. Francisville and Natchez, Mississippi.
Airline Highway / Scenic Highway
U.S. 61 crosses paths with Interstate 10 south of Sorrento and stays east of the freeway through to Baton Rouge. Serving local traffic along Airline Highway, U.S. 61 angles northwest through Gonzalez and Prairieville as a four lane commercial arterial. Entering East Baton Rouge Parish, U.S. 61 remains commercialized, passing by a series of car dealerships through to a sprawling business park area. A wye interchange partitions U.S. 61 with LA 73 (Jefferson Highway).
Airline Highway approaches Interstate 12 near Westminster through a heavily developed stretch populated with big box stores and other retail. The slow moving arterial makes a gradual arc around central Baton Rouge, combining with U.S. 190 (Florida Boulevard) by Cortana Mall, and continuing northwest to Merrydale and the Baton Rouge Metropolitan Airport (BTR).
U.S. 61/190 (Airline Highway) upgrade to a short expressway with interchanges at LA 67 (Plank Road), I-110 and their split at Scenic Highway. U.S. 61 follows Scenic Highway north through Scotlandville to rural reaches of northwest East Baton Rouge Parish.
U.S. 190 provides one of two routes joining Baton Rouge with areas west of the Atchafalaya River. The four-lane divided highway stays north of I-10, meet LA 415 at Lobdell Station and cross the Mississippi River on a dual road/railroad cantilever-style bridge. Following Airline Highway east from the Mississippi River Bridge, U.S. 190 combines with U.S. 61 south from Scenic Highway (U.S. 61-190 Busines) along an expressway through to Plank Road. The two overlap 6.6 miles southeast to Florida Boulevard, where U.S. 190 overtakes U.S. 190 Business along the arterial east to Denham Springs.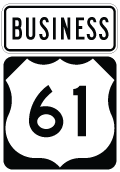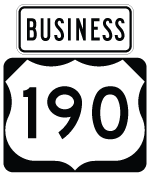 Florida Boulevard / Florida Street / Chippewa Street / Scenic Highway
U.S. 61-190 Business overlap for their entirety through the city of Baton Rouge. The pair line Florida Boulevard west from the cloverleaf interchange joining U.S. 61 and U.S. 190 at Airline Highway. An older commercial arterial, Florida Boulevard heads west with six lanes to Foster Drive (former LA 37). Continuing from there as Florida Street, U.S. 61-190 Business travel north of the Capitol Heights community and meet Interstate 110 ahead of Downtown.
U.S. 61-190 Business previously looped west from I-110 into the Baton Route Business District. AASHTO approved an LADOTD application for the relocation of the bannered routes onto a 2.5 mile section of I-110 north from Florida Street to Chippewa Street on May 21, 2019. The US highways formerly followed Florida Street west to River Road, where they turned north along the Mississippi River toward the State Capitol area. River Road runs along the west side of state offices to North 3rd Street before curving eastward by the petroleum complex along Chippewa Street. Chippewa Street returned the business route to within one block of I-110, where the two routes turned north along Scenic Highway. Scenic Highway separates the oil refineries from the mostly vacant residential street grid north through to a compact cloverleaf interchange with U.S. 61 and U.S. 190 (Airline Highway).
U.S. 61 and U.S. 190 originally partitioned through Baton Rouge with the mainline signed with Bypass banners. Prior to 1951, U.S. 65 ran concurrently with U.S. 61 south from Natchez, Mississippi to New Orleans, Louisiana. The business route through the capital city was also signed as a bannered route for U.S. 65.
| | |
| --- | --- |
| | East |
| | |
| --- | --- |
| | Reassurance markers for U.S. 61-190 Business posted four blocks east of I-110 at N 14th Street. 08/12/12 |
| | |
| --- | --- |
| | Florida Street advances east through Mid-City to intersect LA 67 at N 22nd Street. This shield assembly was removed by 2011. 08/12/12 |
| | |
| --- | --- |
| | U.S. 61-190 Business (Florida Street) intersect Peachtree Boulevard beside Baton Rouge General Medical Center. Peachtree Boulevard ties in a neighborhood to the north. These older signal heads remained in service until July 2016. 08/12/12 |
Page updated September 30, 2019.