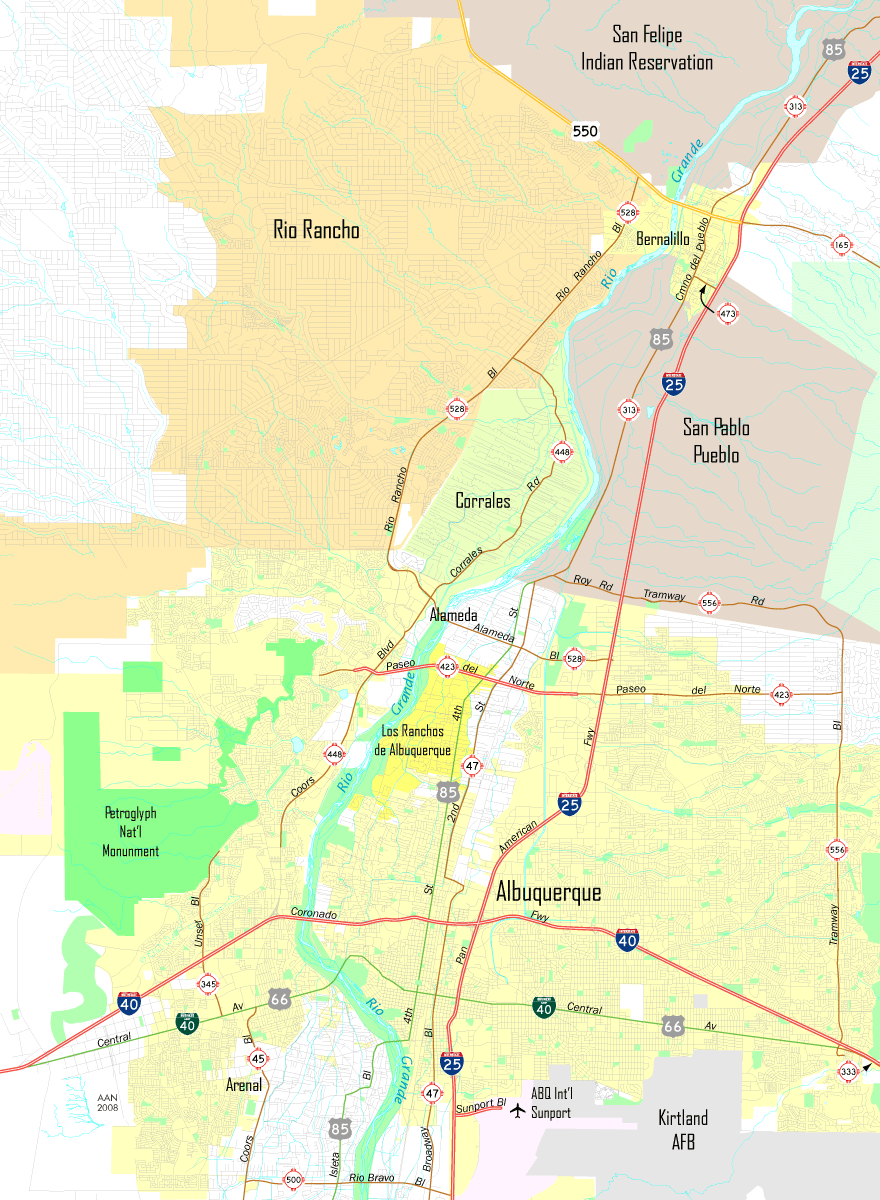 Interstates | US Highways | State Roads | Former State Roads | Other Roads
Albuquerque's metropolitan area includes fast-growing Rio Rancho, with its own Central Business District. Outlined here is what remains within the New Mexico state road system, Historic U.S. 66 and 85, and the freeway network.
Some of the historical information (especially regarding state roads) provided on this guide was researched using Steve Riner's New Mexico Highways web site.
Interstate 25 is known as the Pan American Freeway through the Albuquerque metropolitan area. The freeway joins the Sandoval County cities of Bernalillo and Rio Rancho with Albuquerque and South Valley as the main north-south route. Overall capacity ranges from four lanes through the Sandia Pueblo to ten lanes outside of Downtown.
Portions of Interstate 25 were improved through the mid-2000s as part of the GRIP initiative. A $15.5-million project upgraded the freeway at NM 556 (Tramway Road) by expanding the road to six lanes and replacing the 1955-58 overpasses above Tramway Road. Work at Exit 234 was completed by Spring 2006.
The Tramway Road interchange work is part of an overall GRIP project to expand Interstate 25 northward from Albuquerque to Bernalillo. Work starting in 2008 widened the freeway to six overall lanes from NM 556 to U.S. 550, through Sandia Pueblo and the city of Bernalillo.1
A second Albuquerque area GRIP project was the reconstruction of Exit 220 with NM 500 (Rio Bravo Boulevard). Growth in the Mesa Del Sol master-planned community included an extension of University Boulevard south to the Isleta Amphitheater entertainment venue. Improvements at the interchange enhanced accessibility to the area. A second interchange to Mesa Del Sol via the planned Mesa Del Sol Boulevard was also proposed along Interstate 25.
GRIP was Governor Bill Richardson's Investment Partnership program, a $1.6-billion effort to improve highway infrastructure throughout the state.
Replacing the post-1937 routing of U.S. 66, Interstate 40 (Coronado Freeway) crosses the city of Albuquerque from west Bernalillo County and the Laguna Indian Reservation to Cibola National Forest and Tijeras. Like Interstate 25, the freeway varies from four lanes in rural areas to ten lanes near Downtown. Much of the freeway through Albuquerque opened in 1962.
Several GRIP projects upgraded Interstate 40 across Bernalillo County. Most notably, the "Big I" project at the exchange joining Interstates 40 and 25, was completed in 2002 after just 24 months of construction. That project rebuilt a low-speed directional interchange between the two freeways into a multi-level interchange with high speed flyovers. Work on the ramps coincided with frontage road construction and other area improvements.
Other interchanges along the Coronado Freeway that were upgraded include the exchange at Coors Boulevard. Originally a directional-cloverleaf interchange with left-hand ramps, work at Exit 155 included the addition of flyover ramps and adjacent improvements ranging from new pedestrian bridges and a new Coors Boulevard overpass. This work was completed in 2006.
Further west in rural Bernalillo County, a completed GRIP project redesigned the Rio Puerco interchange on and off-ramps in conjunction with a new roundabout at the Route 66 Casino. Work was completed between August and November 2007.
East of Interstate 25, the San Mateo Boulevard interchange (Exit 161) received a $25-million GRIP redesign. Changes removed the loop ramp (Exit 161B) to San Mateo Boulevard north and redesigned the remaining ramps to accommodate eight to ten lanes of Interstate 40 below. Work began in fall 2008.
Additional projects included the redesign of the West Central Avenue (Historic U.S. 66) split and Atrisco Vista Boulevard Interchange (Exit 149) west of Albuquerque. Anticipated development along Paseo del Volcan and projected traffic increases justified the construction. Work removed the wye interchange with Central Avenue and redirected all movements to the adjacent diamond interchange with Atrisco Vista Boulevard (NM 500). Prior to July 2011, guide signs on I-40 referenced Exit 149 as Paseo del Volcan. The assemblies were changed once plans for the future Paseo del Volcan alignment shifted westward to no longer tie into I-40 at Exit 149.2
Former Business Loop I-40 – Central Avenue
Business Loop Interstate 40 was the designation given to U.S. 66 after the route was decommissioned through Albuquerque along Central Avenue. The designation was removed from the state logs sometime during the 1990s, but several reassurance signs remained in the field in 2008, with at least three still standing in 2017.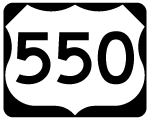 Traveling through Rio Rancho to the north, U.S. 550 is the lone U.S. highway serving the Albuquerque metropolitan area. The route replaced NM 44 when the highway was four-laned by 2000. U.S. 550 ends at a single point urban interchange (Exit 242) with Interstate 25, opposite NM 165 in Bernalillo. The highway joins Albuquerque and Rio Rancho with Farmington to the northwest.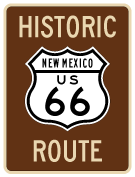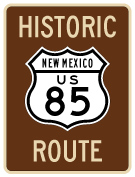 Historic U.S. 66 / Former U.S. 85
There are no U.S. highways remaining within the system in Albuquerque. Historic U.S. 66 however, is acknowledged along two routes through the area. The pre-1937 alignment follows Iseleta Boulevard northward (along what would later be signed U.S. 85) to Bridge Boulevard across the Rio Grande and into the city of Albuquerque. Turning northward on 4th Street, old U.S. 66 traverses Downtown en route to Los Ranchos de Albuquerque and Alameda. NM 313 continues old U.S. 66/85 northward from NM 556 (Roy Avenue) into Sandoval County. State Road 333 continues the route through Bernalillo and Santa Ana Pueblo.
The post-1937 route of U.S. 66 follows all of Central Avenue across Albuquerque and frontage road segments along Interstate 40 west to the Rio Puerco and east along NM 333 to Tijeras. Central Avenue was also previously a part of Business Loop I-40, but that designation was also decommissioned. NM 333 follows old U.S. 66 east from I-40 (Exit 167) Albuquerque to Business Loop I-40 in Moriarty.
U.S. 85 was replaced wholly by Interstate 25 within the state of New Mexico by 1990. The route followed the pre-1937 routing of U.S. 66 throughout the Albuquerque area.
Additionally U.S. 85 Alternate route existed in Albuquerque along 2nd Street, between Bridge Boulevard and Alameda in conjunction with 3rd Street southbound through Downtown. Eliminated by 1988, the bannered route was previously replaced with NM 47 in 1977. NM 47 would later shift eastward to Broadway Boulevard, leaving 2nd Street as an unnumbered roadway.3
There are a handful of state routes serving the Albuquerque metropolitan area. Many of the those designated in the original system were decommissioned by 1988. The following list catalogs both those remaining and those previously turned back. Some mapping companies and geodata providers continue to acknowledge many of these routes.
Following Coors Boulevard northward, NM 45 travels from South Valley to Arenal and West Mesa in Albuquerque. NM 45 previously ended at the Coors Boulevard intersection with Central Avenue (Historic U.S. 66). Coors Boulevard was realigned in the 1990s to a new intersection with Historic U.S. 66. NM 45 ended there until 2012, when it was extended northward along Coors Boulevard to the West Side of Albuquerque and NM 528 near Rio Rancho.
The northern section of Coors Boulevard, from St. Josephs Drive to Coors Boulevard Bypass at Cottonwood Mall, was formerly part of an extended NM 448. NM 448 remains posted along Coors Boulevard 0.87 miles north from Coors Boulevard Bypass to NM 528 (Alameda Boulevard).

NM 47 travels 47.5 miles north from U.S. 60 in Socorro County to Rio Communities, Valencia, Peralta, Iselta Pueblo and South Valley. The state road ends at the Albuquerque city line north of NM 500 (Rio Bravo Boulevard).
NM 47 was replaced by U.S. 85 Alternate along 2nd Street within the city of Albuquerque during the 1950s. With the decommissioning of U.S. 85 Alternate by 1988, the designation was reassigned. A later shift moved the state road onto Broadway over then-NM 361. NM 47 followed Broadway Boulevard north from South Valley through Downtown to Candelaria Road where it turned west. Candelaria Road returned the route to 2nd Street, which leads north to Alameda and 4th Street (NM 556 south / former NM 313 south) in Sandia Pueblo. A mileage exchange made by the state in 2010 truncated NM 47 beyond the south Albuquerque city line in exchange for Dennis Chavez Boulevard west and Atrisco Vista Boulevard north for an extension of NM 500 and Paseo del Vulcan in Rio Rancho as newly designated NM 347.
| | |
| --- | --- |
| | scenes |
| | |
| --- | --- |
| | NM 47 dog legged west along Candelaria Road from Edith Boulevard (old NM 98) to 2nd Street (old U.S. 85 Alternate) at the Near North Valley community in Albuquerque. 04/28/17 |
NM 165 replaced NM 44 east of Interstate 25 (Exit 252) in 1985. The two-lane roadway serves the Placitas community on its 16.75 mile rural course to NM 536 in Bernalillo County.

4th Street carried NM 313 northward from former-NM 314 (Bridge Boulevard) in Albuquerque until 1988. The route was truncated north to Roy Avenue (NM 556), with NM 556 overtaking the short segment between 2nd Street (former NM 47) and Roy Avenue as well. NM 313 remains posted 17.09 miles north from NM 556 to Bernalillo through Santa Ana Pueblo.

Like NM 313 to the north, NM 314 followed the U.S. 66/85 along Iseleta Boulevard and Bridge Boulevard south from central Albuquerque to South Valley and Interstate 25 at Exit 213. Truncation north of Exit 213 occurred in 1988, leaving an 18.50-mile segment southward to Business Loop I-25 in Belen.

Comprising a 1.08 mile connector between Interstate 25 at Exit 209 and NM 313 (former U.S. 66/85), NM 315 links the freeway with Isleta Village in Isleta Pueblo, south of Albuquerque.

Paralleling Interstate 40 east from Albuquerque to Camuel and Tijeras, NM 333 follows old U.S. 66 along on a 27.72-mile route. NM 333 begins at the Central Avenue intersection with NM 556 (Tramway Boulevard) adjacent to Interstate 40 at Exit 167.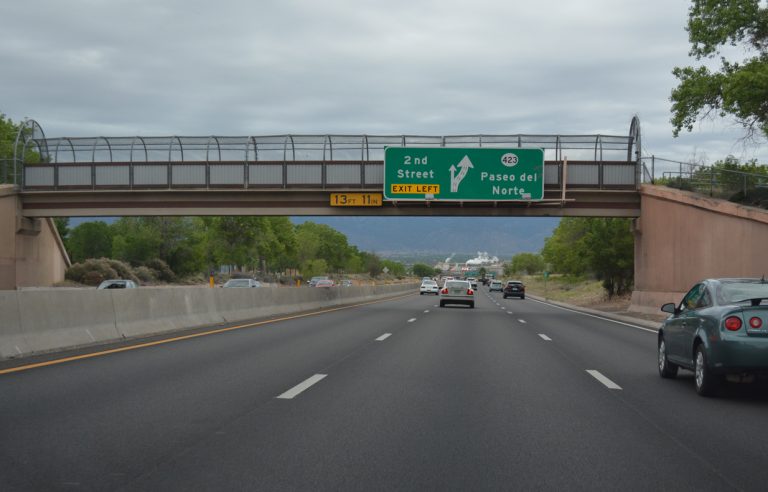 Albuquerque's only non-Interstate freeway, NM 423 (Paseo Del Norte Boulevard), provides high-speed commuter route between Eagle Ranch Road at Paradise Hills to Jefferson Street at North Valley and Interstate 25. Overall the route totals 11.02 miles between Golf Course Road at Taylor Ranch and NM 556 (Tramway Boulevard) at Sandia Heights. The state road east of I-25 constitutes a surface arterial to the North Albuquerque Acres communities. The locally maintained portion of Paseo Del Norte extends west to Atrisco Vista Boulevard. Further extension was proposed to the proposed Northwest Loop Road.

Coors Boulevard / Corrales Road
NM 448 constitutes a 7.67 mile loop east around Rio Rancho. The state road branches northeast from NM 45 (Coors Bypass Boulevard) at Cottonwood Mall along Coors Boulevard to NM 528. Corrales Road leads the remainder of the route through the village of Corrales to NM 528 (Pat D'Arco Highway).
Prior to 2012, NM 448 traveled south along Coors Boulevard along a 13.0 mile course to St. Josephs Avenue in Albuquerque. Originally NM 448 traveled between Central Avenue and NM 46 (Corrales Road). In 1988 the route replaced NM 46 north of NM 528 (Alameda Boulevard) into Sandoval County.

NM 473 is a 0.55 mile connector linking NM 313 (old U.S. 66/85) with Interstate 25 at Exit 240 in the town of Bernalillo.
Atrisco Vista Blvd, Dennis Chavez Blvd, Rio Bravo Blvd
Following Rio Bravo Boulevard, a four-lane divided arterial, NM 500 travels 4.35 miles between NM 45 (Coors Boulevard) and Interstate 25 at Exit 220. The state road was lengthened to 12.35 miles along Dennis Chavez Boulevard west from NM 45 to Atrisco Vista Boulevard, and Atrisco Vista Boulevard north to Interstate 40 at Exit 149.

Alameda Blvd / Pat D'Arco Hwy
NM 528 constitutes a 13.40 mile loop west from 2nd Street (former NM 47) in North Valley through Rio Rancho to U.S. 550 at Santa Ana Pueblo. The state road previously originated west from Interstate 25 (Exit 233) along Alameda Boulevard. The 1.96 mile segment east of NM 47 was decommissioned and reinventoried by NMDOT as FL-4020.
Alameda Boulevard heads west across the Rio Grande on a four lane bridge to overtake NM 45 along Coors Bypass Boulevard north of Cottonwood Mall. Pat D'Arco Highway continues the state road northward into Sandoval County and Rio Rancho. The northernmost segment beyond Corrales Road (NM 448) replaced NM 46.

Tramway Road / Boulevard, Roy Ave
State Road 556 forms an arterial loop stretching 15.40 miles around the northeast side of Albuquerque. Tramway Boulevard leads NM 556 north from Central Avenue (Historic U.S. 66 / NM 333) and Interstate 40 (Exit 167) to Sandia Heights and North Albuquerque Acres. NM 556 overtakes Tramway Road, west from the Sandia Peak Tramway, along a two lane course through the southern extent of Sandia Pueblo to Interstate 25 (Exit 234).
NM 556 follows Roy Avenue west from I-25 to a roundabout with 4th Street (NM 313). NM 556 overtakes 4th Street across the North Diversion Channel to conclude opposite the north end of 2nd Street (former NM 47) at North Valley.
Linking I-25 with the Sandia Peak Aerial Tramway, Tramway Road was constructed in the early 1970s through Sandia Pueblo. Succeeding work built Tramway Boulevard south to I-40 in the 1980s.

NM 44 was replaced by NM 165 east of U.S. 85 by 1988 and by an extension of U.S. 550 by 2000.

NM 46 was replaced both by a northern extension of NM 448, and by NM 558 in 1988. It originally ran along Corrales Road through Corrales to Rio Rancho, and along NM 556 to U.S. 550.


Removed by the late 1960s, NM 135 followed Bridge Boulevard west from Iseleta Boulevard (U.S. 85) to Central Avenue (U.S. 66).

Originally eight miles in length, NM 194 was truncated to one half mile in the mid-80s, and removed completely by the early 2000s. The state road followed Rio Grande Boulevard north from Central Avenue (old U.S. 66) in Albuquerque to NM 528 (Alameda Boulevard) in Alameda.

Replaced by nearby NM 528 (Alameda Boulevard), NM 296 traveled just one mile along Alameda Road between then-U.S. 85 (4th Street) and former-NM 425 (Edith Road). The route was retired in the mid 1980s.

NM 303 represents a former six-mile route along Desert Road and 2nd Street between NM 47 (Broadway Boulevard) in South Valley and Bridge Boulevard (former-NM 314) south of Downtown. NM 303 replaced the relocated NM 47 between 1988 and its decommissioning in 2000.

Prior to a mileage swap between the city of Albuquerque and NMDOT for a section of Coors Boulevard (NM 45) in 2010, NM 345 overlaid 3.65 miles of Unser Boulevard. Unser Boulevard comprises a lengthy arterial joining the Far West suburbs of Albuquerque with Rio Rancho in Sandoval County. The state road began at Central Avenue (Historic U.S. 66) and ended at St. Josephs Avenue.

State Road 352 followed Lomas Boulevard 8.2 miles east from Central Avenue (Historic U.S. 66) at Old Town to Interstate 40 east of the La Mesa neighborhood in Albuquerque. A 1960s AAA map of Albuquerque labels Lomas Boulevard as "Relief U.S. 66."

This route followed San Mateo Boulevard south from Interstate 25 at Exit 230 to Central Avenue (Historic U.S. 66) in Albuquerque. An unmarked route, NM 367 traveled just five miles and was designated from the 1960s to the 1980s.

Pan American Freeway / Roy Avenue
State Road 422 was the predecessor to Interstate 25 along the Pan American Freeway through Albuquerque. The north leg of the route followed Roy Avenue west to U.S. 85 (4th Street) in Sandia Pueblo.

A former three-mile route along Edith Boulevard between Osuna Road (former NM-98) and Alameda Road (former-NM 296) in North Valley. NM 425 was removed by 1990.
Northwest Loop Road
The Northwest Loop Road was a proposed arterial bypass of the Far West side of Albuquerque and Rio Rancho. Except for a short segment at Hawk Site in far northern Rio Rancho, the roadway remains unbuilt. West from there, the project path of Northwest Loop Road stays north of Mariposa East to Mariposa Ranch and the Rio Ranch Estates area. Outside of Rio Ranch Estates, the alignment turns southward en route to Interstate 40, beyond the western fringes of suburban development.
Plans for Northwest Loop Road called for the construction of a two-lane gravel road with upgrades to a paved highway as development warrants.
Paseo del Volcan
Paseo del Vulcan is a 30.6 mile arterial belt route proposed from Interstate 40 to U.S. 550. The southern segment through West Side Albuquerque runs north from Senator Dennis Chavez Boulevard to Interstate 40 at Exit 149, and then beyond to Petroglyph National Monument. This section of Paseo del Vulcan was renamed Atrisco Vista Boulevard by the New Mexico Department of Transportation (NMDOT) in 2011, as plans for the future roadway shifted further west to a future interchange with I-40.2 Annexations by the city of Albuquerque placed Atrisco Vista Boulevard within the city limits from Double Eagle II Airport (AEG) northward to the west extension of Paseo Del Norte at Quail Ranch.
Within Sandoval County, Paseo del Volcan serves the Central Business District of Rio Rancho between Iris Road and Unser Boulevard. Completed in 2011, the principal arterial was established as New Mexico State Road 347 for 7.14 miles east from Unser Boulevard (FL-4081) to U.S. 550 at Enchanted Hills . The remainder of the route in Rio Rancho remains unbuilt, including the southwest extension through Rio Rancho Estates into Bernalillo County.
| | |
| --- | --- |
| | 8th Street northbound at Coal Avenue east. Coal Avenue, in conjunction with Lead Avenue, provides a through route east to Interstate 25 over the BNSF Railroad. 06/29/08 |
| | |
| --- | --- |
| | Coal Avenue has a new urbanism feel as it travels east from 8th Street south of downtown Albuquerque. 06/29/08 |
| | |
| --- | --- |
| | 6th Street travels north into the Albuquerque central business district from Iron Avenue. 06/29/08 |
| | |
| --- | --- |
| | Eastbound Coal Avenue at 5th Street. Coal Avenue is one of several streets named after metals. Others include Iron, Lead, Silver, Gold and Copper. 06/29/08 |
| | |
| --- | --- |
| | 4th Street crosses Coal Avenue in this scene. The north-south street carried U.S. 66 from Bridge Boulevard northward until 1937. U.S. 85 followed the street until 1990. 06/29/08 |
| | |
| --- | --- |
| | Entering the intersection with 3rd Street on Coal Avenue east. Prior to 1988, 3rd Street was a part of U.S. 85 Alternate southbound through Downtown. Northbound followed 2nd Street. 06/29/08 |
| | |
| --- | --- |
| | Coal Avenue switches to one way street eastbound beyond 2nd Street. 2nd Street leads north into the Arts and Entertainment District of Downtown Albuquerque. 06/29/08 |
| | |
| --- | --- |
| | A three-lane viaduct carries Coal Avenue eastward over 1st Street and the BNSF/Amtrak railroad lines between 2nd Street and Broadway. 06/29/08 |
| | |
| --- | --- |
| | Coal Avenue touches down at Broadway (New Mexico 47). New Mexico 47 travels Broadway (former New Mexico 361) from South Valley to Candelaria Road. 06/29/08 |
| | |
| --- | --- |
| | Entering the intersection with Locust Street at the southbound on-ramp to Interstate 25. A split diamond interchange joins the freeway with Coal Avenue east and Lead Avenue west. 06/29/08 |
| | |
| --- | --- |
| | Weathered sign assembly for the northbound on-ramp to Interstate 25 over Coal Avenue east. Oak Street leads drivers north to the freeway while also acting as a frontage road to Lomas Boulevard. 06/29/08 |
| | |
| --- | --- |
| | Oak Street represents New Mexico Frontage Road 2523 heading north from Exit 224A. Coal Avenue continues beyond the freeway east to Roosevelt Park. 06/29/08 |
Sources:
http://www.nmgrip.com/projects.asp?project=15131
"Atrisco Vista Blvd. New Name on I-40." Albuquerque Journal (NM), July 9, 2011.
Page updated June 24, 2019.