Pittsburgh, once a distant trading post known as Fort Duquesne at the confluence of the Ohio, Allegheny, and Monongahela Rivers, is a vibrant, world-class city. Known for steel mills in the 1970s, Pittsburgh now has a diverse economic base, with many industries relocated in the region.
The city is oriented around the Ohio, Allegheny and Monongahela Rivers. Most major routes parallel one of the three rivers coming into Downtown, and those that do not may traverse the nearby mountains through tunnels or cuts. Pittsburgh is best known for its geography and its stunning skyline at the headwaters of the Ohio River. Best viewed from Mount Washington, the skyline is especially beautiful from above the skyscrapers.
Looking Downtown, the city is organized into a rough grid based on the rivers, but that grid is quickly lost as one heads eastward. Forbes Avenue, Boulevard of the Allies, and Bigelow Boulevard each provide access to the eastern part of the city. Bigelow Boulevard (formerly U.S. 30, now PA 380) is also the old Lincoln Highway route.
Point State Park, located at the beginning of the Allegheny and Monongahela Rivers, and the promenade between Acrisure Stadium (home of the Pittsburgh Steelers) and PNC Park (home of the Pittsburgh Pirates) are perfect places for an evening stroll. Ferries connect the shores of the rivers, and some of the river bridges have pedestrian access. There are a total of 26 road and railroad bridge spanning the respective rivers in the city of Pittsburgh.
Founded in 1758, Pittsburgh is well known for its history as a steel town, with memories of steel mills, foundries and factories that used to line the Ohio, Allegheny and Monongahela Rivers. Visitors are often surprised to learn that the city is also the beneficiary of four large, regional parks (Frick, Schenley, Highland and Riverview) and that a great deal of community altruism resulted in a continuous support for the arts and culture of the city.
The University of Pittsburgh was founded in 1787 as a small, private academy. Its signature building, the 42-floor Cathedral of Learning, was erected in 1937. Known for organ transplants and the first double organ transplant ever conducted in 1984, the university is well aknowledged for its medical sciences program.
Located east of University of Pittsburgh, the smaller Carnegie Mellon University (CMU) is also located in Oakland. The two campuses are nearly contiguous, with the Forbes Avenue bridge over a CSX Railroad separating the two. CMU was founded in 1900 as the Carnegie Technical Schools for children of Pittsburgh's blue collar workers. It became the Carnegie Institute of Technology in 1912, and merged with Mellon Institute of Research in 1967 to form today's university.
Home to 305,704 per the 2010 Census and an estimated 300,286 in 2019, a steady population decline has continued in the city of Pittsburgh. The city previously lost 9.5% of it population from 1990 (369,879) to 2000 (334,563).


Interstate 76 passes north of the Pittsburgh metropolitan area, passing through eastern reaches of it at Monroeville. Following the Pennsylvania Turnpike, I-76 travels in a southeasterly trajectory from Youngstown, Ohio, toward central Pennsylvania and Harrisburg. This toll route carries a significant amount of truck traffic, though with annual toll increases, shunpiking for alternate routes such as I-68 is more likely. The turnpike historically is the primary route from the Mid-Atlantic to the Midwest.
Interchanges in the Pittsburgh area connect the Pennsylvania Turnpike with I-79/U.S. 19 at Cranberry township, with PA 8 at Hampton township, with Freeport Road to PA 28 at Hamar township, and with I-376 and U.S. 22-30 (William Penn Highway) at Monroeville. Long term work by the Pennsylvania Turnpike Commission (PTC) modernizes and widens the toll road throughout Southwestern Pennsylvania. Work includes the following projects:
Milepost 28 to 31 Project – rebuilds and widens a 2.39 mile section of the Turnpike between the Cranberry Interchange and the Warrendale Toll Plaza. Design work started in 2012 and was completed in Spring 2019. Construction was scheduled between Summer 2019 and 2021.
New three-lane wide Allegheny River Bridges – Cost $194 million and was completed in October 2010.
Milepost 40 to 48 Project – $200 million to replace six overpasses and expand the Turnpike to six overall lanes. Project ran from February 2013 to Fall 2019
Milepost 49 to 53 Project – Estimated to cost $92 million, will widen the turnpike to six 12′ lanes with 12′ inside and outsider shoulders along a 3.5 mile segment east of the Allegheny Valley Interchange.
Milepost 53 to 57 Project – Rebuilds and expands a four mile section of I-76 from west of the Saltsburg Bridge in Plum Borough to Northern Pike Road in Monroeville. The $125 million project includes replacement of all bridges.
Milepost 57 to 67 Project – Work includes rebuilding the Irwin Interchange and expanding the roadway to six overall lanes separated by a 26-foot wide median. Final design work on the $300 million project commenced in 2015 and 2016. Initial constructed on Trafford Road started in Fall 2017, with mainline work expected to begin in 2023.
Interstate 76 was commissioned in 1963. Originating at Downtown Pittsburgh, I-76 followed the Penn-Lincoln Parkway East through to the Pennsylvania Turnpike at Monroeville. The route replaced what was Interstate 80S from Monroeville east to Philadelphia. I-80S remained along the Turnpike northwest to Youngstown, Ohio.
A westward extension of I-76 along Penn-Lincoln Parkway West to I-79 at Carnegie was approved by the American Association of State Highway and Transportation Officials (AASHTO) in 1970. This changed a year later, with I-76 realigned along the remainder of the Pennsylvania Turnpike mainline in place of I-80S northwest to Ohio. Penn-Lincoln Parkway West was renumbered as part of I-279 and East as I-376.
Interstate 79 is the primary north-south route in western Pennsylvania. Generally, the freeway follows U.S. 19, but while U.S. 19 enters Pittsburgh, I- 79 bypasses it to the west. Through western Allegheny County, I-79 winds northward through South Fayette township and the borough of Bridgeville. The freeway expands to six lanes north from PA 50 (Exit 54), with commuter traveling swelling traffic counts to 94,000 as recorded by Penndot in 2016.
Making a number of S-curves, I-79 proceeds north through the Collier township by the boroughs of Heidelberg and Carnegie. A modified cloverstack interchange follows with I-376/U.S. 22-30 (Penn-Lincoln Parkway West) near Pennsbury Village. Usually referred to as simply Parkway West, the freeway taking I-376 east into Pittsburgh was previously I-279 and part of the original planned alignment for I-79.
Northward into Robinson township, Interstate 79 reduces to four overall lanes. Still well used by commuters with 65,000 vpd recorded in 2016, the freeway crosses paths with PA 60 at Moon Run and continues north with a forested median between an array of subdivisions along the Kennedy township line.
Interstate 79 curves sharply ahead of the Ohio River as it lowers to span the Back Channel and Neville Island. A six-lane tied-arch bridge crosses the main channel of the Ohio River at the borough of Glenfield.
Navigating through a valley fed by Kilbuck Run, I-79 advances north through Aleppo township, Sewickley Hills and portions of Ohio township. Interstate 279 converges with the freeway in the borough of Franklin Park, with I-79 widening to six lanes and 2016 traffic counts reaching 100,000 vpd. The six-lane section extends north to U.S. 19 (Perry Highway) in Marshall township. I-79 meets the PA Turnpike nearby and the crosses the Butler County line.
Fort Duquesne Bridge / Parkway North
Interstate 279 branches southeast from I-79 at Franklin Park along a suburban course to Ohio township, Ross township and West View. The freeway travels 13.3 miles overall, entering north Pittsburgh along the Parkway North and concluding at the Fort Pitt Bridge taking Interstate 376 across the Monongahela River between Parkway West and Parkway East. An HOV-express lane accompanies Parkway North from I-579 (Veterans Bridge) to U.S. 19 near West View.
Historically Interstate 279 was proposed as a bypass of Pittsburgh along what is now Interstate 79 from Robinson township north to Franklin Park. This changed first in 1970, with I-279 redesignated along the Fort Duquesne Bridge and the proposed Parkway North, and the Parkway West numbered as I-76. AASHTO approved a subsequent change on December 3, 1971, with I-279 extended west along Parkway West to I-79 and U.S. 22-30.
The westward extension of Interstate 376 overtook all of I-279 across both the Fort Pitt Bridge and Parkway West to I-79 near Pennsbury Village. Signs for I-279 along Parkway West were removed in 2009.
Beaver Valley Expwy / Airport Expwy / Penn-Lincoln Pkwy
Prior to 2005, Interstate 376 originated from the east end of the Fort Pitt Bridge at Downtown Pittsburgh and lined Penn-Lincoln Parkway East east along side U.S. 22 to the Pennsylvania Turnpike at Monroeville. The Parkway East opened in stages between 1953 and 1959, with the link to the PA Turnpike finished in 1962. The urban freeway passes through the Squirrel Hill Tunnel between Exits 74 and 77. U.S. 30 also accompanies Parkway East through to Wilkinsburg.
Efforts to renumber Pennsylvania 60 (Beaver Valley Expressway) as an Interstate highway started in 1994. Legislature to add the state route into the Interstate system was introduced in 2003, and by 2005, it was made official as a Future route. With planned upgrades to bring portions of PA 60 to Interstate standards, AASHTO approved the initial extension of Interstate 376 west to I-79 on May 6, 2006. I-376 was designated northwest along the Airport and Beaver Valley Expressways in June 2009.
Constructed in the 1950s, with the Fort Pitt Tunnel opened in 1960, Penn-Lincoln Parkway East was formerly the western leg of Interstate 279. A well traveled commuter route, with up to 99,000 vpd recorded by PennDOT in 2016, Parkway West takes a winding course west from Pittsburgh through the boroughs of Green Tree, Carnegie and Rosslyn Farms. The freeway is only four lanes wide, with auxiliary lanes running between respective on and off-ramps.
Parkway West continues west from I-79 along side U.S. 22/30 through Collier and Robinson townships. U.S. 22/30 branch west at Exit 60A to Weirton, West Virginia, while I-376 shifts onto the Airport Expressway to Pittsburgh International Airport (PIT). The renumbering of PA 60 to I-376 included redesignated PA 60 Business as Business Loop I-376. The business route circles around the east side of PIT Airport, while I-376 serves the passenger terminal directly at Exit 53. The two converge in north Findlay township, with I-376 joining the Beaver Valley Expressway north to Aliquippa.
Crosstown Boulevard / Veterans Bridge
Interstate 579 forms an urban loop spurring south from I-279 (Parkway North) across the Allegheny River into Downtown Pittsburgh on the Veterans Memorial Bridge. The freeway shifts below grade along Crosstown Boulevard south from PA 380 (Bigelow Boulevard) and west of PPG Paints Arena (home of the Pittsburgh Penguins) and Duquesne University. The route ends at the Liberty Bridge spanning both I-376 and the Monogahela River south to the Liberty Tunnel. The Liberty Tunnel connects Downtown with U.S. 19 Truck/PA 51 at the Beechview and West Liberty neighborhoods south of Mount Washington.
Crosstown Boulevard was upgraded to a freeway by 1964. The Veterans Memorial Bridge opened in 1988, with ramps to I-279 finished in 1979. A full interchange linking Crosstown Boulevard with Parkway East was proposed but never completed. With the exchange planned, I-579 was first numbered as Interstate 479, and then as Interstate 876. I-579 was approved for Crosstown Boulevard by AASHTO on December 3, 1971.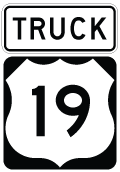 U.S. 19 diverges from parallel Interstate 79 in Washington County and trends eastward through Upper St. Clair township. Splitting with Washington Road at Mt. Lebanon township, U.S. 19 follows Cochran Road while U.S. 19 Truck continues Washington Road north through the borough of Dormont. U.S. 19 follows Banksville Boulevard, Saw Mill Run Boulevard, the West End Bridge, Marshall Avenue, and Perrysville Avenue through the city, staying west of Downtown. U.S. 19 Truck follows West Liberty Avenue, then merges with PA 51 along Saw Mill Run Boulevard northwest to Interstate 376 (Parkway West). U.S. 19 Truck overlays I-376 east and I-279 north, but is unsigned until it splits with the Parkway North for McKnight Road. U.S. 19/19 Truck continue north through Ross township and reconvene at McCandless.

U.S. 22 is almost entirely freeway through its passage through the Pittsburgh area, following all of the Penn-Lincoln Parkway. That name is taken from the merge of the Penn and Lincoln Highways, U.S. 22 and U.S. 30. Signed today as Interstate 376, Penn Lincoln Highway was originally built as a new alignment for U.S. 22.

U.S. 30 combines with U.S. 22 east in Findlay township, just prior to their merge with Interstate 376 along Parkway West. U.S. 30 accompanies I-376/U.S. 22 across much of Allegheny County and the city of Pittsburgh through to Wilkinsburg. Rejoining the Lincoln Highway, U.S. 30 heads southeast through Forest Hills to North Braddock, East Pittsburgh and East McKeesport to Westmoreland County.
PA 380 (Bigelow Boulevard) through central and east Pittsburgh represents the historic route of both U.S. 30 and the transcontinental Lincoln Highway.
Penn Av / Washington Blvd / Butler St / 62nd St Bridge
PA 8 begins at the interchange joining U.S. 30 (Lincoln Highway) west with I-376/U.S. 22 (Parkway East) in the borough of Wilkinsburg. Starting as Ardmore Boulevard, the state route over takes Penn Avenue through Downtown Wilkinsburg and enters the eastern end of Pittsburgh at the Point Breeze neighborhood. PA 380 combines with Penn Avenue for two blocks between Dallas and 5th Avenues, as it continues Lincoln Highway west through Bakery Square and East Liberty.
Fifth Avenue leads PA 8 northeast to Washington Boulevard and the Highland Park community. Turning west along the south banks of the Allegheny River, PA 8 follows Butler Street to cross the river on the 62nd Street Bridge. PA 8 then heads due north to Butler, Franklin, Titusville and Union City. The state route concludes at U.S. 20 in Erie.

Ohio Street / Allegheny Valley Expressway
PA 28 (E Ohio Street / Allegheny Valley Expressway) is a limited access route leading from Interstate 279 in the North Shore area in a northeasterly direction toward Fox Chapel. The freeway was previously designed with substandard elements, including three instances where lane drops forced through traffic into a single lane. The exchange with PA 8 was upgraded to add a second through lane. Exit 6 at Highland Park Bridge remains with one lane in both directions, and southbound traffic at the Freeport Road connector still reduces to a single lane. PA 28 continues as a freeway all the way to Kittanning, 35 miles northeast of Pittsburgh.
Construction from 2011 to 2015 upgraded the at-grade section of PA 28 along E Ohio Street, from Interstate 279 and Chestnut Street, northeast to the 40th Street Bridge. Interchanges replaced intersections at the 31st Street Bridge and the 40th Street Bridge.
| | |
| --- | --- |
| | North |
| | |
| --- | --- |
| | Northbound PA 28 approaching Exit 4, which is a left exit leading to Etna. 05/25/02 |
| | |
| --- | --- |
| | Butler Street branches north from PA 28 at Exit 4 to the Etna business district. 05/25/02 |
| | |
| --- | --- |
| | PA 28 north at Exit 5 to PA 8. This was one of two instances where all through traffic was relegated to one northbound lane. 05/25/02 |
| | |
| --- | --- |
| | South |
| | |
| --- | --- |
| | PA 28 south along the former undivided highway between the 31st Street Bridge and Interstate 279. This road was congested at most times of the day since PA 28 is the primary route from the northeastern suburbs into Pittsburgh. 05/25/02 |
| | |
| --- | --- |
| | PA 28 south ends with direct ramps to both I-279 south and I-579 (Veterans Bridge) south. The off-ramp for Chestnut Street and the 16th Street Bridge becomes Ohio Street west, which is the first leg of a Breezewood style connection to I-279 (Parkway North). 05/25/02 |
Steubenville Pike / Crafton Blvd / Main St
With Interstate 376 taking over as the designation for both the Airport and Beaver Valley Expressways north from the Pittsburgh area, PA 60 travels solely along a surface route. Heading east from the exchange joining U.S. 22/30 with I-376, PA 60 winds east through Robinson township along Steubenville Pike, serving a retail area anchored by The Mall at Robinson. Continuing past a parclo interchange with I-79 at Moon Run, Steubenville Pike curves southeast to western reaches of Pittsburgh and the borough of Crafton.
PA 60 makes a convoluted route through Crafton, turning south from Steuben Street along Noble and Dismore Avenues to Crafton Boulevard east and north. The state route winds between the Crafton Heights and Westwood neighborhoods through west Pittsburgh. Main Street leads the route east through the West End to its end at I-376 and PA 51.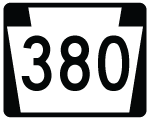 PA 380 along Bigelow and Baum Boulevards is a primary route from the east into Downtown Pittsburgh. The state route represents the original alignment of U.S. 22 and U.S. 30 through the city.
Through East Liberty, Pennsylvania 380 splits into separate directions, with eastbound taking Euclid Avenue south two blocks from Baum Boulevard to Centre Avenue. A gap ensues east from there to Highland Avenue, with Centre Avenue resuming as PA 380 to Penn Avenue. PA 380 westbound loops around the East Liberty business district along a combination of Centre Avenue north, Station Street west and Euclid Avenue south to Penn Avenue. A gap in the route exists westbound along Euclid Avenue south to Baum Boulevard.
Penn Avenue angles PA 380 southeast to PA 8 (5th Street) and Dallas Avenue north through the East End of Pittsburgh. Bennett Street extends PA 380 east through the Homewood neighborhood to Frankstown Avenue and the East Hills community. Crossing into Penn Hills township, the state route continues to Plum and Saltsburg.
| | |
| --- | --- |
| | East |
| | |
| --- | --- |
| | 7th Avenue branches east from Liberty Avenue in Downtown Pittsburgh to an entrance ramp for both PA 380 (Bigelow Boulevard) east and I-579 (Veterans Bridge) north. 06/12/10 |
| | |
| --- | --- |
| | PA 380 begins along Bigelow Boulevard east across I-579 (Crosstown Boulevard) in Downtown Pittsburgh. 05/25/02 |
| | |
| --- | --- |
| | Washington Place stems north from Fifth Avenue by PPG Paints Arena (home of the Pittsburgh Penguins) to PA 380 (Bigelow Boulevard) above I-579 (Crosstown Boulevard). 05/25/02 |
| | |
| --- | --- |
| | Bedford Avenue splits from PA 380 (Bigelow Boulevard) east to the Hill District. Entrance ramps for I-579 south and the I-579 HOV roadway follow. 06/12/10 |
| | |
| --- | --- |
| | PA 380 (Penn Avenue) east at PA 8 (Fifth Avenue). The two routes combine for 0.29 miles along Penn Avenue (old U.S. 22/30) to Dallas Avenue. 10/14/01 |
| | |
| --- | --- |
| | Long since replaced, a remaining overhead at PA 380 and PA 8 (Fifth Street) in Pittsburgh referenced the original alignment of U.S. 22/30 along Penn Avenue. 10/14/01 |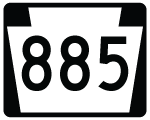 PA 885 follows the Boulevard of the Allies, which parallels Interstate 376 as an urban style expressway between the Downtown / Golden Triangle area east to the ramps with Parkway East below the Birmingham Bridge. This portion of the Boulevard of the Allies was closed in 2001 for reconstruction and reopened the following year.
Boulevard of the Allies doubles as PA 885 east to Bates Street south through South Oakland. The state route reconvenes with Parkway East and then takes a combination of 2nd and Irvine Streets south to Hazelwood and the Glenwood Bridge across the Monogahela River. An interchange ties in the south end of the span with PA 837 (Carson Street), with PA 885 continuing onto Mifflin Road. The state route exits Pittsburgh along Lebanon Road, passing through a tunnel at Allegheny County Airport (AGC) in the borough of West Mifflin.
| | |
| --- | --- |
| | South |
| | |
| --- | --- |
| | Reassurance marker formerly posted along the Boulevard of the Allies east of Craft Avenue in the South Oakland community. This assembly was removed by 2011. 10/31/04 |
| | |
| --- | --- |
| | PA 885 south approaches the turn from Boulevard of the Allies east onto Bates Street. An on-ramp connects with I-376 (Parkway East) to Monroeville nearby. 10/31/04 |
| | |
| --- | --- |
| | Bates Street takes the route 0.3 miles south to 2nd Avenue along the Monongahela River. 10/31/04 |