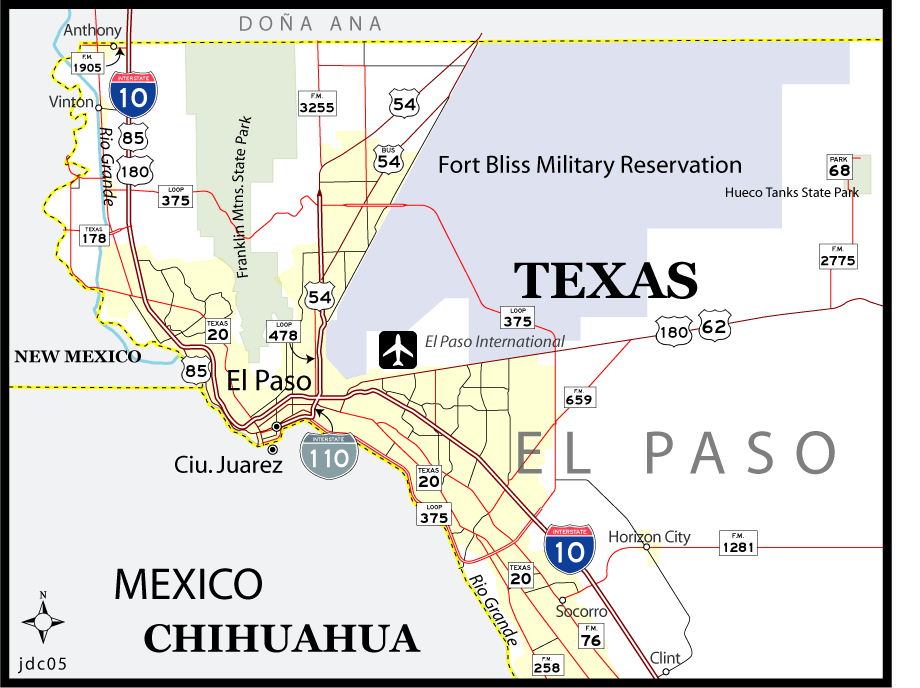 El Paso is located next to the Rio Grande in a pass between two mile high mountains, hence the name. The current city grew from a settlement founded by Ponce de León in 1827, however missions date back to 1677, and the first known settlement in the area originated in 1598. Growth of the city spread beyond the original valley to surround the Franklin Mountains, which were eventually crossed by SH 375.
El Paso is unique for its distance from the major population centers of Texas. Historically, El Paso has been rather isolated from the more populous eastern half of Texas due to the extremely long drive across West Texas. In some ways, El Paso seems more a part of Mexico, particularly due to Ciudad Juárez on the Mexican side of the Rio Grande.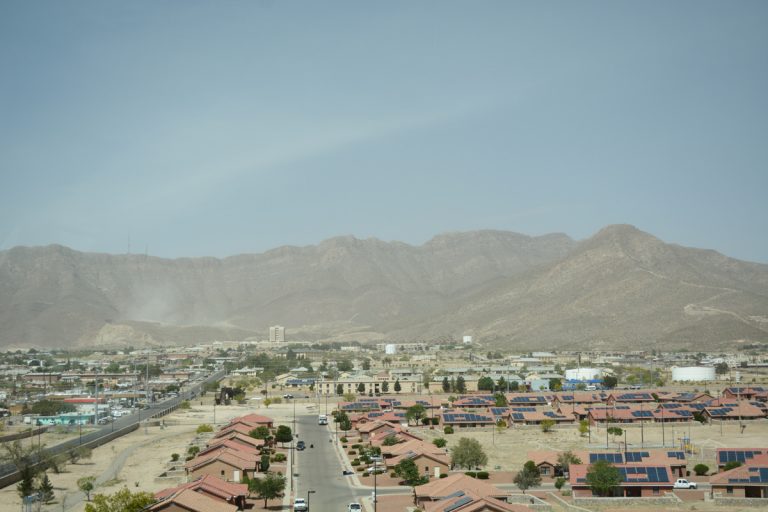 Viewing Suglarloaf Mountain and the Franklin Mountain chain from the high flyover connecting SS 601 west with U.S. 54 south. Photo taken 04/25/17.
Due to the unique geography of El Paso, traffic funnels through Downtown along IH 10, leading to increased congestion. IH 10 is currently operating at capacity most of the day, and with heavy truck traffic, El Paso does not meet air quality standards. TxDOT widening plans for the eastern half of IH 10 through the city were accompanied by studies for the Northeast Parkway project.
Plans for the Northeast Parkway call for it to branch off IH 10 at Anthony, and follow NM 404 across "Anthony Gap" through the Franklin Mountains. Beyond the mountains, the road would turn southeast to meet Loop 375 in Fort Bliss. The Camino Real Regional Mobility Authority (CRRMA) estimated costs for a two-lane version of the 21-mile long tollway at $188.4 million, and $233.4 million for the four-lane build out in 2009.1
Additional plans involved widening IH 10 east of US 54, and improvements to Loop 375 and US 85 to make the set of roads another alternate to IH 10.
Interstate 10 was opened between 1961 and 1969 through El Paso. The section from Paisano (US 62) east was open by 1961, and the section from the NM state line to Paisano (west) was open by 1966. The final link through Downtown, a 0.4 mile section between Santa Fe and Campbell streets, opened in mid-1969. Interstate 10 has been widened numerous times to its eight to ten lane with frontage road configuration.

Interstate 110 is a short route running parallel to U.S. 54 between IH 10 and Mexico via the Bridge of the Americas. Prior to 2010, the route was unsigned.
The proposed I-10 Connect Project will revamp both the exchange at the north end of IH 110 with IH 10 and U.S. 54, and remove the lone interchange along the route at U.S. 62. With local access removed, it is expected that IH 110 will again be an unmarked route.
Commissioned in 1926, US 54 was one of the original US Highways serving El Paso. It runs from the Mexican border Downtown north to the New Mexico state line.
US 54 was upgraded to the North-South freeway starting in 1970, and renamed the Patriot Freeway in 1993 after the Gulf War.

Paisano Drive / Montana Ave
US 62 was commissioned in 1932 to replace former US 366, one of the original US routes in El Paso. US 62 starts at the Mexican Border and the Santa Fe Port of Entry in Downtown El Paso. The route turns east along Paisano Drive (former US 80) to Montana Ave, then continues out of El Paso.
The US 62 corridor was planned as a freeway but ultimately cancelled.


Mesa Street / Alameda Street
US 80 was commissioned in 1926 through El Paso, and decommissioned in 1989. There are several old alignments through the city. Originally US 80 entered New Mexico on Doniphan Drive (present-day SH 20) before shifting in 1955 to the present-day IH 10 alignment.
The 1926-1939 alignment turned east as Mesa Drive, looping around the mountains en route to Downtown. Mesa Street turned to Texas Avenue, then Alameda Avenue east of Downtown. The section between Mesa Drive and the Alameda/Paisano intersection was resigned US 80A in 1939, and changed again as US 80 in the late 1950s. Currently this alignment is signed as SH 20.
US 80 was realigned in 1939 south from the Doniphan Drive/Mesa Street intersection and to parallel the Rio Grande as Paisano Drive. This alignment continued east through Downtown to meet US 80A at the intersection of Alameda Drive and Paisano Drive. This alignment was signed as US 80 from 1939 until the late 1950s, and is currently part of US 85 (IH 10 at Sunland Park to Stanton Street) and US 62 (Santa Fe Street to the Paisano/Alameda intersection).
The third alignment of US 80 was along present-day IH 10 – this was commissioned from 1969 to 1989.

US 85 was extended south from Las Cruces to El Paso in 1935. US 85 was co-signed with US 80 through to Downtown, but remained on the Mesa Street alignment to Texas Street, then south on Stanton Street to the Mexican border. After 1969, US 85 shifted to old US 80 (its second historic alignment) along Paisano from Sunland Park south to Stanton/Santa Fe Streets.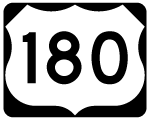 US 180 was extended into El Paso in 1944. It ran concurrent with US 62 from Downtown east. US 180 was later lengthened to the New Mexico State line, co-signed with US 80 and later IH 10, west of Downtown. Today, US 180 starts at the New Mexico state line, overlapping with IH 10 until Montana Avenue. The route then follows US 62 to Carlsbad, New Mexico.

Border Freeway / Joe Battle Boulevard / Woodrow Bean Trans-Mountain Drive
Loop 375 over the Franklin Mountains opened on August 5, 1969 as TxDOT's largest excavation project. SL 375 was extended east, and around the city, forming a partial loop from Downtown along the Rio Grande, before turning away from the river south of the city and meeting IH 10. The road loops around the east side of El Paso, meeting US 62 & 180 before proceeding northeast through Fort Bliss to US 54 on the west side of the base. West of US 54 is the original section of Loop 375.
Loop 375 was planned in the 1963 freeway plan, but was only partially constructed as a limited access highway.

Spur 601 is a limited access highway traveling east from Fred Wilson Avenue and U.S. 54 (Patriot Freeway) to Biggs Army Air Field and Loop 375 in the Fort Bliss Military Reservation. The four to six lane freeway was constructed from 2007 to 2011 to provide relief to IH 10 and support area growth associated with a personal increase at Fort Bliss through 2013. Interchanges along Spur 601 are numbered and the east end is a diverging diamond interchange (DDI).
The city of El Paso approved a measure to rename the Inner Loop to Liberty Expressway at the urging of Army Maj. Gen. Howard Bromberg, Fort Bliss commander at the time, on March 16, 2010. The $365 million project was funded through a public-private partnership with the Camino Real Regional Mobility Authority issuing bonds.2

Spur 1966 is a 0.261 mile route spanning Border West Expressway and IH 10 between U.S. 85 (Paisano Drive) and Schuster Avenue at the University of Texas at El Paso. Construction on the $31 million project commenced in May 2012.3 The four-lane overpass extending southwest from a new roundabout at Schuster Avenue opened to traffic on May 15, 2015. The route number honors Texas Western College's 1966 national basketball championship.4
Sources:
"CRRMA Gets Update on Proposed Northeast Parkway." El Paso Development News, April 16, 2013.
"Diana Washington Valdez: Spur 601 completion celebration Wednesday." El Paso Times (TX), April 24, 2011.
"Portion of Interstate 10 near UTEP to close this weekend." El Paso Times (TX), May 8, 2014.
"Spur 1966 bridge opens near UTEP." El Paso Times (TX), May 15, 2015.
Page Updated February 1, 2018.