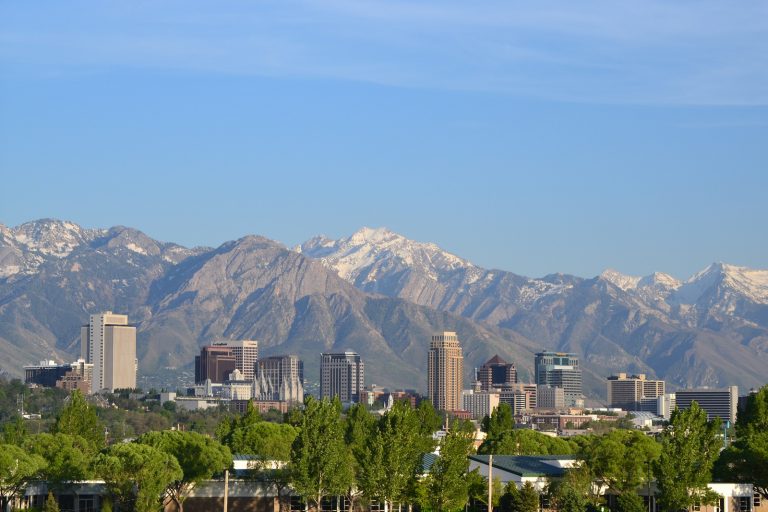 Salt Lake City is the capital of the state of Utah. Sitting at an elevation of 4,226 feet above sea level, the largest city in the Beehive state, Salt Lake City had a population of 199,723 as of the 2020 Census, an increase of 13,283 from the 2010 Census. The Wasatch Front provides a scenic backdrop along the east side of the city while the brackish waters of Great Salt Lake, the largest lake west of the Mississippi River, spread to the west and north from the city.
Salt Lake City was founded by Mormon pioneers on July 24, 1847; settlement of the area followed soon thereafter. Center to the city is Temple Square, which is home to the Salt Lake Temple for the Church of Jesus Christ of Latter Day Saints. This temple was among the first LDS (Mormon) temples to be built; it was dedicated on April 6, 1893. In addition to its Mormon heritage, Salt Lake City is notable for its position at the crossroads of Interstate 15 and Interstate 80 and for its leadership in the growing communities along the Wasatch Front.
Interstate 15 is the primary corridor along the Wasatch Front, leading from Provo-Orem in the south to Ogden to the north. As a result of the 2002 Olympics, the Utah Department of Transportation embarked on a major construction program that greatly widened and modernized the Interstate 15 freeway through Downtown Salt Lake City. The $1.59 billion project rebuilt 17 miles of the then-30 year old freeway. Work replaced all bridges and overpasses along I-15 north from 10800 South in Sandy to 600 North in Salt Lake City.1 The low bid for the project was selected in March 1997,1 followed by a groundbreaking ceremony on April 15, 1997.2
Work was completed four years later, with eight lanes of Interstate 15 ready for the morning commute of May 14, 2001. This included new high occupancy vehicle (HOV) lanes. Also wrapping up that day was the reopening of the ramp from I-215 west to I-15 north, which was closed for the bulk of four years.3
Subsequent projects continued to expand I-15 both north and south of Salt Lake City. $1.73 billion in construction rebuilt Interstate 15 in Utah County between Spanish Fork and Lehi. Crews replaced the asphalt surface with concrete design for a 40 year life span, added two lanes per direction while extending the Express Lanes southward throughout the county. 63 bridges and ten interchanges were rebuilt or replaced. A ribbon cutting ceremony at the Sam White Bridge above Interstate 15 in American Fork, marked the completion of the project on December 15, 2012.4
The South Davis Operational Upgrades added Express Lanes in both directions of I-15 from Interstate 215 (milepost 313) to U.S. 89 (milepost 340) in Farmington. Work also replaced overpasses and reconfigured interchanges at 2600 South and 500 South in Bountiful. The $131.38 million project ran from September 2013 to September 2015.
South of Salt Lake City, between Lehi and Draper, the Point Project http://www.udot.utah.gov/ thepoint/index.php greatly expanded Interstate 15 with 12 to 13 overall lanes between SR 284 (Timpanogos Highway) and Exit 291 (12300 South). Work also reconstructed the 4600 South interchange in Bluffdale and added ramps meters throughout the project area. Major work started in March 2015 and continued through Fall 2016.
Through the Salt Lake City metropolitan area, Interstate 15 varies between eight and 13 overall lanes with High Occupancy Toll (HO/T) lanes. The HO/T lanes are separated from the general travel lanes by painted medians. Toll rates are displayed on overhead signs posted at ingress points for the Express Lanes.
Prior to August 23, 2010, the HO/T lanes used a sticker program, where drivers of single occupant vehicles paid a $50 monthly fee to use the lanes. This changed then to electronic tolling using congestion pricing, where rates vary depending upon traffic flow.5 Initially the I-15 Express Lanes consisted of four zones. Expansions of the system takes the HO/T lanes north to Layton Parkway and south to Spanish Fork and 400 South across a total of seven zones.
Interstate 15 largely replaced U.S. 91, which was the major north-south highway in the state of Utah. The freeway generally follows U.S. 91 from the bottom to the top of Utah, although the two routes deviate north of Brigham City. I-15 also replaced portions of U.S. 50 Alternate from Scipio north to Salt Lake City and U.S. 89 between Spanish Fork and Brigham City.
Interstate 80 is a major freeway that originates in San Francisco and extends east to near New York City. A transcontinental route, Interstate 80 is notable for the extensive truck traffic that utilizes its route. I-80 enters the state from Nevada near Wendover and proceeds east across the Great Salt Lake Desert through to Tooele Valley. The freeway skirts the southern edge of the Great Salt Lake between Burmester and Saltair Beach, including a narrow strip of land around the northern slopes of the Oquirrh Mountains. I-80 turns east between the lake and a large tailing pond to enter the Salt Lake City metropolitan area en route to Salt Lake City International Airport (SLC) and Interstate 15 outside Downtown. I-15/80 overlap for 3.31 miles to South Salt Lake, then separate as Interstate 80 proceeds east across the Wasatch Range through Parleys Canyon. The remainder of I-80 in Utah traverses mountainous terrain as the freeway turns northeast from near Park City to Coalville, Echo Canyon and Evanston, Wyoming.
Leading east through Parleys Canyon, I-80 was built in the early 1970s. Deteriorating pavement in the 1990s resulted in a $17.8 million reconstruction of the six lane freeway between the Parleys Canyon west end and the Mountain Dell interchange. Asphalt instead of concrete was used for the surface due to cost, weather impacts and lower traffic volumes. Work ran from March to September 1999.6
The overlap between Interstates 15 and 80 was rebuilt as part of the four-year $1.59 billion overhaul of I-15 through Salt Lake City. The 1997-2001 work included a year plus long closure of I-80 east, between I-215 and I-15, on April 10, 1998. That allowed crews to rebuild I-80 from 1200 West to I-15, four ramps between the two freeways, and the flyover to 600 South (Exit 121).7 The southbound ramp from I-15 to I-80 west, closed in 1997 for replacement, opened in spring 2000.8
The new collector distributor roadway separating Interstate 80 east from I-15 south opened to drivers in late July 1999. This was the first major opening at the south split interchange between the two busy freeways. Following it was the opening of the I-80 west to I-15 northbound flyover in October 1999. Completion of that ramp eliminated a temporary surface detour along U.S. 89 (State Street) north to SR 201 (2100 South) west. The I-15 north to I-80 east ramp was replaced between late 2000 and 2001.8
$139 million in improvements made as part of the Innovate 80 project, replaced a total of 16 bridges east of I-15. Construction also added two lanes per direction (one mainline and one auxiliary) between U.S. 89 (State Street) and 1300 East (Exit 126), while adding sound barriers and improving interchanges along the stretch. Work ran from August 2007 to November 12, 2009.9
Commonly referred to as the Belt Route, Interstate 215 is a 270 degree beltway that begins at I-15 in North Salt Lake City, travels west to meet SR 67 (Legacy parkway), then turns south to parallel I-15 to the west. Interstate 215 provides a connection to Salt Lake City International Airport (SLC). Once at Taylorsville, I-215 turns east to again meet I-15 and continue toward Cottonwood Heights. Due to the presence of the mighty Wasatch Front, geography forces Interstate 215 to turn north again. I-215 continues from Holladay to Millcreek to meet I-80 at the west entrance to Parleys Canyon and SR 186 (Foothill Drive) near the Salt Lake City line.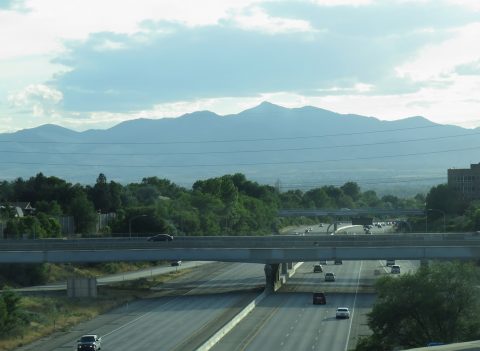 The southeastern quadrant of the Salt Lake City Belt Route, between I-15 at Murray and I-80 by Parleys Canyon, was originally designated as Interstate 415. This included a short signed segment of I-415 between I-15 and 300 East. The Utah State Department of Highways renumbered all of the Belt Route as Interstate 215. It was approved by the American Association of State Highway and Transportation Officials (AASHTO) in 1969.
Interstate 215 opened between SR 68 (Exit 13) and 300 East (Exit 12) in 1976.10 Community opposition due to environmental impacts and pollution concerns delayed the remainder of the southeast quadrant east from there to Wasatch Boulevard. Following lawsuits and a new Environmental Impact Statement, construction finally resumed and Interstate 215 was finally completed in 1989, when the southeastern loop opened between Exit 6 (6200 South) and Exit 3 (3300 South).
The close placement of interchanges along I-15 between 7200 South and I-215 at Murray resulted in weaving traffic. A $122.5 million reconstruction project along I-15 between 5900 South and 7800 South at Midvale addressed this issue by adding a collector distributor roadway along I-15 southbound from I-215 to Exit 297 with 7200 South.
Many U.S. highways were eliminated from Salt Lake City in a series of legislative actions. One such route that was retracted was U.S. 40, which used to serve Salt Lake City directly but today does not begin until leaving Interstate 80 at Silver Creek Junction near Park City. A legislative action on August 24, 1974, deleted U.S. 40 in Utah from Wendover east to Silver Creek Junction in favor of Interstate 80. A second state resolution clarified the remaining route of U.S. 40 east of Silver Creek Junction (as adopted on May 20, 1977). Today, U.S. 40 begins at Silver Creek Junction and proceeds southeast, connecting Interstate 80 to Park City, Heber City, and Vernal before leaving the state near Dinosaur National Monument. In Salt Lake City, the old alignment of U.S. 40 can generally be traced along SR 186.
The only surviving U.S. highway remaining in Salt Lake City is U.S. 89, which enters the city from the south via State Street. Nearing Downtown, U.S. 89 shifts onto westbound 400 South briefly, then continues north on 300 West. This route was previously designated on a shared alignment with U.S. 91, but U.S. 91 no longer travels this far south. U.S. 89 generally parallels Interstate 15 and is even subsumed by the Interstate a few times both north and south of Salt Lake City.
Historically U.S. 89 and U.S. 91 bypassed Downtown Salt Lake City along a combination of 900 South, from State Street west to 200 West, and 200 West along side U.S. 40 north to Temple Street. U.S. 89A/91A provided a signed route to Downtown along State Street north and Temple Street west. These routes were decommissioned in the mid 1960s.
Although not located in Salt Lake City proper, Utah State Route 67 is a regionally significant highway that aids traffic between Ogden and Salt Lake City. SR 67 is Legacy Parkway, an 11.5 mile long limited access highway that connects the northwestern corner of Interstate 215 in southern Davis County with I-15 and U.S. 89 in Farmington. The freeway, which was built with environmentally sensitive methods, opened to traffic on September 13, 2008, with a 55 mile per hour speed limit, truck restrictions, greenways, wetlands and preserved areas, decorative design features including unique bridge designs, meandering parkway lanes (not built in a straight line as is typical for most freeways), and a trail network complete with trailheads/parking areas at interchanges.
The Legacy Parkway is part of the proposed Legacy Highway, which is a much longer corridor along the Wasatch Front that is ultimately planned to extend from Nephi and Provo in the south with Ogden to the north. A second section of the Legacy Highway project is the SR 85 (Mountain View Corridor) in Utah and Salt Lake Counties.

SR 85 is the Mountain View Corridor, a $3 billion, 35 mile long freeway planned from Interstate 80 in Salt Lake City south along 5800 West to 2100 North in Lehi and Interstate 15. The eight lane roadway plan included a busway down the middle of 5600 West. The state designated $360 million for the project by 2008, with construction slated for Summer 2009 in Utah County.11
Plans for the Mountain View Corridor were preceded by a 120 mile western transportation corridor proposed in 1996 from south of Provo to north of Ogden. The freeway would vary between four to eight lanes and run along the shorelines of Utah and Great Salt Lakes as a long distance bypass of Interstate 15. Costs were estimated between $8 to 12 million a mile, with tolling as a possibility to help pay for it.12
An initial segment of SR 85 opened in September 2011 between Interstate 15 and SR 68 (Redwood Road) as 2100 North. A second segment opened on June 2, 2012, between 12600 South and Rosecrest Drive/14400 South. Both sections were constructed as an at-grade highway, with space allocated for the ultimate freeway configuration.
The first phase of the Mountain View Corridor was completed on December 15, 2012, when a section of SR 85 between Old Bingham Highway and 5400 South opened to preexisting segments to the south and north. Costing $730 million, the initial 15 miles extended north from 16000 South at Bluffdale and 5400 South (SR 173) in southwestern West Valley City.13 Completed at that time were the future frontage roads of SR 85 north to SR 209, and a varying set of roadways shifting between the eventual freeway mainline and associated exit ramps to SR 173. The overpasses at 6200 South, 7800 South and 9000 South among other interchanges were to be built later.
SR 201 is a major state highway that generally follows 2100 South between Interstate 80 near Magna and I-15/80 and U.S. 89 (State Street) in Salt Lake City. The portion of SR201 east of 7200 West is a limited access freeway corridor. SR 201 replaced U.S. 50 Alternate, when it was decommissioned in 1976.
The 2100 South Freeway closed to traffic between June 16, 2000 and year's end between Redwood Road (Exit 15C) and Interstate 15. The closure allowed crews to widen the freeway and build the high speed flyovers linking SR 201 with I-15/80. Prior to this work, the 2100 South Freeway did not directly connect with the Interstate system. Instead motorists had to navigate city streets along 2100 South west of 300 West.14
Sources:
"Let the Construction Begin; I-15: UDOT Selects Low Bidder; I-15: UDOT Picks Low Bidder for $1.6 Billion Rebuild." Salt Lake Tribune, The (UT), March 27, 1997.
"I-15 Reconstruction; Groundbreaking: No-Shovel Ceremony; Ceremony Will Launch I-15 Rebuilding." Salt Lake Tribune, The (UT), April 15, 1997.
"I-15 Ready To Rumble – Freeway opens 6 a.m. Monday; Freeway Should Clear Traffic Delays." Salt Lake Tribune, The (UT), May 13, 2001.
"Two major road projects ready to roll." Salt Lake Tribune, The (UT), December 17, 2012.
"Utah's electronic payment system goes live on I-15." Deseret News, August 23, 2010.
"Reconstruction Beginning on I-80 East From the Mouth of Parleys Canyon." Salt Lake Tribune, The (UT), March 2, 1999.
"I-80 Eastbound Will Close For Year-Plus, I-215 to I-15 ; Diversion to N. Temple, I-215 starts tonight at 10." Salt Lake Tribune, The (UT), April 10, 1998.
"New I-15 Exit Lets Motorists Ease Onto I-80 – New I-15 Exit Is Smoother, Comes Sooner." Salt Lake Tribune, The (UT), July 27, 1999.
"I-80 construction in Salt Lake City completed" Salt Lake Tribune, The (UT), November 12, 2009.
"Exchange Due for Change; Rebuilding Set for I-15, I-215 Links; Exchange Is Due For a Change." Salt Lake Tribune, The (UT), October 2, 1996.
"Freeway gets green light from the feds." Salt Lake Tribune, The (UT), November 19, 2008.
"Utah May Build Toll Expressway to Bypass Clogged I-15 New Highway May Help Drivers Bypass I-15." Salt Lake Tribune, The (UT), July 17, 1996.
"Two major road projects ready to roll." Salt Lake Tribune, The (UT), December 17, 2012.
"2100 South Freeway to Close June 16 to Year's End." Salt Lake Tribune, The (UT), June 8, 2000.
Page updated June 29, 2016.