Early settling of Burlington orientated the village toward the lake as a commercial and transportation center. With the lake representing a primary transportation conduit, a small grid of streets developed between present day Battery and Prospect Streets. By the mid-19th century, railroads built to Burlington ended at terminals along Lake Champlain with exportation representing the main industry. In 1840 lumber importation from Canada overtook exportation with the depletion of area tree stands and lumber finishing mills developed along the lake front areas.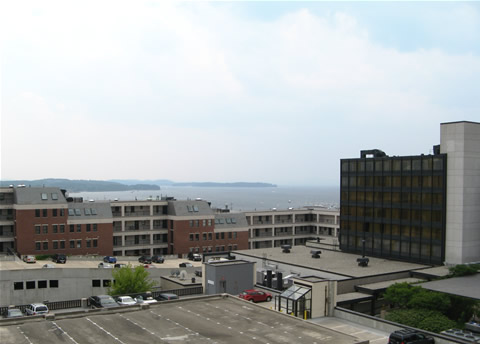 Population growth occurred from the 1800s onward, gradually expanding the original street grid outward where topography allowed. Construction of a street car line in the 1890s aided the outward push of Burlington and the town remained an industrial center throughout the first half of the 20th century.
The transition from an industrial based city occurred from the 1950s onward in Burlington. Being the home to three colleges with an ideal setting along scenic Lake Champlain, Burlington transitioned from a mill and factory hub into that of a culture and tourist-based destination. With an ever increasing influx of tourists seeking cooler Mountain air or a lakeside weekend, Burlington, with almost 39,000 residents, finds itself as the regional hub in northwest New England. Redevelopment of the town focuses on losing its industrial path with construction of new homes, condos, and retail development.