U.S. Highway 95 - Nevada
---
Through the city of Las Vegas, U.S. 95 is a major freeway traveling southeast and northwest. This view shows the major curve on U.S. 95 near the Summerlin Parkway interchange west of downtown Las Vegas. Between Summerlin Parkway and Interstate 15, U.S. 95 was reconstructed and widened. Photo taken 03/29/08.
Routing
U.S. 95 (The Bonanza Highway) runs from San Luis, Arizona, north to Eastport, Idaho, connecting Mexico with Canada. In Nevada, U.S. 95 is mostly a two-lane, rural highway except in the vicinity of Las Vegas (Downtown Expressway) and where it merges with Interstate 80 in Northern Nevada.
History
U.S. 95 is not one of the original 1926 U.S. routes in Nevada. Originally, it was a single state route, beginning and ending in Idaho. In 1939, U.S. 95 was extended southward from Idaho into Nevada, ending at U.S. 40 in Winnemucca. Then in 1940, U.S. 95 was extended south to Blythe, California. Finally, in 1961, U.S. 95 was extended again to the international border at San Luis, Arizona, creating a transcontinental route.
U.S. 95 replaced old Nevada 5 (California State Line at Laughlin Junction to Beatty), Nevada 3 (Goldfield to Schurz), Nevada 1A (Schurz to Humboldt Sinks), U.S. 40/Nevada 1 (Humboldt Sinks to Winnemucca), and Nevada 8 (Winnemucca to Oregon State Line).
Through Las Vegas, U.S. 95 followed Boulder/Fremont to Main, Main north to Bonanza (at one time called Clark Avenue), Bonanza west to Rancho Drive, and Rancho Drive north. The first change to U.S. 95's routing was with the completion of the Gragson Expressway through the northwest, when it was routed from Bonanza/Rancho onto the Gragson Expressway(now freeway). At that time, it picked up the expressway at Las Vegas Boulevard. Eventually, U.S. 95 was transferred to the Las Vegas Expressway in its entirety as new sections were constructed.
U.S. 95A replaced Nevada 3 (Schurz to Yerington) and Nevada 1B (Yerington to Fernley). In Arizona, U.S. 95 replaced Arizona 195, and in California, U.S. 95 replaced the original California 195. Evidently, these states anticipated the arrival of U.S. 95, which was fully commissioned to San Luis, Arizona, by 1945.
Much of the routing of U.S. 95 has remained the same since the mid-1940s and today, with the exception of the Las Vegas Expressway (see Guide, below) and the vicinity of Fallon and Fernley. Originally, U.S. 95 north of Fallon followed U.S. 50A to Fernley, then followed Interstate 80 northeast to Winnemucca. During this time, U.S. 95 was designated as Nevada 1A. Then in 1960s or 1970s, U.S. 95 was rerouted to replace Nevada 1A, and U.S. 50A was commissioned to replace the original U.S. 95.
U.S. 95 Nevada Highway Guides
U.S. 95 Auxiliary Routes
Alternate U.S. 95 begins at U.S. 95 at Schurz and reconnects with U.S. 95 at Interstate 80 Exit 83, serving Yerington, Silver Springs, and Fernley along the way. The section of Alternate U.S. 95 between Silver Springs and Fernley is technically part of Alternate U.S. 50 (per the mileposts along this segment of the route) and is fully cosigned with that route along their shared alignment.
Spur U.S. 95A. This is a former designation for a short section of Main Street in Fernley that is now Business Loop I-80 and Nevada 427. The spur route connected Interstate 80 Exit 46 with the intersection of Main Street and Alternate U.S. 50-95 in downtown Fernley for a distance of a little more than a mile. The spur route was listed in the 1997 Nevada State Maintained Highways of Nevada: Descriptions and Maps but was gone by the 2008 edition. It is signed in the field as part of Nevada 427 and Business Loop I-80.
Business U.S. 95 follows Nevada 599 in northwestern Las Vegas along Rancho Road (Tonopah Highway).
Business U.S. 95 (deceased) used to follow Nevada 582 along Boulder Highway in southeastern Las Vegas and Henderson, which is the old alignment of U.S. 93-95 prior to the construction of the Interstate 515 freeway. Boulder Highway is no longer signed as Business U.S. 93-95.
Truck Bypass U.S. 95 is the Hawthorne Bypass (Nevada 362); mainline U.S. 95 passes directly through the city center.
U.S. 95 Guide
Southern Clark County
U.S. 95 begins its journey in San Luis, Arizona, and follows the Colorado River north to Nevada via Yuma, Quartzsite, and Needles, California. Many have only heard about these towns as they relate to national weather. Since they are located in the searing heat of the Mojave Desert, national high temperatures are commonly cited from the Colorado River region.
Just north of Needles, U.S. 95 enters Nevada. Just after the state line, U.S. 95 meets Nevada 163, which serves as the primary connection to Laughlin, a growing gaming community about 17 miles east of U.S. 95. Laughlin is interesting because even though it lies along the Colorado River, you cannot see the river from any vantage point along Nevada 163 until you actually cross the river! According to Bill Cohen, the area is so remote that most of the radio stations available in Laughlin/Bullhead are simulcast retransmissions of stations elsewhere, mostly Phoenix or Las Vegas.
The reason for this is the casinos, which line the river. Each of the casinos tower over the river, as they lie mere feet away from the riverbank. There is an outdoor walkway that follows the river, but it only accessible via the casinos. Known as the Laughlin Riverwalk, one would have to go through at least one casino to see the river. Although the casinos are very close to the riverbank, it is actually very helpful since they keep the sun from bearing down on you. The temperature along the Riverwalk can be around 90 to 95 degrees, which feels much cooler than the 115 degrees in the direct sunlight.
Although U.S. 95 is only two lanes wide at Laughlin Junction, Nevada 163 is an access-controlled, multi-lane, divided highway that meanders into the Colorado River Canyon. Traffic between Las Vegas and Laughlin has grown so much in the last ten years that plans now call for a similar expansion for U.S. 95. It is interesting to see a multi-lane divided highway end at a stop sign on a two-lane road.
A contact at Nevada DOT indicated that long-range plans (2000 and beyond) call for U.S. 95 to be expanded to a four-lane, divided highway from U.S. 93 south to Laughlin Junction. Depending on funding, it could even be Interstate-grade. This is due to the high volume of traffic along this road, coupled with the sometimes fatal accidents. Passing and speeding are common on this road. Since U.S. 95 has extra-wide shoulders on both sides of the road, it is possible for a car to pass another car while another car is approaching, but this is not advised. It is only a safety feature so that the possibility of head-on collisions is reduced.
Overall, U.S. 95 between Laughlin Junction and U.S. 93 is in good shape. There are no towns along this stretch except for a few isolated settlements and the town of Searchlight, which lies at the Nevada 164 junction. Searchlight is a good stop for gas, food, and water. It is a shock when you leave your air-conditioned car and step out into the summertime blast furnace of 115-degree (and sometimes hotter) air temperature.
Nevada 164 west provides a direct connection to Interstate 15, for those travelers who want to get to the Interstate highway. It is a good connection for folks heading from California to Hoover Dam or Boulder City, but it is too out of the way if you are heading to Las Vegas. U.S. 95 is a much more direct route to Las Vegas.
Joshua trees dot the landscape through this southernmost corner of Nevada, but they dwindle in number as U.S. 95 heads toward Henderson and Las Vegas. Rock outcroppings and sagebrush are the normal scenery in this part of Nevada, along with mountains and ridges.
The only "trees" along this road are tall metal pylons supporting man-made power lines. Since the Colorado River is dammed at several points in this region, power lines are strung between the huge hydroelectric generators and the cities that use the energy. The grid is especially prevalent here, since there is no section of U.S. 95 between Laughlin Junction and Las Vegas that is not within sight of at least one power line. Much of the power is routed to Los Angeles, Phoenix, and San Diego as well as the intermountain interconnect that travels through Arizona, New Mexico, Utah, and Colorado.
North of one of a large substation that distributes power generated by hydroelectric generators at nearby Hoover Dam, is the U.S. 93 Junction. Although signed as North-South, U.S. 93 runs either east (south) to Boulder City and Hoover Dam or northwest to Henderson and Las Vegas. The junction is actually a diamond interchange, with U.S. 93 carrying more through traffic. At this point, U.S. 95 becomes part of the Interstate 11 corridor, which will involve the conversion of intersecting U.S. 93 into a freeway. Plans are in place to improve U.S. 93 between Boulder City and Henderson, but funding has proven to be an obstacle. An Interstate 11 designation could likely occur as these final freeway segments between those two cities are completed.
Henderson and Las Vegas
U.S. 93-95 head northwest as a four-lane, divided highway. There is one traffic light between the U.S. 93 Junction and the Interstate 515 Junction, which serves a casino. If this highway were upgraded to be part of Interstate 11 and Interstate 515, an overpass and entrance/exit ramps could easily be erected to ensure limited access in this area.
Just north of this interchange, the pavement changes from asphalt to concrete, and you are now on Interstate 515 as well as U.S. 93-95. There is a sign assembly at the beginning of the Interstate highway that states, "BEGIN Interstate 515, NORTH U.S. 93-95." Interstate 515 begins at a creek overcrossing about one-half mile south of an interchange. Interstate 515 uses exit numbers that correspond to U.S. 95's mileposts.
Interstate 515 widens out to six lanes as soon as it reaches Henderson. It is always concrete (noisy concrete, at that), with a jersey barrier to separate the traffic. Unlike Interstate 215, which is surrounded by high noise barriers and soundwalls, Interstate 515 occasionally affords the travelers views of the Las Vegas skyline.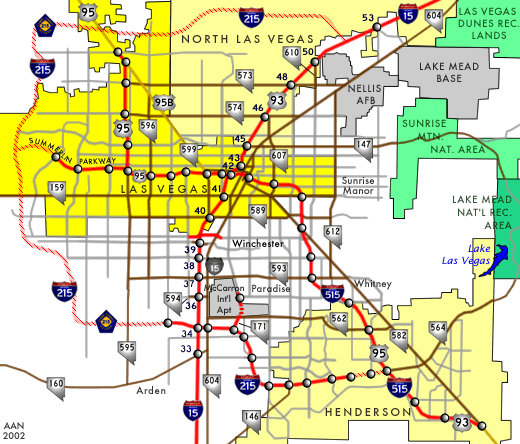 While U.S. 93-95 are faithfully signed along Interstate 515, they did not always follow this route. Originally, they followed what is now Nevada 582 (Boulder Highway/Fremont Street) through Henderson and Las Vegas, then separated at either Main Street (Nevada 601) or Las Vegas Boulevard (Nevada 604), depending on the era. Nevada 582 is much slower than Interstate 515, but it does enter some interesting areas around Henderson and Las Vegas. Henderson, by the way, is one of the fastest growing communities in the country.
Interstate 515 ends at the locally famous "Spaghetti Bowl" interchange. This interchange is the junction of Interstate 15, Interstate 515, U.S. 93, and U.S. 95. Reconstruction of this interchange was completed in 2000, and it was reconfigured as part of the Interstate 15 reconstruction effort. Money for the project was secured for the Interstate 15 reconstruction project in the Intermodal Surface Transportation Efficiency Act of 1991, National Highway System Designation Act of 1995, and Transportation Equity for the 21st Century Act of 1998. Interstate 15 between San Diego and Mesquite is part of High Priority Corridor 16, which allows for federal funding of high priority projects in this corridor.
Interstate 515 ends (without as much fanfare as its beginning), and U.S. 95 proceeds northwest toward Mount Charleston. U.S. 93 leaves U.S. 95 here and turns northeast via Interstate 15. U.S. 95 remains a freeway for several more miles, carrying exit numbers that match its mileage. If built, Interstate 11 is also planned to end here, concurrent with Interstate 515.
U.S. 95 is slated for improvements north of Interstate 15 to be completed in 2006. Check out NDOT's U.S. 95 Reconstruction in Las Vegas webpage. Saturation patrols are conducted by the Nevada Highway Patrol throughout the Las Vegas metropolitan area to catch those people who use the shoulders and median to turn certain stretches of freeway from a three lane freeway into a four-to-five lane freeway. U.S. 95 near the Summerlin Parkway exit is typically patrolled in this manner, because traffic typically uses the shoulders as travel lanes. Traffic can no longer use shoulders as passing lanes, since there are currently no shoulders between Valley View and Rainbow (except at interchanges. These were done away with as a temporary relief for the escalating U.S. 95 traffic in this area. The shoulders made way for ramp-to-ramp auxiliary (exit only) lanes.
The U.S. 95 freeway downgrades to a four-lane, divided highway at its junction with Nevada 599 (Business U.S. 95), but it is still much faster and safer than the section of U.S. 95 between Laughlin Junction and the U.S. 93 Junction.
U.S. 95 continues north to Mount Charleston, one of the tallest mountains in Southern Nevada. To the east of the highway lies military land, with all accesses from civilians prohibited. Notably, much of Nevada (over two-thirds) is owned by the federal government. Much of this land is administered by the Bureau of Land Management (BLM), but some is maintained and used by the United States military.
Pioneer Country
U.S. 95 continues north to Beatty, a gateway to Death Valley National Park. Much of this park lies in California, with a small corner located in Nevada. Like the drive near Laughlin, U.S. 95 traverses some desolate terrain. Much of the traffic is traveling between Las Vegas and Reno -- not many stop for the small towns along the way. The connection to Reno can be made via U.S. 95A and Interstate 80, via U.S. 95A, Nevada 208, and U.S. 395, or via U.S. 50A and Interstate 80. Since the last combination is the only route included in the National Highway System, I would assume that this is the preferred route from Las Vegas to Reno.
Eventually, U.S. 95 reaches U.S. 6/Midland Trail. U.S. 6 is the true loneliest road in America, especially since there are no towns of significance for miles at a time. Additionally, not many cross-country travelers want to go to Bishop, which is the unexpected terminus for U.S. 6. The U.S. 6 Junction is also important for travelers who want to head east to the Extraterrestrial Highway (Nevada 375), which passes Area 51 and the small community of Rachel.
Continuing north, U.S. 95 reaches the once-thriving metropolis of Hawthorne. I found this area rather disturbing. The streets were empty, and the surrounding area is filled with relics and artifacts from the Cold War. Like many other small Nevada towns, Hawthorne is affected by the defense industry and mining. When they are in a boom cycle, Hawthorne is growing. Otherwise, look out below! Since Hawthorne does not have much in the way of natural beauty (except for Walker Lake), the only tourist trade is plying folks from the U.S. 95 Bypass into the city center.
U.S. 95 leaves the town rather quickly and continues northward through the treeless desert. Like the past 200 miles, Sagebrush remains the dominant plant life. There are no longer any Joshua trees, as they do not thrive in the colder climate of Northern Nevada. Snow is more common than rain in the winter, unlike the vicinity of Las Vegas.
Walker Lake arises from this desert environment rather unexpectedly. U.S. 95 hugs the shore of the lake, which simmers like a blue gem in the brown desert environs. For over ten miles, U.S. 95 follows the lake, which lies along the Walker River. This water is used for irrigation and drinking in the more urbanized areas north of here in Washoe and Douglas Counties.
To provide access to those areas, U.S. 95 splits off U.S. 95A, which connects to Nevada 208 and U.S. 50. The mining town of Yerington lies only a few miles west of U.S. 95 on U.S. 95A, and the Walker River heads west toward the Sierra Nevada Mountains. U.S. 95 continues north to Fallon, which is the first major town since Hawthorne. Both U.S. 50 and U.S. 95 travelers who leave Fallon know that this is the last major service stop for many miles. North of Fallon, U.S. 95 enters the desolate Forty Mile Desert and Humboldt Sinks.
Here U.S. 95 meets Interstate 80, at an undeveloped rest area at one of the bleakest desert environments along the highway. Even sagebrush refuses to grow in the barren salt flats. In the empty spaces along the road, children and adults have arranged stones to spell their names and other choice phrases on top of the unforgiving ground. There is a small truck stop and gas station located at this interchange too, but that is all that marks this area. U.S. 95 merges with I-80 east, all the way to Winnemucca. Although unsigned, U.S. 95A meets its northern terminus here, as it heads southwest from this junction concurrent with Interstate 80 toward Fernley.
Interstate 80 and U.S. 95 head northeast to Winnemucca via Lovelock. At Winnemucca, U.S. 95 follows Business Loop I-80 into the city center, then turns north toward Boise. U.S. 95 is two-lanes from Interstate 80 north to the Oregon State Line, with one major junction with Nevada 140. This highway provides a quick route to the Pacific Northwest for Northern Nevadans. U.S. 95, meanwhile, continues north through the sagebrush to Oregon and points beyond.
Photo Journey
Business U.S. 95 in Las Vegas
Begin Southbound Business U.S. 95/Nevada 599 on Rancho Road in Las Vegas. While this business route remains signed as of 2009, another business route along Boulder Highway is no longer signed (and is designated as Nevada 582). Photo taken 01/20/02.
Business U.S. 95 and Nevada 599/Rancho Road ends at the junction with U.S. 95 in northern Las Vegas. Photo taken 01/20/02.
Scenes Pertaining to U.S. 95
A look at the southbound freeway entrance from Ann Road (Exit 91) in North Las Vegas. The southbound on-ramp splits into ramps for U.S. 95 south and U.S. 95 Business (Rancho Drive) south. U.S. 95 upgrades to a freeway at the north edge of the Las Vegas metropolitan area. The freeway continues south to downtown where U.S. 95 obtains Interstate 515 & U.S. 93. The trio continue south to Henderson and almost Boulder City. Freeway entrance assemblies are commonly used on all limited-access highways within the state of Nevada. Photo taken 10/19/04.
This sign is posted at the Amargosa Rest Area located at the junction of U.S. 95 and Nevada 373. Photo taken 01/20/02.
Goldfield High School, which is located in the Goldfield Historic District in downtown Goldfield (seat of Esmeralda County), is one of the last remaining examples of school construction from the early 20th century. Photo taken 11/11/08.
---
Page Updated July 31, 2012.