California 12
---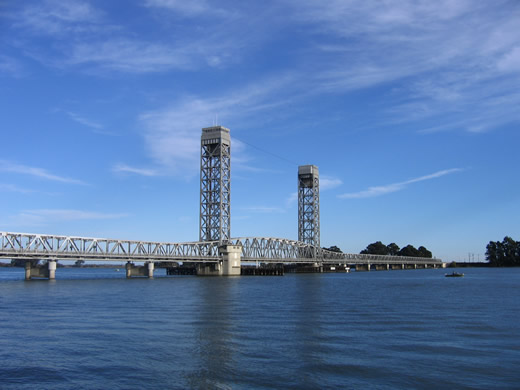 This view of the 2,890-foot long Helen Madere Bridge in Rio Vista is taken from Front Street looking northeast. The 1944 bridge is very busy, with lengthy delays resulting from bridge lift operations. Photo taken 11/23/06.
California 12 is a major east-west route across Northern California, starting at California 116 in Sebastopol and continuing east via Santa Rosa, Sonoma Valley (famous for its wineries like its more well-known cousin, Napa Valley), Napa, Fairfield / Suisun City, Rio Vista, and Lodi. The highway ends when it meets California 49 in the Gold Country in the town of San Andreas.
California 12 Highway Guides
California 12 scenes
In Santa Rosa, this California 12 freeway entrance shield assembly is posted on the westbound on-ramp from Dutton Avenue. Photo taken 07/06/13.
This California 12 trailblazer is posted on northbound Front Street in Rio Vista. Turn left here to a loop ramp onto eastbound California 12 for the Helen Madere Bridge, or continue straight ahead to follow California 84 north to Ryer Island and West Sacramento. Photo taken 11/23/06.
This view of the Helen Madere Bridge is taken from the west bank of the Sacramento River in Rio Vista, looking north. Photo taken 11/23/06.
Now north of the California 12 interchange and still on the west bank of the Sacramento River, this picture shows the Helen Madere Bridge as seen from alongside California 84 near Rio Vista. Photo taken 09/05/10.
County road junction signage for California 12 and California 88 in the Central Valley. Photo taken by Trevor Carrier (Summer 2002).
This Route 12-99 separation signage is posted on southbound California 99 at Postmile 30.98 in San Joaquin County. Photo taken by Joel Windmiller (06/19/01).
Former California 12 - Victor Road west
California 12 currently skirts around downtown Lodi by way of a brief merger with California 99. Originally, California 12 used to continue west along Victor Road to Cherokee Lane, which is old U.S. 99 (now seldom-signed California 99 Business). This trailblazer advises a right turn to California 99 north or a left turn to reconnect with California 12 west via Cherokee Lane south. Despite the signage, Victor Road is not a recognized business route for California 12. Photo taken 11/23/06.>
---
Page Updated September 22, 2013.