Formerly known as the SR 1 Turnpike, the Korean War Veterans Memorial Highway stretches 51 miles north from Dover A.F.B. to Churchmans Crossing, mostly paralleling the U.S. 13 corridor. Costing over $900 million and nearly 25 years to construct, sections of the limited access route opened in various stages:2
08/1991 – Exit 156-160
11/1991 – Exit 160-162
04/1993 – Exit 162-165
12/1993 – Exit 95-119
12/1995 – Exit 148-156 (tolled)
12/1998 – Exit 93-95
11/1999 – Exit 136-148 (tolled)
07/2000 – Exit 92-93
12/2000 – Puncheon Run Connector
05/2003 – Exit 119-136 (tolled)
09/2003 – Project Complete
SR 1 overlapped with U.S. 13 between completed segments until the the last section opened. The majority of the Korean War Veterans Memorial Highway was built with concrete roadways. Six lanes were constructed along the route from the Biddles Corner Toll Plaza north to the split with U.S. 13 at Tybouts Corner.
The Korean War Veterans Memorial Highway exit numbering convention utilizes the distance from the south end of Delaware Route 1 at the Maryland state line. Following an initiative of President Bill Clinton to begin switching the U.S. road network from English to Metric units, DelDOT signed the Smyrna-Dover section with metric units and kilometer based exit numbers. While the Tybouts Corner to Christiana stretch used English units and mile based numbers, long term plans called for succeeding sections of road completed to use Metric Units.
Public opinion regarding signing SR 1 as a "Metric Highway" was negative, and signs along the Dover-Smyrna bypass were eventually changed to use English units in 1996. Exit numbers however retained the kilometer based system, and the Tybouts Corner to Churchmans Crossing section was eventually renumbered to be consistent. Exit 96 (U.S. 13) became Exit 156, Exit 98 (U.S. 40) became Exit 160, Exit 99 (SR 273) became Exit 162, Exit 100 (SR 7) became Exit 164, and Exit 101 (I-95) became Exit 165.
Also in 1996, Governor Carper signed into law a provision allowing speed limits along the Smyrna-Dover Bypass to increase from 55 to 65 miles per hour (mph). Speed limits remained 55 mph on other portions until July 29, 2000, when they increased to 65 mph on the Odessa-South St. Georges segment.
Korean War Veterans Memorial Highway History Guides
Korean War Veterans Memorial Highway Annual Average Daily Traffic (AADT)
| Begin Milepost | Location | To: | 2002 AADT Composite | 2011 AADT Composite |
| --- | --- | --- | --- | --- |
| Kent | Exit 91 SR 9 | Exit 92 Road 357 | 28,362 | 31,856 |
| Kent | Exit 92 Road 357 | Exit 93 SR 10 | 26,583 | 31,856 |
| Kent | Exit 95 Bay Road | Exit 104 Scarborough Road | 28,870 | 32,373 |
| Kent | Exit 104 Scarborough Road | Exit 114 U.S. 13 S. Smyrna | 33,075 | 41,401 |
| New Castle | Exit 114 U.S. 13 S. Smyrna | Exit 119 U.S. 13 N. Smyrna | 35,676 | 42,128 |
| New Castle | Exit 119 U.S. 13 N. Smyrna | Exit 136 SR 299 Odessa | n/a | 42,707 |
| New Castle | Exit 136 SR 299 Odessa | Exit 142 U.S. 13 / SR 896 | n/a | 39,629 |
| New Castle | Exit 142 U.S. 13 / SR 896 | Exit 148 U.S. 13 S. St. Georges | n/a | 48,337 |
| New Castle | Exit 148 U.S. 13 S. St. Georges | Exit 152 SR 72 | 58,153 | 79,677 |
| New Castle | Exit 148 U.S. 13 S. St. Georges | Exit 152 SR 72 | 58,153 | 79,677 |
| New Castle | Exit 152 SR 72 | Exit 156 U.S. 13 north | 57,978 | 65,015 |
| New Castle | Exit 156 U.S. 13 north | Exit 160 U.S. 40 | 40,235 | 97,964 |
| New Castle | Exit 160 U.S. 40 | Exit 162 SR 273 | 41,097 | 68,667 |
| New Castle | Exit 162 SR 273 | Exit 164 Mall Road | 63,134 | 64,176 |
| New Castle | Exit 164 Mall Road | Exit 165A/B I-95 | 68,063 | 65,864 |
| New Castle | Exit 165A/B I-95 | Exit 166 SR 58 | 57,603 | 62,477 |
Korean War Veterans Memorial Highway History
Origins of the SR 1 toll road date back to 1958 with studies completed for both a Dover Bypass and a limited access highway linking Dover to Frederica. These studies continued until 1971, when efforts shifted through 1978 to a north-south extension of the Delaware Turnpike. Neither of these proposals came to fruition and it was not until 1983 that the official beginning of the SR 1 toll road can be determined.1
An Environmental Impact Statement (EIS) underway in October 1985 revealed three potential corridors for the "U.S. 13 Relief Route." The final alignment was approved in June 1987, with ground breaking taking place the following month for the freeway between U.S. 40 at Bear and SR 273 at Christiana. Crews completed work on the first leg of SR 1, from U.S. 13 north to U.S. 40 in August 1991 and from U.S. 40 to SR 273 in November 1991.2
Korean War Veterans Memorial Highway from South to North
The limited access portion of Delaware Route 1 commences at right in right out connections with Trap Shooters Road, just south of the St. Jones River. The freeway runs north across wetland areas to a diamond interchange with SR 9 (Bayside Drive). The ramps with SR 9 replaced an at-grade intersection with both Bayside Drive and Kitts Hummock Road east. Assigned as Exit 91, the exchange opened to traffic on September 30, 2009.
Turning northwest, SR 1 travels through the Dover Air Force Base area. Compromises between the U.S. Department of Defense and DelDOT, resulted in plans for an interchange at the Dover AFB main gate, and a signalized intersection for the south gate. An agreement was struck after concessions were made from both parties, resolving issues of how to handle traffic movements at the main gate and land acquisition needed for the interchange.
The diamond interchange (Exit 93) for the Dover AFB main gate was completed in 1998. A right in right out (Exit 92) connection was added from SR 1 north to the south gate. The connection requires southbound motorists to U-turn at SR 9 (Bayside Drive) to access the gate.5 Exit 92 reopened as the "DAFB Commercial Gate" in March of 2007.
Bay Road (former U.S. 113) emerges from the SR 1 foot print at Exit 95. The arterial route spurs northwest to U.S. 13 (Dupont Highway) near Downtown while the tolled portion of SR 1 begins to the east. U.S. 113 was formally decommissioned along Bay Road and the overlap with SR 1 north from Milford in 2004.
Fully opened to traffic on December 21, 1993, the Dover-Smyrna Bypass travels 18 miles to the east of both cities. The four-lane toll road generally separates suburban areas to the west with agricultural or wetland areas to the east. Tolls are charged at a main line toll plaza near Dover Downs International Speedway. Rates were changed to use a variable system on October 1, 2007, where fares double on weekends due to increased demand with beach bound traffic.
Tieing into the Dover-Smyrna Bypass from the southwest at Exit 97 is the Puncheon Run Connector. Completed on December 19, 2000, the freeway spur provides a high speed route from SR 1 to U.S. 13 south for travelers headed to western Sussex County, Salisbury, Maryland and Norfolk, Virginia. Named after the small creek it parallels, the connector also serves commuters with ramps at Bay Road (old U.S. 113). The 2.6 mile long road was constructed at a cost of $26.7 million with work starting in December 1998.8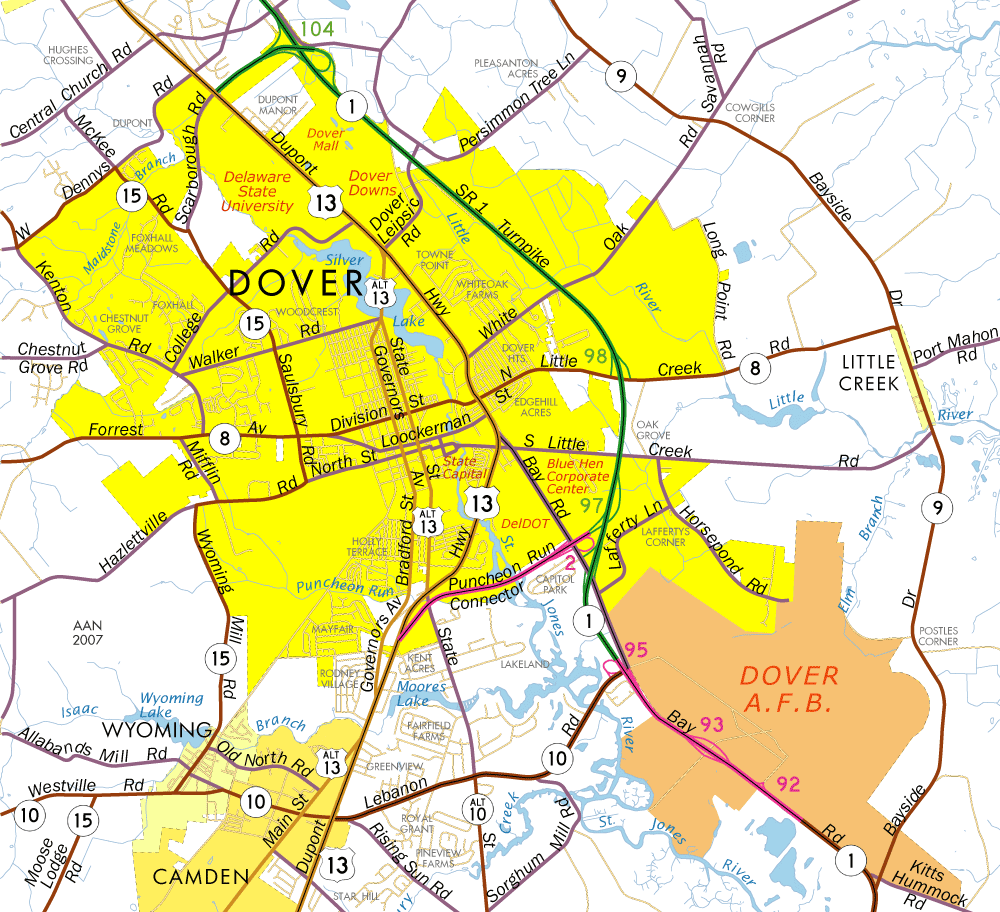 The original ramps from SR 1 south to SR 8 (Little Creek Road) and from Little Creek Road north to SR 1 were restricted to emergency and maintenance use only. The ramps were converted for general use during construction in July and August 2002. The half diamond interchange (Exit 98) was opened in time for the September 2002 NASCAR Cup Series race at Dover Downs.3 The access point provides another route to Downtown Dover from SR 8, which stems west from SR 9 at Little Creek to the state line at Marydel.
The Smyrna Bypass portion of the SR 1 Turnpike (Exits 114-119) opened to motorists on December 17, 1993. An emergency rehabilitation project was underway that first weekend on the bridge carrying U.S. 13 across Duck Creek in Smyrna. The work mandated a ban on truck travel through Smyrna, so the toll road operated without toll collection to all traffic until December 23, and as a free route for commercial trucks until completion of the Duck Creek bridge project.
With many drivers complaining about the lack of a service plaza or rest area on the turnpike mainline, DelDOT installed "No Services on SR 1" signs in 1995 along U.S. 13 (Dupont Highway) south prior to Exit 119. Subsequent changes along the Dover-Smyrna Bypass included the upgrading of the tourist information center on Dupont Highway outside Smyrna. Accessible via Exit 119, the rest area is the lone facility servicing the SR 1 Turnpike. Further south, the access road from Exit 104 was extended west as Scarborough Road to SR 15, enhancing access to more of north Dover. First generation guide signs referenced Scarborough Road as Alternate Route 8.
Prior to the completion of the Korean War Veterans Memorial Highway north from Smyrna, U.S. 13 followed a temporary alignment to circumvent the interchange at Exit 119. When the toll road was finished, U.S. 13 returned to its original alignment underneath SR 1. The nine mile exit less stretch north to Odessa opened to traffic on May 20, 2003. Intertwining with U.S. 13, it was posted with a 65 mile per hour speed limit.
An interchange serving the Townsend area was incorporated in the early 1990s plans for the SR 1 Turnpike. Townsend area residents were generally positive regarding the potential project, while civic activists cited that the new ramps could induce sprawl. Nonetheless, ramps were shelved by former DelDOT Secretary Anne P. Canby as a cost cutting effort. The plan remained idle until the Wilmington Area Planning Council (WILMAPCO) technical advisory committee approved funding for the $5 million project in its three year budget on February 19, 2004. The vote recommended funding in the 2005-07 fiscal year budget, and construction was thought to begin as early as 2006 for the interchange5. Subsequent actions never took place and the exit for SR 71 remains unbuilt.
Wrapping around the west side of Odessa, SR 1 meets SR 299 (Middletown Odessa Road). A diamond interchange (Exit 136) joins the toll road with the small town to the east and growing suburban areas of Middletown to the west. Several subdivisions appear along the toll road from the Odessa and Middletown area northward to the Boyds Corner interchange (Exit 142) with Pole Bridge Road.
The toll road accelerated ongoing suburban expansion south of the Chesapeake and Delaware Canal. Large tracts of open farm land gave way to single family housing, with 10,000 new homes forecast for construction in southern New Castle County by the mid-2000s. One such development was the 4,000 acre Town of Whitehall project located along Lorewood Grove Road. Another is Bayberry, a master planned community located west of SR 1 along SR 896 (Boyds Corner Road). Situated between Bayberry and the Korean War Veterans Memorial Highway at Boyds Corner is the subdivision of Asbury Chase. Controversy ensued with construction of the Odessa-South St. Georges section of SR 1, as some residents in the community contested that they were unaware of plans for the SR 1 toll plaza when they first purchased their homes. Blame was cast initially on DelDOT, then Governor Tom Carper and the developer for what was perceived as withholding information. The toll plaza location however was determined in the late 1980s following the completion of impact studies, and before Asbury Chase was built. The state countered with a proposal to construct sound barriers adjacent to the plaza and the toll road went forward with completion on November 18, 1999.
U.S. 301 ties into SR 1 by the Biddles Corner Toll Plaza from the First Responders Memorial Highway, a toll road branching southwest to Middletown and the Maryland state line near Warwick. Providing a high speed route southwest from SR 1 to U.S. 301 across Maryland's Eastern Shore, the 11 mile long route uses all electronic tolling (AET). Opened to traffic on January 10, 2019, the limited access highway replaced Summit Bridge Road and Middletown Warwick Road as the new alignment for U.S. 301.
SR 1 transitions into a toll free road north from South St. Georges across the Chesapeake and Delaware (C and D) Canal. The cable stayed bridge, and a six lane section of SR 1 north to SR 7 at Corbit, opened to traffic on December 23, 1995. A public bridge walk and opening ceremony was held on the span two days before on a cold afternoon. Senator Joe Biden spoke at the event, which was attended by an estimated 2,000 people. The C and D Canal Bridge was eventually rededicated as the U.S. Senator William V. Roth, Jr. Bridge on July 9, 2007.
Ground breaking for the C and D Canal bridge took place in 1991. The bridge was designed to accommodate six overall lanes with inside and outside shoulders, or eight lanes with two full shoulders. Work on the high level span was expected to run through spring 1996. Plans called for bridge tolls, but issues arose with the Army Corps of Engineers requirement that at least one crossing at St. Georges remain toll free. With the pending closure and removal of the adjacent St. Georges Bridge (U.S. 13), the toll option was eventually withdrawn. Changes made to the design of the turnpike added ramps to U.S. 13 from southbound, by way of Lorewood Grove Road, and from Dupont Highway north to SR 1. The local ramps allow motorists to use the bridge toll free by connecting with Dupont Highway.
Plans to remove the St. Georges Bridge were met with community opposition from both sides of the canal. These culminated during a temporary closure of the span in 1997. State officials ultimately opted to keep the span in operation as a local route, later funding a rehabilitation project to replace the bridge deck and remove lead paint. U.S. 13 remains along the span, but with one lane of traffic in each direction.
North from St. Georges, U.S. 13 and SR 1 converge at the diverging diamond interchange (DDI) with SR 72 at Wrangle Hill. Construction of the turnpike between Corbit and Tybouts Corner directly overlaid Dupont Highway. Therefore U.S. 13 uses ramps at Exit 152 to merge with the freeway north across both SR 7 and Red Lion Creek through to the trumpet interchange (Exit 156) at Tybouts Corner. Dupont Highway north of Wrangle Hill Road was redesigned as a southern extension of SR 7, while two portions of the old southbound lanes were repurposed as service roads for local residents and businesses.
$7 million in road work rebuilt the diamond interchange (Exit 152) with U.S. 13 south and SR 72 into a DDI between June 2016 and November 19, 2016. The redesign saved 75 percent in costs and time over other options to add loop ramps.7
SR 1 turns north from U.S. 13 (Dupont Highway) to Bear, Christiana and Churchmans Crossing. The oldest section of the Korean War Veterans Memorial Highway opened between Dupont Highway and SR 273 (Exit 162) in 1991. Built through a generally rural area, the freeway was designed with just four lanes. Heavy development in the ensuing decades surged traffic counts from 40,000 vehicles per day (vpd) in 2002 and 107,150 vpd in 2015. With growth as a commuter route, a new ramp (Exit 156A) opened from SR 1 south to SR 71 (Red Lion Road) at Tybouts Corner in spring 1999. The new exit provided an alternate route for commuters headed south to Red Lion in lieu of the busy exchange with U.S. 40 (Pulaski Highway) at Exit 160.
The north end of SR 1 was located at SR 273 outside Christiana until late 1992. The short link north to SR 7 (Exit 164) by Christiana Mall required additional mitigation efforts due to wetland impacts along the Christina River.
The northernmost section of SR 1 utilized a preexisting four-lane highway of SR 7 through its cloverleaf interchange with Interstate 95 (Delaware Turnpike). A partial interchange and overpass for Mall Road were constructed along SR 7 in 1979 and 1980 for the newly built Christiana Mall. Prior to 1991, the configuration included a sharp ramp from SR 7 south to the mall and a signalized intersection for mall traffic entering SR 7 from the east. Upgrades underway in 1991 for the extension of SR 1 both removed the traffic light and realigned SR 7 onto a new access road through the folded diamond interchange at Exit 164. The original Mall Road overpass was reconfigured to direct motorists leaving the mall onto old SR 7 and as Exit 164A from southbound SR 1 to the retail complex.
SR 7 formally overlaps with SR 1 north from Exit 164 through to Churchmans Crossing, where it extends north to Stanton and Pike Creek Valley. With SR 1 increasing as a commuter route, and the Delaware beaches growing in popularity, the junction between SR 1/7 and I-95 grew into the busiest interchange in the state. The substandard design of the cloverleaf interchange with weaving traffic patterns and single lane ramps resulted in daily congestion along both Interstate 95 and SR 1. A $90 million plan to upgrade the interchange was announced by DelDOT on May 10, 2004. It entailed building seven new overpasses, including flyovers from I-95 south to SR 1 south and from SR 1 north to I-95 north.4 Preparatory work for the project took place in 1991 with the creation of berms within the loop ramps for eventual use in grading work.
DelDOT budget issues delayed the start of work at I-95 and SR 1/7 from summer 2006. The four year project started with the $51.2 million expansion of Interstate 95 east from SR 1 & 7 (Exit 4) across Christiana Marsh. The freeway was widened from eight to ten lanes through to SR 141 (Exit 5) during construction underway from June 2007 to November 2008.
Located to the immediate north of Interstate 95, is the busy crossroads of SR 7 (Stanton Christiana Road) and SR 58 (Churchmans Road). Construction between 1996 and 1999 replaced a signalized intersection there with a new parclo interchange. Designated as Exit 166, the new exchange extended SR 1 slightly north. The configuration is partially incomplete however, as a direct ramp from SR 7 south to I-95 south was omitted to save costs. The connection is made via the off and on-ramps from SR 7 south at Exit 166. Provisions were made to add a direct ramp, but plans for work remain uncertain.
The suite below shows construction of the SR 1 Turnpike between Tybouts Corner and South Saint Georges. Photos are orientated from south to north while the public bridge walk photos are organized in the order of the walk. See also the Delaware Highways Vidcaps Page for some imagery from 1992 showing construction of SR 1 at Christiana.
The Roads & Bridges article "Interstate 2000" refers to the U.S. 13 (Relief Route) Corridor as Interstate 101. The authors indicated that I-101 could run from the Philadelphia metro area south along the U.S. 13 corridor to the Chesapeake Bay Bridge Tunnel and the Hampton Roads area. I-101 would then turn west and meet Interstate 40 at Raleigh, North Carolina, likely via U.S. 13, U.S. 17, and 64. The east-west proposal is now a part of Future Interstate 87 between Chesapeake and Raleigh.
Delaware previously completed a feasibility study for a limited access highway paralleling U.S. 13 between the Maryland state line and the city of Dover. Virginia also completed a study for the construction of a new interstate highway (I-99) in November 2006. The corridor outlined a route south to Charleston, South Carolina and north to Wilmington, Delaware.
Sources:
State Route 1 – Overview and Contents (DelDOT) http://www.deldot.org/static/projects/sr1/index.html
State Route 1 – Project Timeline (DelDOT) http://www.deldot.org/static/projects/sr1/timeline.html
James Cayz, email: "New interchange on Delaware 1." October 6, 2002.
"State decides on a fix for I-95 traffic." The News Journal (DE), May 11, 2004.
"Del. 1 interchange wins an approval." The News Journal (DE), February 20, 2004.
Bob Chessick, email: "DE-1 Exit 92 Re-Opened." April 14, 2007.
"New Del. 1 interchange puts drivers on wrong side of road." The News Journal (DE), November 18, 2016.
"Puncheon Run Connector Complete." Delaware Department of Transportation, press release. December 19, 2000.
Page updated March 2, 2021.