Washington County Road 276A (Clayton Road) is a rural highway traveling east from SR 79 near Foggy Flat Bay to SR 277 at Brock Crossroad. The 6.70 mile route concludes at the turn of CR 276 from Piney Grove Road north onto Clayton Road east.
The section of County Road 276A along 3rd Avenue and Gardenview Road in Jackson County was renumbered as County Road 1656 to remove duplication. CR 1656 joins U.S. 231 (Georgia Street) at the town of Alford with CR 167 (Fairview Road) along a 5.25 mile course.

East

West

East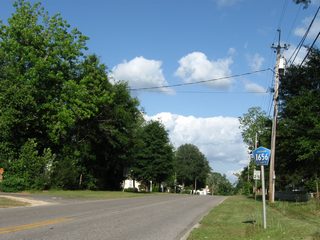 The first shield for County Road 1656 stands along 3rd Avenue east of U.S. 231 (Georgia Street).
05/01/09

West
Photo Credits:
05/01/09, 07/03/09, 09/19/09 by AARoads
Connect with:
U.S. 231
State Road 79
State Road 277
County Road 167

Page Updated 04-17-2020.