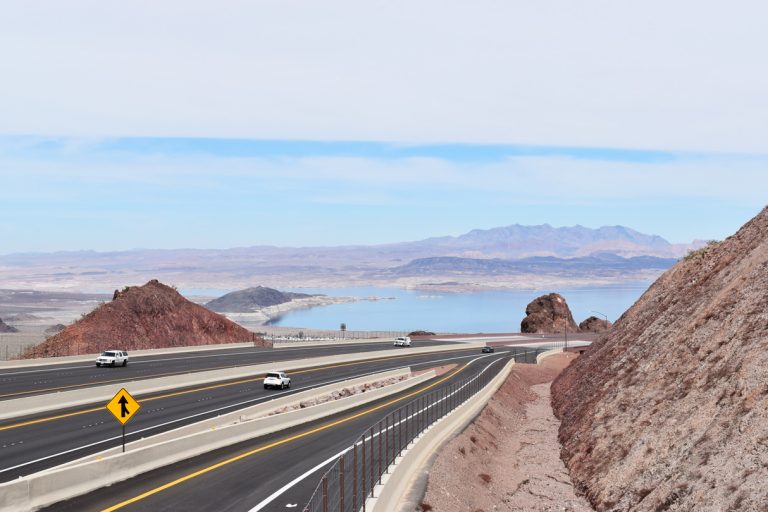 Interstate 11 is a corridor ultimately planned to run northwest from Phoenix, Arizona to Las Vegas, with a possible extension north to Reno. On July 6, 2012, the Moving Ahead for Progress in the 21st Century Act (MAP-21) officially mandated Interstate 11 as a future route to the Interstate Highway System per Section 1104. The route will overlay U.S. 93 northwest from Kingman, Arizona to the Mike O'Callaghan - Pat Tillman Memorial Bridge over the Colorado River. The I-11 corridor overtakes U.S. 93 west from the Hoover Dam Bypass to Boulder, and Interstate 515 through Henderson.
Interstate 11 Nevada Guides
Boulder City Bypass
A two phase project underway through August 2018 constructed a 15 mile section of Interstate 11 around the south side of Boulder City. Phase 1, extending 2.5 miles south from the I-515 freeway end, upgraded a portion of U.S. 93/95 across Railroad Pass to limited access standards. Costing $83 million, the Nevada Department of Transportation (NDOT) project included a new diamond interchange at Railroad Pass.1
A 2.5 mile section of the new southbound lanes at Railroad Pass opened on August 15, 2017.2 This included a 600 foot long flyover.1 Work continued on the northbound lanes between the interchange with U.S. 95 and Foothills Drive in Henderson to January 27, 2018.3 Following the completion, sign changes were to be made renumbering I-515 south from I-215 to Railroad Pass as Interstate 11. Work finally commenced March 17, 2019 to install new overhead and stand alone signs for I-11 between the Henderson spaghetti bowl and Boulder City5. The $160,000 sign project will replace 75 signs all together to reflect the switch from Interstate 515 to I-11.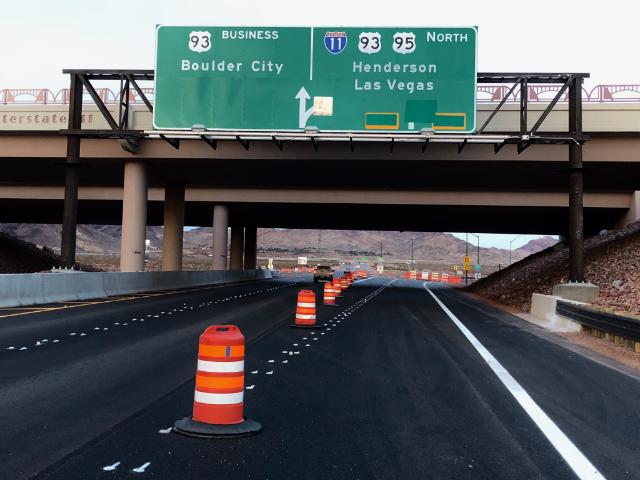 The Regional Transportation Commission of Southern Nevada developed Phase 2 of the Boulder City Bypass. The 12.5 mile, $235 million project3 loops Interstate 11 south of Boulder City Municipal Airport (BVU) and east into the El Dorado Mountains, where it rejoins U.S. 93 at the interchange with SR 172 to Hoover Dam. Work on Phase 2 started in January 2015. It included completion of the interchange with U.S. 95 as it leads south from Boulder City to Searchlight, a scenic view parking area, and redesign of the exit with SR 172 (old U.S. 93). An official ribbon cutting ceremony was held mid-morning August 9, 2018 signalizing the completion of the bypass.4
South from Boulder City, U.S. 95 was expanded to a four lane expressway from its separation with U.S. 93 south to the California State Line by 2009. A parclo interchange joins the US highway with Interstate 11. Northwest of Downtown Las Vegas, the U.S. 95 freeway may become a part of Interstate 11, depending upon the corridor ultimately selected for its continuation to I-15. Guide signs installed at the Centennial Bowl Interchange with CC-215 include greenouts covering shields for I-11.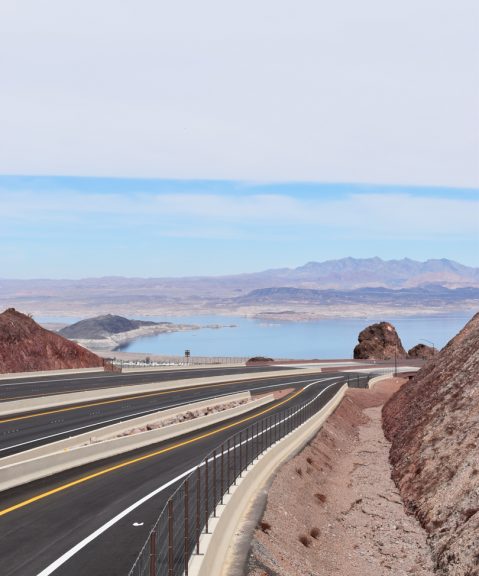 Hoover Dam Bypass
A principal component of Interstate 11 is the Mike O'Callaghan - Pat Tillman Memorial Bridge taking U.S. 93 across the Colorado River and Black Canyon to the south of Hoover Dam. Construction on the nearly 2,000-foot long four-lane bridge, with a 1,060-foot twin-rib concrete arch, began in late January 2005. The span opened to traffic on October 19, 2010. It includes a pedestrian walkway along the north side, offering visitors unparalleled views of Hoover Dam. The Hoover Dam bypass is 3.4 miles long, with interchanges at Nevada 172 (old U.S. 93 to Hoover Dam) to the west and Kingman Wash Access Road (old U.S. 93) to the east.
Following a preliminary study, the Sugarloaf Mountain alternative was selected as the route of the new U.S. 93 bridge over Black Canyon. While the Sugarloaf Mountain alternative brought some opposition to this plan, groups emerged to oppose other alternatives under consideration, which included (1) constructing a freeway along U.S. 95, Nevada Route 163, and Arizona Route 68 through Laughlin and Bullhead City; (2) constructing a signature bridge over Lake Mead north of the dam, or (3) a no build option leaving traffic to cross the Colorado River over Hoover Dam. Initial design and construction of the Sugarloaf Mountain route began in 2003, and most of the bridge work occurred between 2005 and 2010.
Las Vegas
Interstate 11 replaced I-515 alongside U.S. 93/95 northwest from Railroad Pass to Henderson and the east end of I-215 (Bruce Woodbury Beltway). North from there, three corridors are under consideration. The western proposal overtakes Interstate 215 to I-15 near Paradise. The central proposal continues along I-515 northwest to Downtown Las Vegas and I-15 at the Spaghetti Bowl interchange. The eastern proposal involves a new terrain route, wrapping around northeast Las Vegas to Interstate 15 near the north end of the Bruce Woodbury Beltway (CC-215). A $5.3 million traffic study underway through Spring 2018, analyzed the major freeway corridors through Las Vegas Valley and Interstate 11.1 Factors involved with planning the future route of I-11 through Las Vegas include forecast increases in truck traffic and whether or not the long range proposal to extend the corridor northwest to Reno along U.S. 95 gains traction.
Sources:
"2-mile stretch of southbound I-11 to open by the end of July." Las Vegas Review-Journal (NV), July 16, 2017.
"Southbound I-11 Lanes Opening in Henderson." KXNT (Las Vegas, NV), August 9, 2017.
"New segment of northbound Interstate 11 set to open." Las Vegas Sun, January 24, 2018.
"Grand Opening Date Set for Interstate 11." Boulder City News & Happenings, July 10, 2018.
"75 new freeway signs to be installed between Henderson, Boulder City." Las Vegas Review-Journal (NV), March 14, 2019.
Connect with:
Interstate 215 / Clark County 215 - Bruce Woodbury Beltway
Interstate 515 - Oran K. Gragson Freeway
U.S. 93
U.S. 95
Page Updated 05-17-2020.