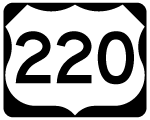 Currently split into two sections, Interstate 99 overlays U.S. 220 from Bedford to Bellefonte and U.S. 15 from Lawrenceville to Painted Post, New York. The freeway connects the Pennsylvania Turnpike with Altoona and State College. Completion of the route will overtake U.S. 220 from Mackeyville and Lock Haven east to Jersey Shore and Williamsport. Once upgrades are completed along U.S. 15, I-99 will extend north to the New York section.
Interstate 99 Pennsylvania Guides
Bedford to Bellefonte
The route starts at a trumpet interchange with U.S. 220 Business in Bedford Township. A surface highway connection links I-99 with the Pennsylvania Turnpike (I-70 & 76) south from there. Northward I-99 & U.S. 220 run along Dunning Mountain to East Freedom. The freeway passes west of Hollidaysburg and east of Altoona.
Hugging the west slopes of Brush Mountain, Interstate 99 overlooks Logan Valley northward from Altoona to Bellwood. The freeway shifts to the west slopes of Bald Eagle Mountain from Tyrone to Port Matilda, where it encircles the west side of the borough to combine with U.S. 322. I-99 & U.S. 220-322 then turn east across Bald Eagle Mountain at Matternville to enter Nittany Valley and the State College area. This stretch was the last to be completed between the PA Turnpike and I-80. It opened to traffic on November 17, 2008.
Interstate 99 utilizes the western half of the preexisting State College bypass for U.S. 322. A directional T interchange takes the route north from U.S. 322 at Park Avenue to cross Spring Creek en route to an older expressway connector (Pennsylvania 26) linking Pennsylvania 64 with Interstate 80 to the east of Bellefonte. I-99 ends at a parclo A2 interchange with I-80 and Pennsylvania 26 (Jacksonville Road) by Little Nittany Valley.
Bellefonte to Williamsport - I-80 and U.S. 220
The next section of I-99 will run in tandem with I-80 east to northern reaches of Nittany Valley, where U.S. 220 turns north across Bald Eagle Mountain at Mill Hall. U.S. 220 travels initially along a two-lane freeway to PA 477, where it upgrades to a full freeway ahead of Lock Haven. Paralleling the West Branch of the Susquehanna River, the U.S. 220 freeway continues east to Jersey Shore, where it downgrades to a four-lane divided highway to Linden. Upgrades to this stretch to Interstate standards are not yet funded.
Williamsport to Lawrenceville - U.S. 15
Once at Williamsport, U.S. 220 shifts onto Interstate 180 for a 17-mile overlap to Mountoursville and Hughesville. Future Interstate 99 accompanies U.S. 15 north from Williamsport to the Southern Tier of New York. The entire route is a full freeway, with direct upgrades made to the old two-lane alignment of U.S. 15, or new terrain routes built nearby.
U.S. 15 winds north along Lycoming Creek to Woodland Park and Cogan Station, where it leaves the Williamsport area for a scenic drive through mountainous terrain. The freeway shifts west from the creek through a valley between the Cornwell and Narrow Mountains northwest to Steam Valley and Buttonwood. Once across the Tioga County line, Future I-99 & U.S. 15 level out somewhat across agricultural areas by the borough of Liberty.
The northernmost sections of Future I-99 parallel old sections of U.S. 15 through Tioga State Forest to Blossburg, and along the Tioga River to Mansfield. The Mansfield bypass takes U.S. 15 around the west side of the county seat on what was originally built as a two-lane freeway. The creation of Tioga Reservoir in the mid to late 1970s submerged a portion of old U.S. 15, with the route shifting onto a two-lane freeway overlooking Tioga Dam and Tioga borough. The last stretch of U.S. 15 freeway completed in the county runs west of Tioga River to Lawrenceville, where it ties into Interstate 99 south from Steuben County, New York.
Estimated dates for completion for the U.S. 15 freeway upgrade based upon Official Pennsylvania Highway Maps:
Cogan House to Buttonwood by 2011
Tioga to Lawrenceville by 2008
Blossburg to north of Covington by 2004
Four laning of Mansfield Bypass and north end of Tioga bypass by 2004
Four laning from north end of Mansfield Bypass to Tioga by 2003.
Four laning from Buttonwood to Sebring by 1998
Sebring bypass by 1998
Powys to Trout Run by 1996
Hepburnville to Powys by 1994
Williamsport to Hepburnville by 1990
| | |
| --- | --- |
| | scenes |
| | |
| --- | --- |
| | U.S. 220 Business (Richard Street) carries travelers from I-70 & 76 (Pennsylvania Turnpike) to Interstate 99 & U.S. 220 north of Bedford. The freeway access road from Richard Street links with I-99 & U.S. 220, 0.25 miles north of the PA Turnpike. Photo taken 10/08/01. |
| | |
| --- | --- |
| | U.S. 220 Business (Richard Street) northbound at the access road to Interstate 99 north & U.S. 220 for Altoona and Cumberland, Maryland. U.S. 220 Business continues northward to Bedford County Airport and Pennsylvania 56 at Cessna. Photo taken 10/08/01. |
| | |
| --- | --- |
| | Vintage button copy signs previously directed motorists from Bedford onto the U.S. 220 freeway where Interstate 99 begins. I-99 & U.S. 220 overlap from here northward to Interstate 80. Photo taken 10/08/01. |
| | |
| --- | --- |
| | Former Beginning of south |
| | |
| --- | --- |
| | Pennsylvania 350 angles southeast from U.S. 220 Business (Bald Eagle Valley Road) and splits with the connector to Interstate 99 & U.S. 220. The four-lane divided highway continues directly to a diamond interchange with the freeway. Photo taken 04/30/05. |
| | |
| --- | --- |
| | Pennsylvania 350 continues east along Seven Stars Road toward Warriors Mark. Former U.S. 220 continues south to Interstate 99 & U.S. 220 at Exit 52. Where Exit 52 is now was originally just a continuation of U.S. 220 as I-99 toward Altoona and Bedford. Photo taken 04/30/05. |
| | |
| --- | --- |
| | Heading south along what is now former U.S. 220 toward the old beginning of Interstate 99 south. I-99 was completed between here and State College fully by November 24, 2008. Photo taken 04/30/05. |
| | |
| --- | --- |
| | Southbound what was the original U.S. 220 transition into Interstate 99. Photo taken 04/30/05. |
Photo Credits:
10/08/01 by AARoads. 04/30/05 by AARoads and Corey Dukes.
Connect with:
Interstate 70
Interstate 76
U.S. 30

Page Updated 01-23-2017.