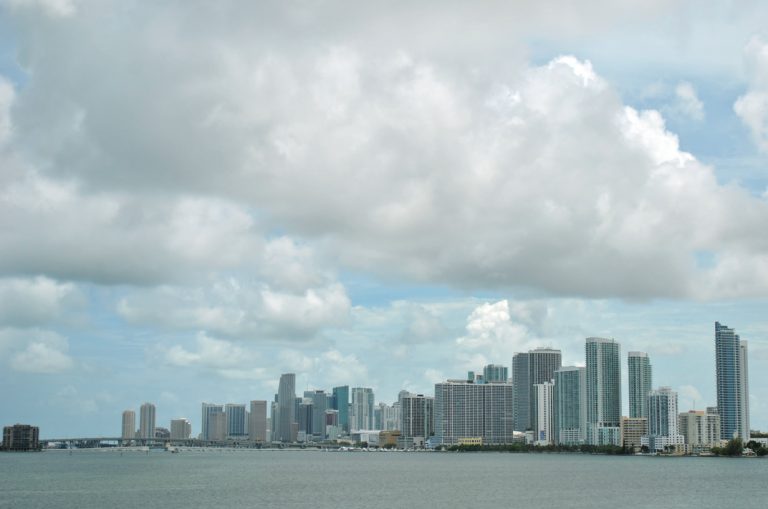 Interstate 195 is a 4.42-mile freeway spur extending from Interstate 95 and the Airport Expressway (Toll Florida 112) in midtown Miami to Florida 907 (Alton Road) in Miami Beach. The Julia Tuttle Causeway across Biscayne Bay provides the necessary connection between the metro area and the beach city. Arthur Godfrey Road continues east from the end of I-195 at Alton Road, carrying Florida 112 to its end at Florida A1A north (Collins Avenue) one block from the Atlantic Ocean. The Airport Expressway (Toll Florida 112) continues west from I-195 and I-95 to Le Jeune Road (Florida 953) and Miami International Airport (MIA).
Interstate 195 Highway Guides
Opened to motorists on December 12, 1959, the Julia Tuttle Causeway was the first completed section of both Interstate 195 and the Miami Expressway system as originally planned1. At a cost of $14 million2, the causeway connected U.S. 1 (Biscayne Boulevard) in midtown Miami (by way of NE 36th and 38th Streets) with Alton Road (Florida 907) in Miami Beach. Named after the early pioneer who was instrumental in the creation of the city of Miami, the Julia Tuttle Causeway became the third crossing to link the two cities (following the Venetian and MacArthur Causeways).
Commenced in March 1960, the final piece of Interstate 195 opened on December 22, 1961, connecting the Julia Tuttle Causeway to the North-South (I-95) and Airport (Florida 112) Expressways. With the completion of I-195 to the 36th Street Interchange, the expressway system stretched from Miami Beach across mid-Miami to the Miami International Airport.
According to the FDOT Biennial Report for 1961-62, a reference indicated that Business Spur Interstate 195 extended along Arthur Godfrey Road between Alton Road toward Florida A1A (current Florida 112).3 The spur designation, however, did not last and was decommissioned at an unknown date. This business spur was similar in concept to some still in existence today, such as Business Spur I-526 in Mount Pleasant, South Carolina.
| | |
| --- | --- |
| | U.S. 1 (Biscayne Boulevard) passes under mainline Interstate 195 (hidden SR 112) on its approach to NE 36th Street and U.S. 27 north. Use the intersection ahead to access I-195 east to the Julia Tuttle Causeway and Miami Beach. Photo taken 07/05/11. |
| | |
| --- | --- |
| | The intersection between Biscayne Boulevard and NE 36th Street mark the southern terminus of U.S. 27. Overall the U.S. highway will travel 1,373 miles from this point northward to Interstate 69 in Fort Wayne, Indiana. Locally, U.S. 27 takes motorists through central Miami and into Hialeah as it shoots northwest toward Lake Okeechobee and beyond. NE 36th Street continues east from U.S. 27 to become the on-ramp to I-195 at the entrance to the Julia Tuttle Causeway. Photo taken 07/05/11. |
| | |
| --- | --- |
| | Meridian Avenue reaches SR 112 (Arthur Godfrey Road) in Miami Beach. SR 112 continues east along Arthur Godfrey Road to the Florida A1A couplet (Indian Creek Drive and Collins Avenue) near the Atlantic Ocean. Arthur Godfrey carries the state road west two blocks to Alton Road and the beginning of Interstate 195 to Miami and Miami International Airport. Photo taken 04/01/14. |
Sources:
"36th St. Span Ready To Roll", The Miami News, December 7, 1959.
"We Bridge The Gap", The Miami News, December 12, 1959.
"Twenty-Fourth Biennial Report of the State Road Department (Florida) - Jan. 1, 1961 through Dec. 31, 1962" (online document).
Photo Credits:
07/05/11 by AARoads. 04/01/14 by AARoads and Carter Buchanan.
Connect with:
Interstate 95
U.S. 1
State Road 112 - Airport Expressway
Page Updated 09-04-2014.